Pac-12 Power Rankings updated after Week 3 of college football
J.D.'s CFP Rankings After Week 4
Welcome back, folks, to another edition of On3's Pac-12 power rankings. This time, we're looking back at an action-packed Week 4 slate and glaring ahead at Week 5.
Full-blown league play has just begun the as all 12 teams faced off against a Pac-12 opponent. Top dog USC faced last week's last place team, yet needed all four quarters to seal the deal. Meanwhile, Washington continued to torch everything in its path, as did Oregon, while Utah once again found a way to win. Plus, the Game of the Week in the conference occurred between the only two true remaining members of it.
After all the madness, check out right here how the On3 Pac-12 Power Rankings shake out ahead of Week 4. 
1. USC (4-0)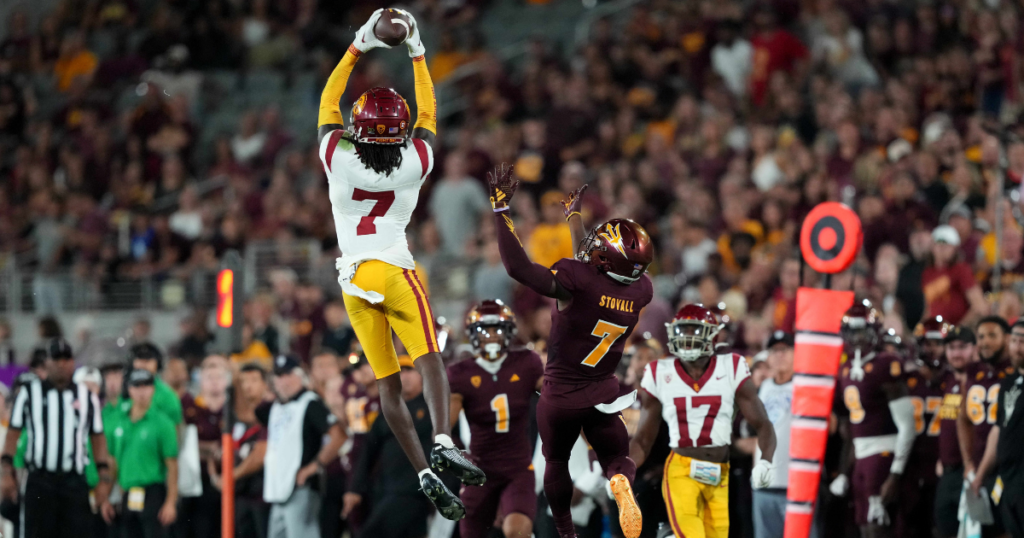 Week 4: 42-28 win at Arizona State — The Trojans played with their food on Saturday in Tempe against the caboose of these rankings. One week after coughing up NINE turnovers in a 29-0 thrashing on their home field vs. Fresno State, ASU responded to really give the Trojans a game and stayed competitive until the bitter end.
Once again, the USC defense allowed an alarming number of points to a less-than-stellar opponent after playing pretty well in the prior two games. However, that development continues not to matter a whole lot, since the Trojans racked up 42 points, their lowest total of the season actually, while Caleb Williams tossed for 322 yards and three touchdowns. RB MarShawn Lloyd also had a terrific day with 154 yards on the ground.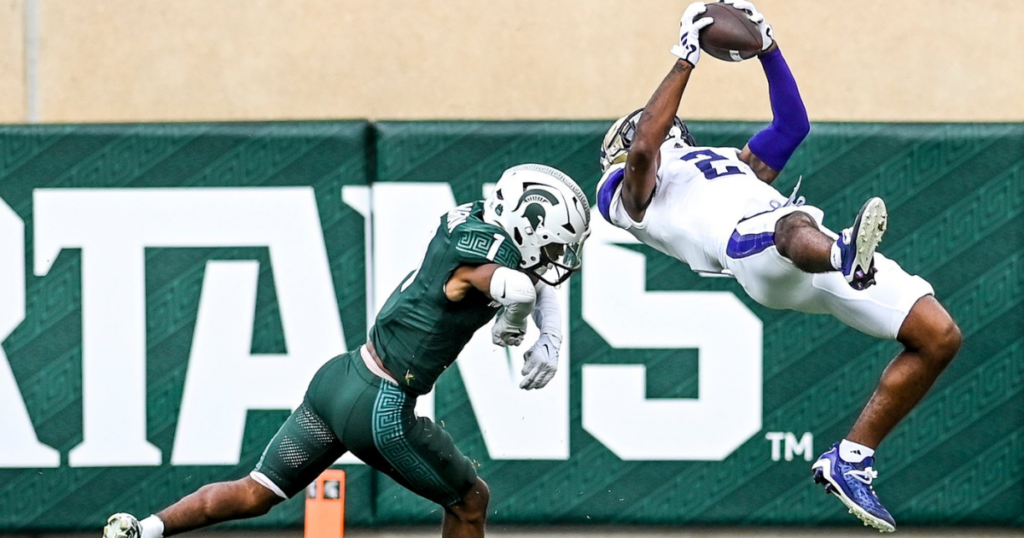 Week 4: 59-32 win vs. California — Well, Michael Penix threw for roughly 100 yards less than his season-average but still wound up with 304 passing yards and four touchdowns on the day while leading the Huskies to a 59-32 victory over California. Ja'Lynn Polk and Rome Odunze were the primary targets of choice as Polk led with eight grabs, 127 yards and two TDs, while Odunze added five for 125 and two of his own scores.
Some Husky fans may be upset at the 32 points allowed to Cal, and it's not great, but consider this: the game was over by halftime. Washington blitzed Cal out of the gate, scoring a pick-six and a punt return TD to make it 14-0 before the Husky offense even got on the field. And when they did, Penix led them to the following drives: touchdown, field goal, touchdown, interception, touchdown, touchdown. Boom, 45-12 after two quarters.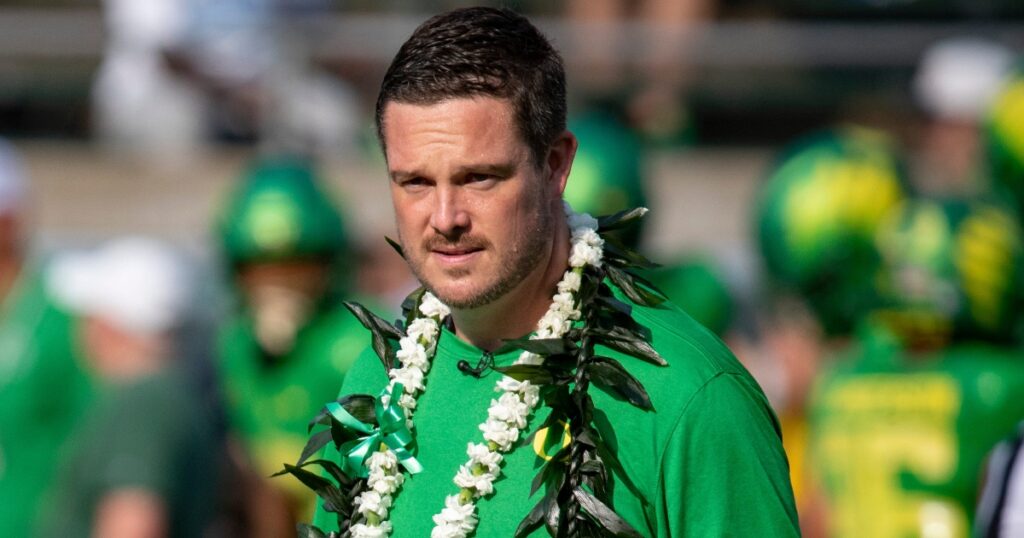 Week 4: 42-6 win vs. Colorado — These Ducks are about wins, not clicks, but they got both in dramatic fashion on Saturday. Head coach Dan Lanning ironically became a viral sensation with his Wins Not Clicks pregame speech, where he explained that Saturday's kickoff would be when the clock struck midnight on Colorado's Cinderella run.
Well, Deion Sanders' chariot unraveled into a pumpkin rather quickly as Oregon blew Colorado's doors off, starting with a 35-0 first half. Colorado may have some dazzling playmakers on offense, but the Ducks showed they're at an entire another level at all three phases of the game. From top to bottom, Oregon was bigger, faster, stronger and more talented — the better football team with better players.
4. Utah (4-0)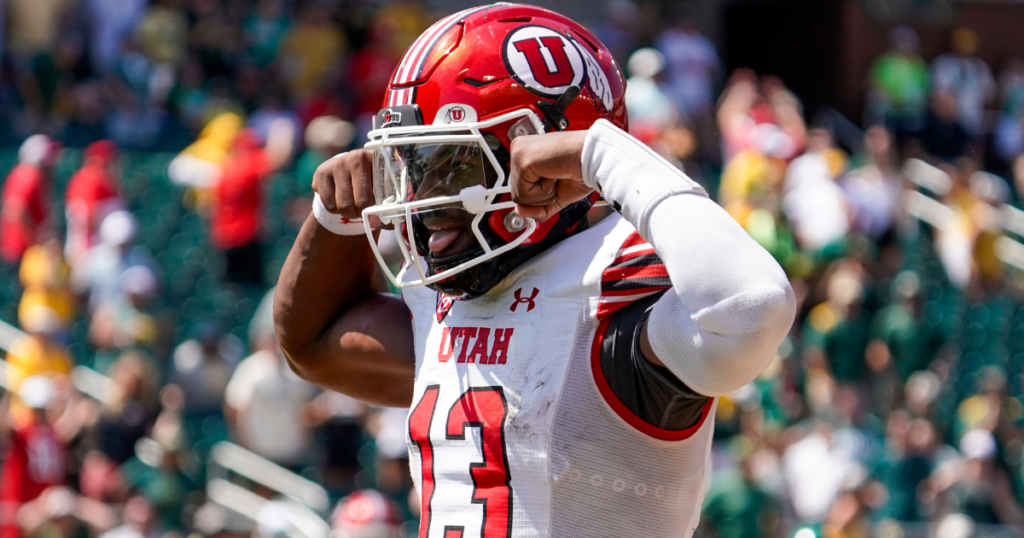 Week 4: 14-7 win vs. UCLA — It's rarely pretty and often ugly, but Utah gets the job done. So far, the Utes have outlasted Florida at home by 13 in a game where they were out-gained, then scored two touchdowns in the final two minutes of their game at Baylor to win that, beat Weber State handily, and most recently shut down UCLA in a 14-7 rock fight.
While head coach Kyle Whittingham is still searching for consistency on offense until Cam Rising returns, his defense is baking the bread for this '23 team. Against the Bruins, Utah opened with a pick six on the very first snap, and that was just a preview of what was to come all afternoon for the Bruins.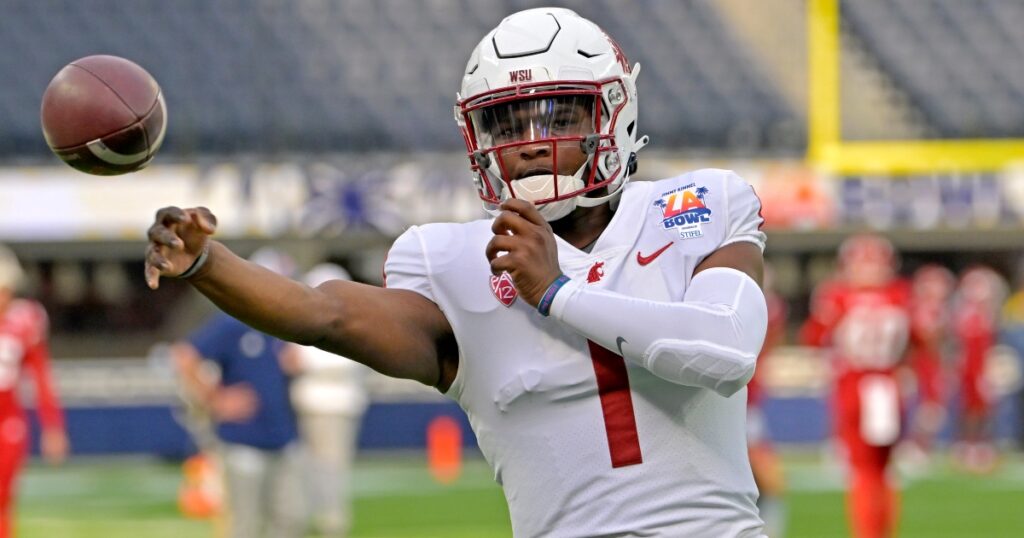 Week 4: 38-35 win vs. Oregon State — The Cougars didn't start the year considered to be one of the Pac-12 contenders, despite the fact that they went to a bowl game last year and, like many other Pac-12 clubs, returned their star quarterback. Alas, through four weeks, Washington State has shown beyond any doubt that they belong in the top half of the conference power rankings.
This past weekend's win over Oregon State marked the second time this season a ranked team came into Pullman for a showdown with WSU and left as losers. Aside from Washington and the sheer totality of their statistical dominance, these Cougars probably have the best resume in the conference to date.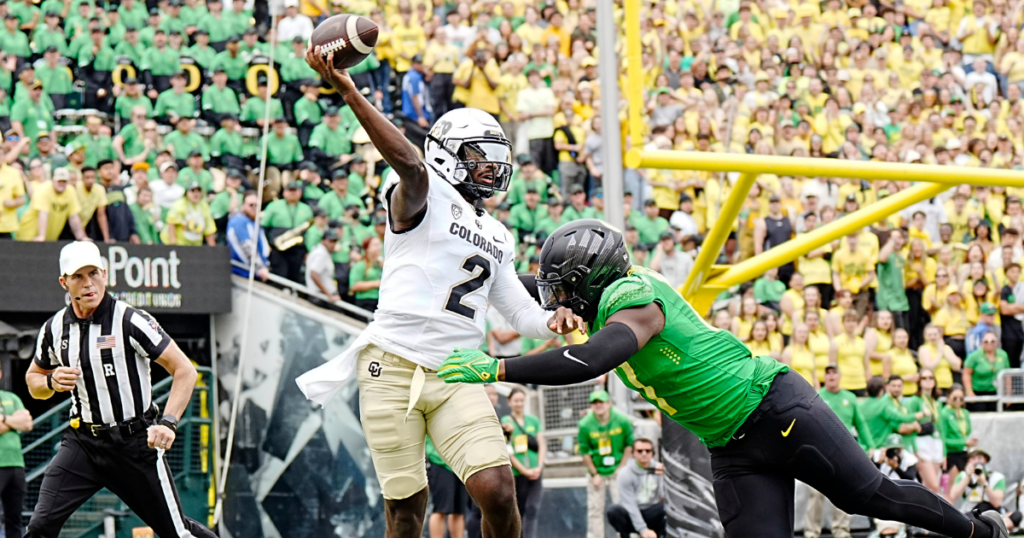 Week 4: 42-6 loss at Oregon — Colorado just hit its iceberg in Eugene, Oregon over the weekend. Videos of Ducks' head coach Dan Lanning's feisty pregame speech had just began to spread on social media when Oregon really started to lay it on the Buffaloes, getting up 35-0 inn the first half. With that speech circulating and Colorado getting absolutely trounced… it's fair to say Deion Sanders did not leave this past weekend a winner in any sense.
But he wasn't a sore loser, either. Coach Prime took the heat Saturday with the same face with which he dished it out in the three prior weeks. Sure, Colorado looked like an elementary team vs. Oregon, but so have most teams vs. this iteration of the Ducks. More winnable games await, perhaps even this weekend against a USC team that struggled to put away Arizona State and hasn't been too stout on defense yet.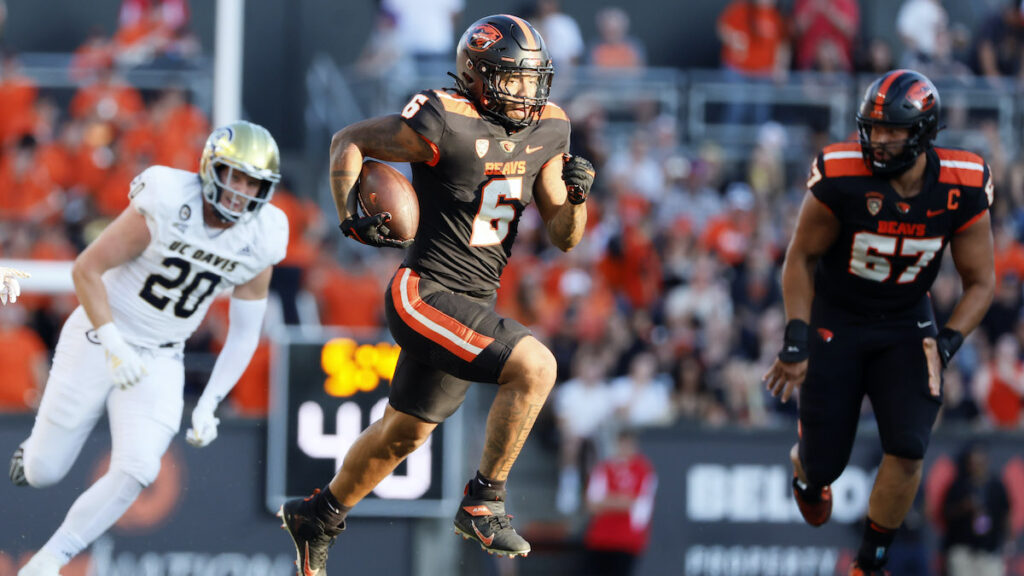 Week 4: 38-35 loss at Washington State — Look, there's no shame in taking an L in front of Ol' Crimson. Washington State is a darn good football team with a heck of a playmaker at quarterback in Cameron Ward, who went for 404 yards and four touchdowns in the win. Beaver fans can hardly be disappointed by a narrow shootout loss to the Cougars.
While Clemson QB transfer DJ Uiagalelei isn't the superstar talent under center that half of the other Pac-12 teams have (such as Washington State), Oregon State does have a particularly strong run game and rode it to success on Saturday, racking up 242 yards and four TDs on the ground while Deshaun Fenwick and Damien Martinez combined for just under 200 of those.
8. UCLA (3-1)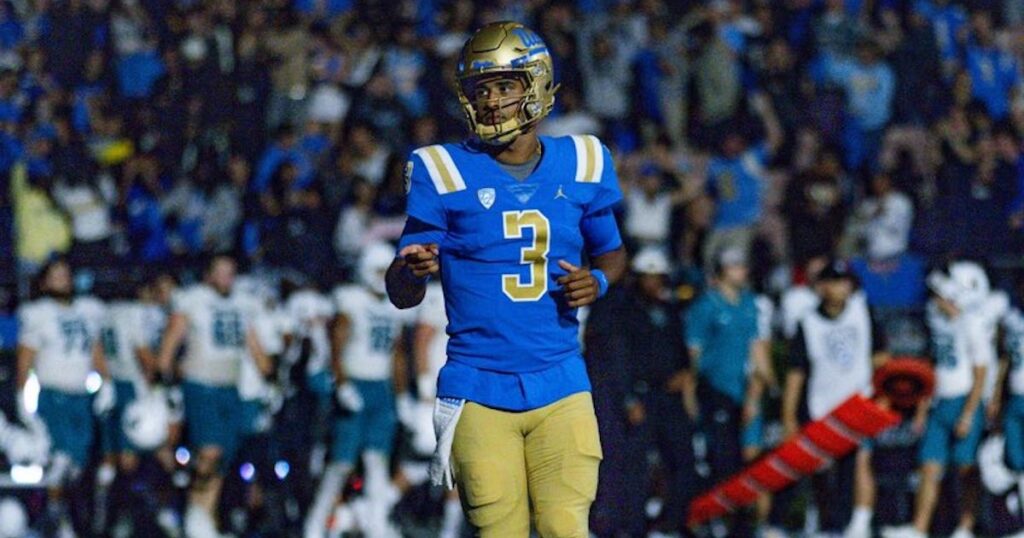 Week 4: 14-7 loss at Utah — Like a few of Utah's other foes, UCLA tusselled in a close but ugly contest with the Utes all night long before Coach Whittingham's team did what they always seem to do: found a way to win. With their quarterback still out, it was the defense that got the job done, making life hell on freshman Bruin QB Dante Moore.
Speaking of Moore, he had a rough day on Saturday. He did throw for 234 yards, which is solid against this Utah defense, but completed just 15 out of 35 passes to get there while also totaling 10 rushes for -51 yards, with most of those being sacks obviously. Everything that could go wrong did for UCLA — and they still only lost by a score.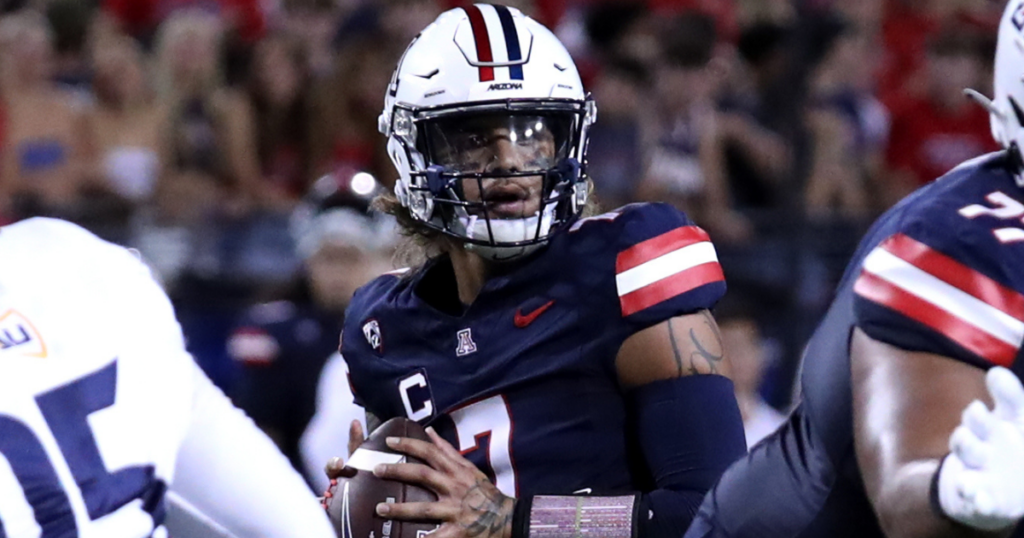 Week 4: 21-20 win at Stanford — Stanford stymied quarterback Jayden de Laura, who didn't even reach 200 yards after it's basically become automatic for him to hit that mark every game. And had they not screwed up their final possession, it's very possible the Cardinal would have come away victorious in what would be a back-breaking loss for Arizona.
It's going to be tough enough to make a bowl game in the Pac-12 with having to face four straight ranked teams starting this week, so the Wildcats certainly can't afford to drop games to conference bottom-feeders like Stanford. Luckily for their Bowl chances, they did not.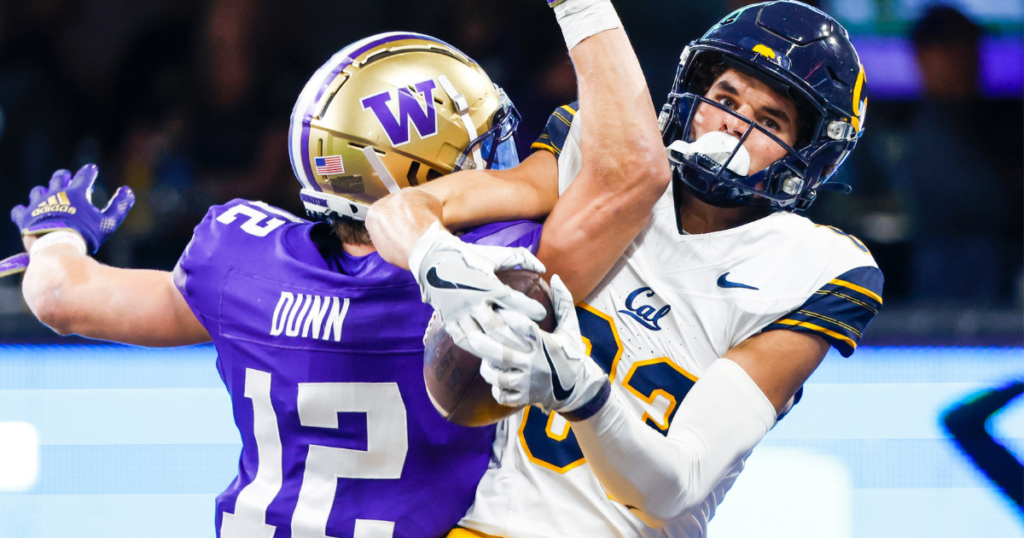 Week 4: 59-32 loss at Washington — What can you say, Washington did to California exactly what they've done to every foe they've faced so far. We mentioned earlier that Husky QB and Heisman contender Michael Penix had a mild day by his standards and still helped UW produce 45 points before halftime.
Luckily, the Golden Bears catch a break this weekend with their easiest conference game of the season: at home vs. Arizona State. If they don't win this one, it could be November before California has another game they can expect to win, since they'll face five straight AP-ranked Pac-12 teams after their bash with the Sun Devils.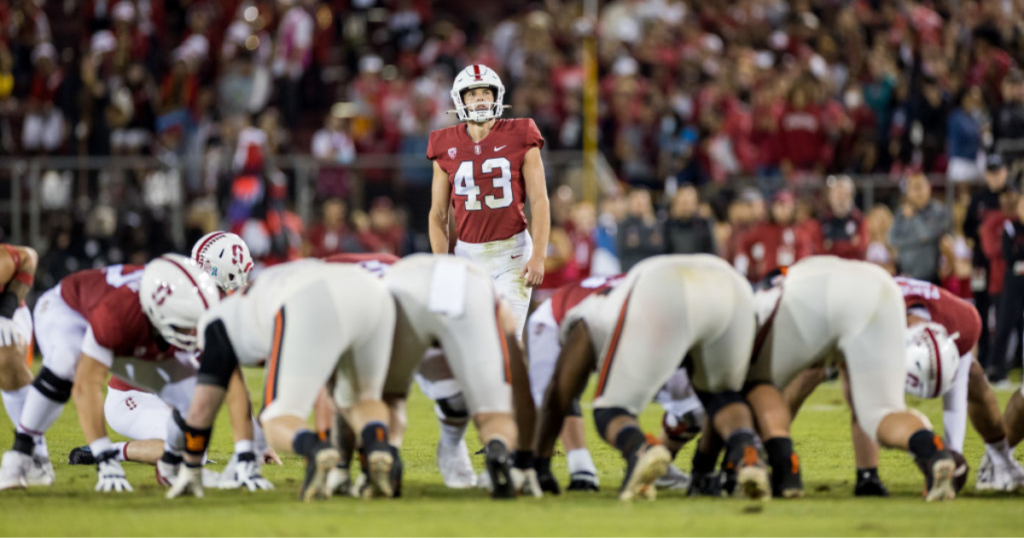 Week 4: 21-20 loss vs. Arizona — Well, there was nowhere to go but up for Stanford after they lost to USC by 46 points and then fell at home to FCS school Sacramento State in their last two outings. Thankfully, the Cardinal put on a much more promising show at home against a decent Arizona club in their second Pac-12 game of the year.
The result is a sign of progress, but Stanford fans will be cursing to themselves all week over their final offensive drive. Down four points, 21-17, Stanford drove straight down the field and had a first down at the Arizona 21 before an incompletion, a sack and a penalty forced a field goal try to cut the lead to one, where it stayed for good since Arizona was able to get a couple first downs and run the clock out afterwards.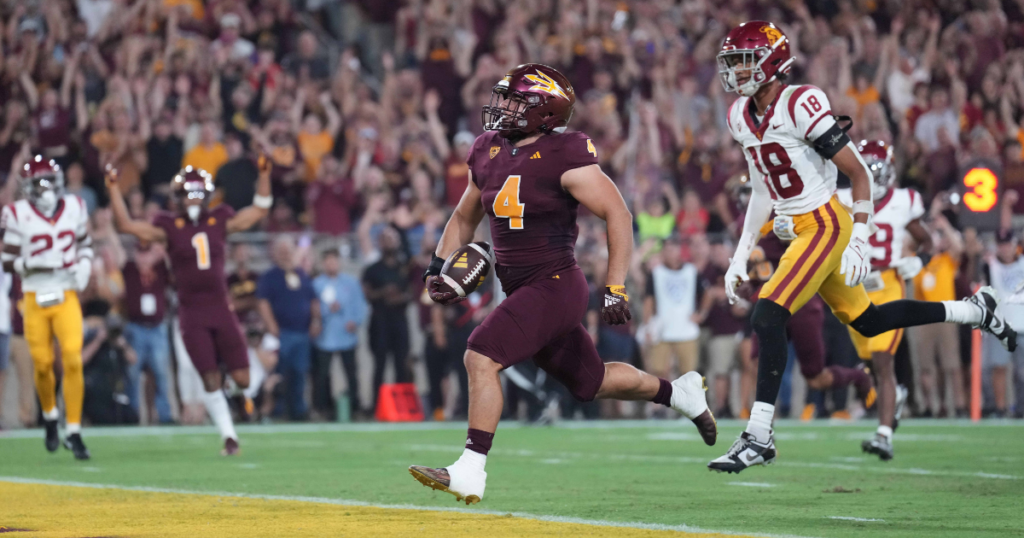 Week 4: 42-28 loss vs. USC — Arizona State's Week 3 game was some after-dark slapstick comedy as they turned the football over nine times — in increasingly ridiculous fashion — as three different quarterbacks cycled through, each committing multiple turnovers. In the end, Fresno State walked off ASU's home field with a 29-0 win while new head coach Kenny Dillingham simply wondered how such a performance was even possible.
Fast forward one week, and with eight minutes to play vs. USC, Arizona State QB Drew Pyne hit Cam Skattebo for a 52-yard touchdown to cut the lead to seven. The Trojans went on to put the game away with one more touchdown to make it a 42-28 final score, but the Sun Devils deserve commendation for making it a game after opening as 35-point underdogs.