Pac-12 Power Rankings: Cougars cut down ranked opponent, move up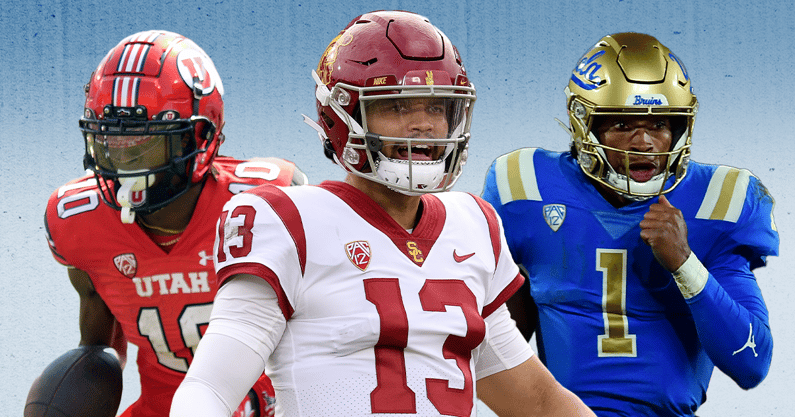 On upset Saturday in college football one conference came away relatively unscathed, if not better off. That's reflected in our Pac-12 Power Rankings for Week 2, which don't include a ton of movement.
In fact, the only real changes we have this week in the Pac-12 come from Washington State's quality upset of a previously ranked Wisconsin team and USC's win over Stanford. Both caused minor fluctuations.
With that said, let's take a look at the actual changes for this week.
CLICK HERE to subscribe for FREE to the On3 YouTube channel
Today we update the Pac-12 Power Rankings following Week 2 games.
2022 Pac-12 Power Rankings – Week 2
The Trojans took the top spot in our rankings last week after the Utes tripped up on the road, and nothing that happened in Week 2 shook that line of thinking. Transfers are making it count at USC, with Caleb Williams, Travis Dye and Jordan Addison all excellent once again. The defense also continues to be highly opportunistic, with another four takeaways in a 41-28 win over Stanford. The unit is up to eight now on the season.
Utah took out some pent-up frustration from a late-game stumble in the Swamp in the opener on an overmatched Southern Utah squad. The Utes didn't get off to a particularly hot start but piled on 38 points in the second quarter when they woke up, en route to a 73-7 win. Quarterback Cameron Rising was sharp, going 17-of-23 passing for 254 yards and three touchdowns without a pick.
The Bruins have yet to play anyone, but they've managed to put together some lopsided wins, which was more than they could say in losses to Fresno State (twice) and San Diego State in coach Chip Kelly's first four seasons at the helm. But the real story is the injury report. Star running back Zach Charbonnet didn't play, while quarterback Dorian Thompson-Robinson left with an ankle injury in the second quarter of a 45-7 win over Alabama State. If either issue is serious it would be a major setback for UCLA.
Oregon bounced back from a brutal season opener against Georgia with a resounding 70-14 win over Eastern Washington. Quarterback Bo Nix, fresh off a disaster outing against the Bulldogs, was significantly better. He finished 28-of-33 passing for 277 yards and five touchdowns without a turnover. The Ducks also got the ground game going to the tune of 263 yards, carried out by committee.
Washington State (+1)
Though the win might not have been the prettiest ever, any time you go on the road and knock off a ranked Wisconsin team it's a good win. The Cougars were a little fortunate the Badgers shot themselves in the foot with a slew of penalties and three costly turnovers. Still, they blanked the Badgers in the second half entirely to squeak out a 17-14 win, the league's best to date.
Oregon State (-1)
Oregon State and Washington State are virtually interchangeable here, as evidenced by their flip back and forth from our preseason rankings to the Week 2 Pac-12 Power Rankings. The Beavers played a thrilling game and managed to come out on top of Fresno State 35-32 when they decided to go for the win rather than a game-tying field goal on the game's final play. Short-yardage Wildcat specialist Jack Colletto plunged in off the right side from 2 yards out to secure the win.
Easy opponent, easy win for Washington in a routine 52-6 rout of Portland State. The Huskies rank here mostly because they haven't played anyone, but that will change with a Week 3 road trip to Michigan State. Quarterback Michael Penix Jr. once again topped 300 yards passing against the Vikings, while the Huskies defense allowed just 131 total yards in the win Saturday.
California (+1)
It'd be hard to call California impressive after two relatively benign wins over outmatched opponents. Saturday's was a 20-14 win over UNLV that required three fourth-down stops in the fourth quarter, including one on fourth-and-goal from the 8-yard line with less than three minutes to play. Cal heads to Notre Dame next, so more movement is likely for the Bears next week either way.
Stanford (-1)
The Cardinal doesn't get penalized much for a loss to our current league leader, not after a relatively well-fought game. Moreover, the bottom three teams in the league lost. Stanford has a reliable weapon in tailback EJ Smith, but until quarterback Tanner McKee starts playing better it'll be tough sledding. McKee was picked off twice in the early going of the 41-28 loss and has now thrown three interceptions to just three touchdowns so far in 2022.
Florida quarterback transfer Emory Jones continues to be a little erratic as a passer, and Arizona State had trouble moving the chains consistently. After being outscored 17-3 in the first half the Sun Devils got a little bit going in the second half, cutting the deficit to just three points early in the fourth quarter. But it wasn't enough to spring an upset against a quality Oklahoma State team in a 34-17 loss.
If not for Mississippi State mistakes, the final score likely would have been significantly more lopsided than the 38-17 Arizona loss it ended up as. Bulldogs receivers fumbled twice and allowed a dropped pass to turn into an interception, keeping Arizona within striking distance until the fourth quarter. But Wildcats quarterback Jayden de Laura threw three interceptions and Arizona mustered just 40 yards on the ground; not enough to beat a solid SEC squad.
The Buffaloes might have been able to excuse away a Week 1 loss by pointing to a difficult opponent (TCU). Not so much in Week 2, as Air Force flew by Colorado on the heels of a 174-yard, three-touchdown performance by running back Brad Roberts. Colorado totaled just 162 yards on offense and turned it over three times. A road trip to Minnesota in Week 3 concludes the non-conference slate. It's hard to see an obvious win anywhere on the schedule for the Buffaloes.
Want to see how this week's power rankings compare to our previous edition? Check out the 2022 Preseason Pac-12 Power Rankings here!