WATCH: Packers make fourth-quarter stop on Bears fourth-and-goal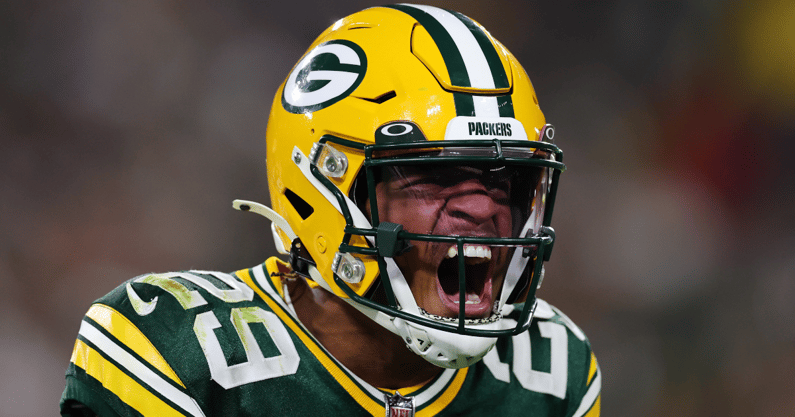 Facing fourth-and-goal from the 1-yard line, the Green Bay Packers defense came up with a critical stop against the Chicago Bears with 8:13 remaining Sunday night.
Bears quarterback Justin Fields took the snap from the shotgun and did his best to get across the goal line, but ran into a host of Green Bay defenders almost immediately. It was a close call, but officials ultimately ruled that Fields did not break the plane of the end zone as Chicago turned it over on downs.
It ended up being one of the more influential calls all evening, as a touchdown there would have made it a one-possession game with eight minutes remaining. Instead, the Bears remained down two touchdowns and gave the ball back to the Packers with a chance to increase their lead.
Many disagreed with the spot, believing that the officials made a crucial error that could have impacted the outcome. A closer look caused even more speculation, but provided little clarity.
Green Bay went on to claim a 27-10 victory to improve to 1-1 on the season after losing to Minnesota in Week 1. In addition to the fourth-and-goal stop the Packers defense was solid all evening, holding the Bears to just 48 yards passing and forcing an interception.
The Packers, on the other hand, finished with 414 total yards. Running back Aaron Jones had a big day, finishing with 170 total yards (132 rushing, 38 receiving) and two touchdowns. Aaron Rodgers also found a better rhythm with his receivers than last week to finish 19-of-25 passing for 234 yards and two touchdowns.
Green Bay will look to take the momentum from this win into next week, when the Packers are scheduled to kick off against Tampa Bay at 4:25 p.m. ET on Sunday.