Pair of quarterbacks taking pre-NFL Draft visits to Pittsburgh Steelers this week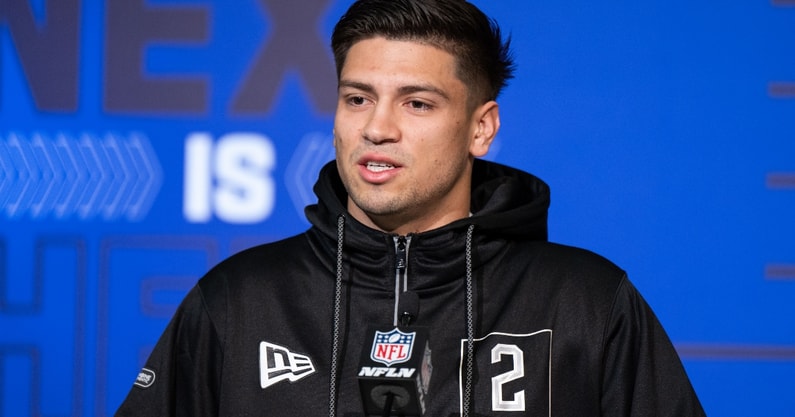 The Steelers are turning over every stone in their search for their future quarterback. As the era of Ben Roethlisberger fades, Pittsburgh is hosting a pair of potential options this week.
"More visits: The #Steelers host #Nevada QB Carson Strong today and #OleMiss QB Matt Corral tomorrow as they continue to take a closer look at the top QBs," tweeted NFL Network's Ian Rapoport.
First, Matt Corral has been projected everywhere from the top ten to the end of the second round. The former Ole Miss star is a wild card in the 2022 NFL Draft, as his skillset is diverse, but some wonder if it'll translate to the next level. Still, his passing ability, unique running savvy and success in Lane Kiffin's offense has teams gravitating towards him. Unfortunately, his injury history is something that could scare teams away from the Rebels star.
On the other hand, Carson Strong of Nevada didn't get the media coverage other top quarterback prospects have. Still, he's worked his way up draft boards, and some are even comparing him to a young Roethlisberger.
No, Strong can't move like Corral — but the Nevada quarterback is a strong pocket presence. He's tough to sack, and his footwork makes him a desirable selection. Still, the NFL is changing — teams could look for a quarterback with more mobility instead.
Last season, Corral passed for 3,349 yards and 20 touchdowns, adding 614 rushing yards and 11 rushing touchdowns, as well. As for Strong, the Nevada star passed for 4,186 yards and 36 touchdowns, but was a non-factor in the rushing game.
The Steelers are doing their due-diligence in advance of the 2022 NFL Draft. Don't discount Matt Corral or Carson Strong being in Pittsburgh to begin their NFL career.
More on Pittsburgh Steelers, 2022 NFL Draft
Furthermore, Matt Corral and Carson Strong are the latest — but not the only quarterbacks the Steelers are hosting prior to the 2022 NFL Draft. Last week, Pittsburgh meet with Cincinnati star Desmond Ridder and North Carolina star Sam Howell.
First, Ridder led Cincinnati to fantastic success over his time with the Bearcats. Many experts believe it'll take time to hone in on his skillset, but his potential is off the charts. He's been one of the hardest quarterbacks to predict a landing spot for. Still, a year behind current Steelers quarterback Mitch Trubisky could be perfect for Ridder.
On the other hand, NFL Network's Ian Rapoport mentioned Pittsburgh met with North Carolina quarterback Sam Howell last Friday. Prior to the 2021 season, he was expected to be drafted at the top of the first round. However, an uneven season sent him tumbling down draft boards. Luckily, he's now enjoying a resurgence in advance of the big day. While some believe he's a second round selection, the Steelers could select Howell at No. 20 if they fall in love with the former Tar Heels star.
Of course, there are plenty of options — a trade to the top of the round to secure either Liberty's Malik Willis or Pittsburgh's Kenny Pickett isn't out of the question. As you can see, the Steelers will be looking for a quarterback in the 2022 NFL Draft, it's just a matter of who they select.