Pangos All-American Camp loaded with top 2023 and 2024 talent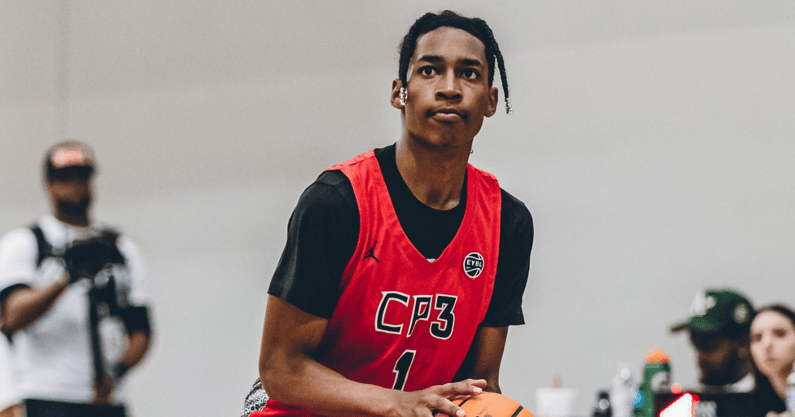 Las Vegas, Nevada – The 20th annual Pangos All-American Camp begins Sunday and goes through Tuesday at Bishop Gorman High with a bevy of talent on hand. The classes of 2023 and 2024 are very well represented with more than 55 members of the On3 Consensus rankings on hand.
The Pangos All-American Camp has served as a coming out party for many top past and current HS All-Americans, as well as a showcase for many more national sleepers. 
Some of the many current and former NBA Pangos All-American Camp alumni are James Harden, Russell Westbrook, Brad Beal, John Wall, Andre Drummond, DeMar DeRozan, Kyle Lowry, Jrue Holiday and Zack LaVine.
On3 provides a run down of the top prospects ranked in the On3 Consensus for the classes of 2023 and 2024 on hand in Las Vegas.
On3 Consensus Top 150 for 2023 at Pangos All-American Camp
No. 5 Robert Dillingham, PG, Charlotte (N.C.) Donda Prep
No. 9 Baye Fall, C, Denver (Colo.) Accelerated Schools Aka Family Services Found
No. 10 Justin Edwards, SF, Philadelphia (Pa.) Imhotep
No. 12 Omaha Biliew, PF, Waukee (Ia.) Link Year Prep
No. 14 Mikey Williams, CG, San Diego (Calif.) San Ysidro
No. 18 Sean Stewart, PF, Orlando (Fla.) Windermere – Duke commitment
No. 21 J.J. Taylor, SF, Chicago (Ill.) Donda Academy
No. 22 Ugonna Kingsley, C, Oakdale (Conn.) Putnam Science Academy
No. 24 Isaiah Miranda, C, Malvern (Pa.) Commonwealth Academy
No. 26 Marvel Allen, CG, West Palm Beach (Fla.) Calvary Christian Academy
No. 27 Scotty Middleton, SF, Miami (Fla.) Sunrise Christian
No. 28 Chris Johnson, CG, Missouri City (Texas) Montverde Academy
No. 30 Xavier Booker, PF, Indianapolis (In.) Cathedral
No. 33 Jeremy Fears, PG, Joliet (Ill.) La Lumiere School – Michigan State commitment
No. 34 K.J. Lewis, SG, El Paso (Texas) Chapin – Arizona commitment
No. 35 Aden Holloway, CG, La Porte (In.) La Lumiere School
No. 37 Taylor Bol Bowen, SF, Jericho (Vt.) Brewster Academy
No. 38 Cody Williams, SF, Gilbert (Ariz.) Perry
No. 39 Dusty Stromer, SG, Sherman Oaks (Calif.) Notre Dame – Gonzaga commitment
No. 41 Wesley Yates, SG, Beaumont (Texas) United
No. 44 Taison Chatman, SG, Minneapolis (Minn.) Totino-Grace
No. 52 Andrej Stojakovic, SF, Carmichael (Calif.) Jesuit
No. 55 Darrin Ames, PG, Chicago (Ill.) Kenwood Academy
No. 57 Dennis Evans, C, Riverside (Calif.) Hillcrest
No. 58 Zayden High, F, Spring Branch (Texas) Compass Prep
No. 61 Devin Royal, PF, Pickerington (Ohio) Central
No. 64 Brady Dunlap, SF, Studio City (Calif.) Harvard Westlake
No. 65 R.J. Jones, SG, Denton (Texas) John Paul
No. 70 Assane Diop, C, Westminster (Colo.) Accelerated Schools Aka Family Services Found
No. 72 Trey Green, PG, Mooresville (N.C.) Link Year Prep
No. 73 Brandon Gardner, SF, Raleigh (N.C.) Word Of God Christian Academy
No. 76 Tafara Gapare, PF, Kent (Conn.) South Kent
No. 79 Jazz Gardner, C, Hacienda Heights (Calif.) Los Altos
No. 81 Jackson Shelstad, PG, West Linn (Ore.) High – Oregon commitment
No. 95 Chris Lockett Jr., SG, New Orleans (La.) Isidore Newman
No. 97 Osiris Grady, PF, Henderson (Nv.) Coronado
No. 98 Drew Steffe, SG, Frisco (Texas) Memorial – Texas Tech commitment
No. 99 Sam Walters, PF, The Villages (Fla.) The Villages Charter – Alabama commitment
No. 101 Papa Kante, C, South Kent (Ct.) South Kent School
No. 102 Blue Cain, SG, Knoxville (Tenn.) Knoxville Catholic
No. 106 Tylaur Johnson, PG, Newark (N.J.) St. Benedict Prep
No. 109 Keanu Dawes, PF, Houston (Texas) Stratford
No. 118 Justin McBride, PF, Plano (Texas) High
On3 Consensus for 2024 at Pangos All-American Camp
No. 2 Tre Johnson, SG, Richardson (Texas) Lake Highlands
No. 3 Ian Jackson, SG, Bronx (N.Y.) Cardinal Hayes
No. 5 Isaiah Elohim, SG, Northridge (Calif.) Sierra Canyon
No. 6 Jayden Williams, PF, Snellville (Ga.) Brookwood
No. 8 Elliot Cadeau, PG, Oradell (N.J.) Bergen Catholic
No. 10 Karter Knox, SF, Tampa (Fla.) Catholic
No. 12 Jason Asemota, SF, Phoenix (Az.) Hillcrest Prep
No. 13 Johnuel Fland, PG, White Plains (N.Y.) Archbishop Stepinac
No. 14 Liam McNeeley, SF, Richardson (Texas) John Paul II
No. 17 Jamari Phillips, SG, Modesto (Calif.) Modesto Christian
No. 20 James Brown, C/PF, Chicago (Ill.) St. Rita
No. 23 Dylan Harper, CG, Ramsey (N.J.) Don Bosco Prep
No. 24 Amier Ali, SF, Columbus (Ohio) Montverde Academy
No. 27 Marcus Allen, SF, Miami (Fla.) Norland
No. 30 Donnie Freeman, PF, Washington (D.C.) St. John's
No. 32 Robert Miller, PF, Pasadena (Texas) Memorial
No. 34 Anthony Gilkes, SF, New York (N.Y.) Southern California Academy
No. 36 Morez Johnson, PF, Chicago (Ill.) St. Rita