INTEL: Ranking the contenders for 4-star Parker Friedrichsen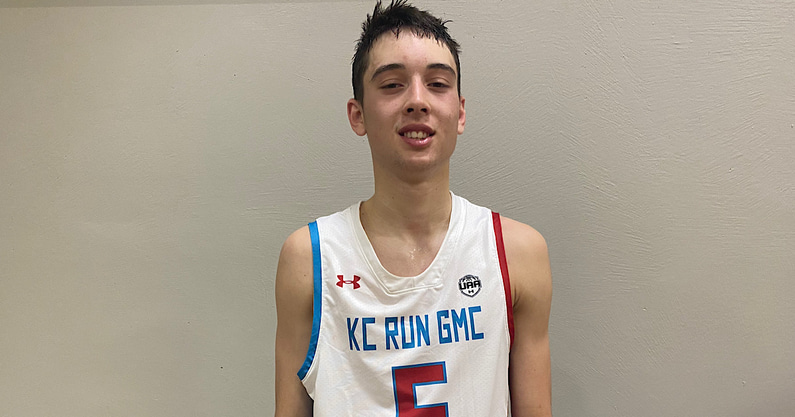 Parker Friedrichsen is On3s No. 104 player in his class. The 6-foot-3 guard is the 2023 On3 Consensus No. 123 player.
Friedrichsen played with the KC Run GMC program this summer. He scored 15.8 points while shooting 39.3 percent from three in the 15 games Synergy charted.
Friedrichsen originally committed to Oklahoma State, where he de-committed in May. The four-star took four senior year official visits, Rice (9/2), Notre Dame (8/26), Nebraska (9/9), Northwestern (9/16), and Davidson (8/30).
With visits done, let's go through all the intel and rank the contenders.
1. Notre Dame
While Notre Dame was the last one in, the second the offered, Friedrichsen's ears perked up. He spoke highly of the system Notre Dame runs and how it leans toward shooters. He also is interested in playing in the ACC. Assistant Coach Anthony Solomon did a good job establishing and building the relationship quickly.
Notre Dame's chances: 85 percent
2. Davidson
Davidson had the Steph Curry factor. Not only is Curry his favorite player, but he is also Under Armour's featured basketball athlete. Friedrichsen's KC Run GMC team is on the UAA Next Circuit. Friedrichsen took two visits within a two-month period to Davidson, the second time making sure his whole family got to see the campus.
Davidson's chances: 10 percent
3. Nebraska
Nebraska also got two visits from Friedrichsen. Fred Hoiberg did a good job selling the pro-style system and showcasing the success he has had with guards.
Nebraska's chances: 5 percent
Final thoughts
Parker Friedrichsen showed this summer he is a premier shooter. He shot 7.5 threes per game on this UAA Next Circuit and knocked down 39.5 percent of them. The visit to Notre Dame solidified everything he thought.
Even though the Fighting Irish did not offer until July, Friedrichsen kept an open mind. He spoke about the school's blend of basketball and academics. He also really liked that Mike Brey has had success with players similar to Friedrichsen.
Anthony Solomon deserves a lot of credit for his recruitment of the four-star guard and being able to quickly build the relationship Friedrichsen coveted. While recruitments can shift at a moment's notice, look for Friedrichsen to be Notre Dame's third commitment in their 2023 class.
On3's Recruiting Prediction Machine
I have placed my expert pick in On3's Recruiting Prediction Machine (RPM) for Parker Friedrichsen to choose Notre Dame. I set my pick with an 85 confidence level.
The On3 engineering group teamed up with Spiny.ai to create the industry's first algorithm and machine learning-based product to predict where athletes will attend college. Starting from the ground up, On3 built an entirely new product that utilizes data, human expertise, and machine learning.