LOOK: Patrick Mahomes reacts to Kansas City Chiefs trade for Kadarius Toney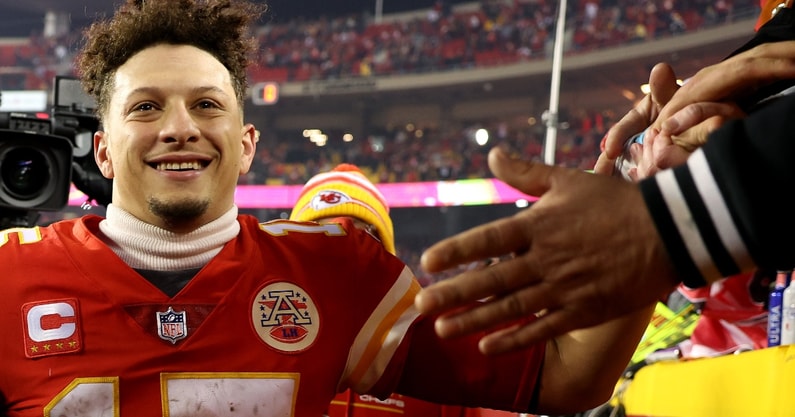 To say Patrick Mahomes is feeling jubilant over the Chiefs newest acquisition — former Florida wide receiver Kadarius Toney — may be an understatement.
In a surprising move ahead of the trade dealing, the New York Giants opted to trade their former first round wide receiver to Kansas City, and the former Gators star will hope to find more success with one of the top teams in the AFC.
Evidently, Mahomes can't wait for the wide receiver's arrival, tweeting his reaction to the news in the moments afterwards.
CLICK HERE to subscribe for FREE to the On3 YouTube channel
In addition to Mahomes' excitement, it's evident Toney shares the same sentiment, as he took to his Instagram to share his happiness, as well.
"CHIEFS KINGDOM BABY," Toney posted on his Instagram story, accompanying a photo of his trade announcement, as well as throwing in some yellow and red heart emojis.
Moreover, after being selected by an old regime in New York, Toney had an uneven rookie season — electrifying on the field, but limited in his opportunities. In ten games during the 2021 season, he caught 39 passes for 420 receiving yards. 
However, while the new leadership in New York of general manager Joe Schoen and head coach Brian Daboll have been lauded for their 6-1 start to the season, Toney had indisputably fallen out of favor. He barely saw the field Week 1 against the Tennessee Titans or Week 2 against the Carolina Panthers — catching just two passes — and has been out with a litany of injuries since. 
Meanwhile, the Chiefs have been searching for their answer to Tyreek Hill's replacement since trading him to the Miami Dolphins, and figure Toney is worth the risk. There's no debate that he's awesome to watch when he's on the field, but he simply hasn't been healthy since taking his talents to the next level.
Nevertheless, the Giants won't lose sleep over trading Kadarius Toney — the writing has been on the wall for much of the last month.
On the other hand, Kansas City will hope to catch lightning in the bottle, and if there's one team that can figure out how to get the most out of the former Florida star, it's the one led by Andy Reid and Patrick Mahomes.