Paul Finebaum alludes to SEC potentially making massive step away from CFP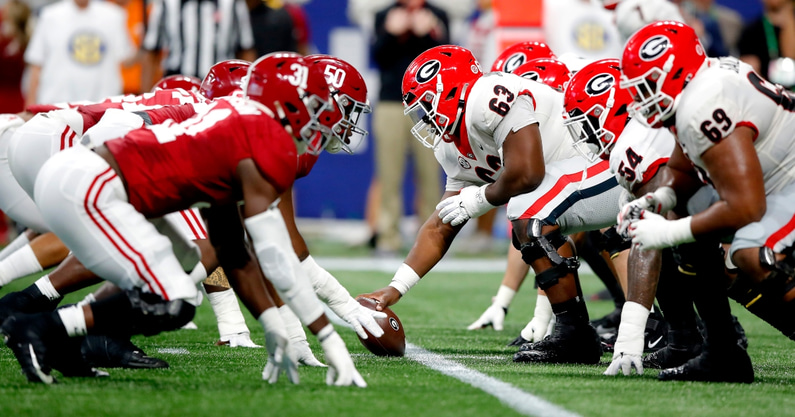 The College Football Playoff decided on Friday that expansion was not going to be in the short-term plans, deciding to remain at four teams through the 2025 season. As of now, the goal is to have a new format before the 2026 season once there are some renegotiations on the television contracts.
On Monday, Paul Finebaum was on ESPN radio, discussing the decision from the College Football Playoff to remain at four teams. Naturally, he began to talk about the SEC and where they stood after Friday's news. Finebaum even alluded to the conference potentially taking a step away from the CFP and creating their own postseason tournament.
"SEC commissioner Greg Sankey, who was on this committee that came up with this plan, said Friday afternoon 'I'm not sure we're going to go along with anything at this point,'" Finebaum said. "Meaning, maybe we'll take our ball and go somewhere else as some have suggested. Maybe the SEC — I'm not suggesting this but some have. Maybe the SEC ought to have it's own tournament every year."
If the SEC were to have their own tournament at the end of the year, there could theoretically already be a format for it, taking the basketball bracket and just playing football. However, the Texas Longhorns and Oklahoma Sooners could be in the conference by then, making it a 16 team conference.
Since the College Football Playoff was created in 2014, an SEC team has won a national championship five different times. The Alabama Crimson Tide currently has three, while the LSU Tigers and Georgia Bulldogs each have one. There's been at least one representative from the conference in all eight editions of the CFP and even having two in 2017 and 2021.
Paul Finebaum not happy with College Football Playoff format
Finebaum was not happy about the CFP deciding against expansion, calling out some of the commissioners making the decisions. He called the current format "boring" and is in favor of adding more teams into the mix.
"The 12-team Playoff wasn't going to guarantee excitement, but it was going to be similar to the NFL Playoffs. Where there's competition to get in. There's competition to be in the Wild Card, to have a bye, to have home field," stated Finebaum. "That's all gone. We have the same, boring Playoff that we've had since 2014.
"It's interesting that the audience has not groaned. .. We've had two Alabama-Georgia games in the last four years. Does the country really want that? No. And when you have a playoff, you open the door. As we just got done watching with the Super Bowl, for upsets. For exciting games.
"Now, we're stuck with the same boring tournament for the next four years."