Paul Finebaum names his SEC favorite behind Georgia, Alabama in 2022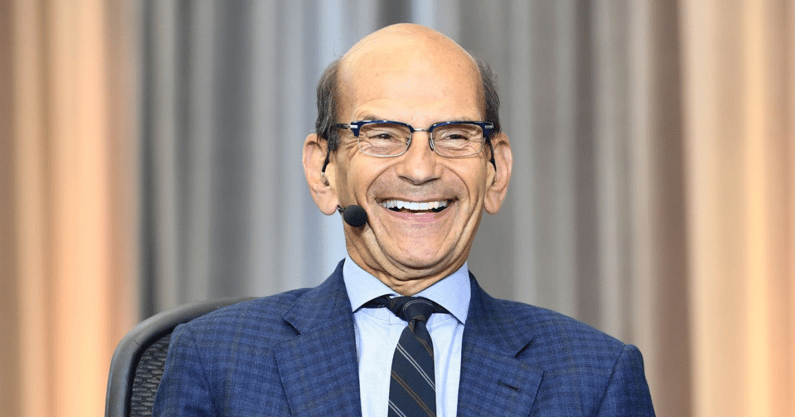 Although the SEC is as competitive a football conference in the NCAA, the conversation only surrounds Alabama and Georgia entering the 2022 season. The duo squared off both in the SEC championship game and College Football Playoff national championship last year. The rest of the league is as good as it's ever been yet the Crimson Tide and Bulldogs dominate the headlines. Beyond Nick Saban and Kirby Smart, who is the next likely contender in the SEC? ESPN's Paul Finebaum recently gave his pick.
Paul Finebaum selected Kentucky as his most likely SEC champion besides Alabama and Georgia during an episode of 'McElroy & Cubelic In The Morning'. He justified it by saying the Wildcats pose the least amount of questions and have a relatively straightforward path to get there.
"The question remains very difficult but I'd probably go with Kentucky only because I know what they have," said Finebaum. "All it's going to take for Kentucky is to hold serve on games that they have to win then maybe pull that one upset. Have a type of season where Will Levis just rises up and ends up being one of the top couple of quarterbacks in the country and ultimately upset Georgia."
Mark Stoops has done the heavy lifting by leading Kentucky from a laughing stock to the conference's model of consistency. The Wildcats went 2-10 the year before he arrived and 2-10 in his first season in Lexington. Since then, the Wildcats have improved each season. They've now made six straight bowl appearances and won four straight in the postseason. The Wildcats finished second in the SEC East in 2021 only to Georgia.
Kentucky may not be the flashiest team with the highest ceiling behind Alabama and Georgia. However, it's the consistency that makes them the safest pick for analysts like Paul Finebaum.
"(Kentucky is) the only one I could even make an argument for. The rest of them I think you're just simply taking too big of a risk. Whether it's Texas A&M pulling off the Alabama win? Florida having a miracle first season like Gus Malzahn (at Auburn)? Something along those lines. I can't come up with one frankly other than to play the odds and give you Kentucky."
Led by Stoops and Levis, the Wildcats feel they have true aspirations to reach Atlanta. The SEC's current state has left the door cracked enough to see a scenario where they're playing on December 3rd. They'll have to handle business throughout their schedule, though, which opens on September 3rd against Miami (OH).