Paul Finebaum previews thin pool of National Championship contenders in 2022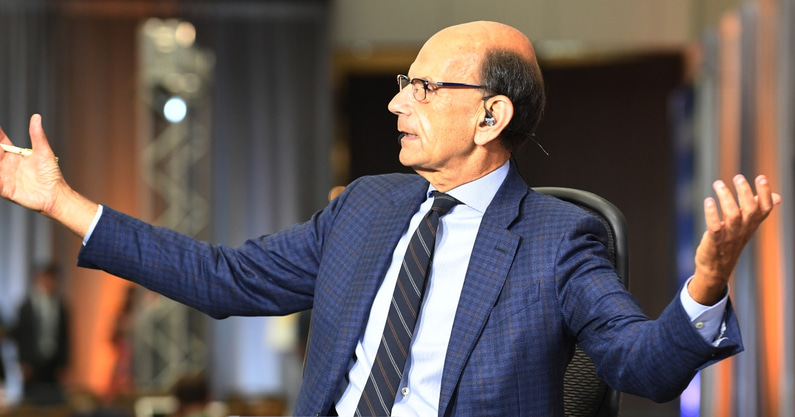 In any given season, there are only so many teams who have a realistic shot to win the national championship. In 2022, the list feels even smaller than normal, though. ESPN analyst Paul Finebaum broke down the list of possible national championship contenders.
Ultimately, Paul Finebaum thinks that there are two schools with legitimate national championship aspirations–Alabama and Ohio State. Everyone else doesn't have a real shot in his mind, even if we can see the pathway to the College Football Playoff for them.
"In August, we talk to people from around the country and everyone's got a story to tell," Paul Finebaum said. "Hey, if Utah goes to Florida and wins that game, then they have a clear path. But, ultimately, these schools have to get past the SEC or Ohio State in the Playoff. And, I think that's really the problem."
"I think you could make just as strong a case for Ohio State to win the national championship here, against Alabama."
Ultimately, in this two-team race, Paul Finebaum is also discounting Georgia. The Bulldogs are coming off a national championship season, where they beat Alabama to win the championship. However, he doesn't think they can beat Alabama in 2022, so they can't win a championship.
"Beyond Alabama and Ohio State, who is the next tier," Paul Finebaum explained. "By the way, in the era of trying to get 12 into a Playoff, we're looking for three and four right now. And, I think you do put Georgia in that conversation because you know that Georgia has a reasonable path as well. But, ultimately, I have a harder time putting Georgia in there as a legitimate champion."
Paul Finebaum then wondered about Clemson or a mystery team out there to contend for the national championship. The problem is that he doesn't think there is anyone out there.