Paul Finebaum slams ACC commissioner Jim Phillips in the aftermath of media days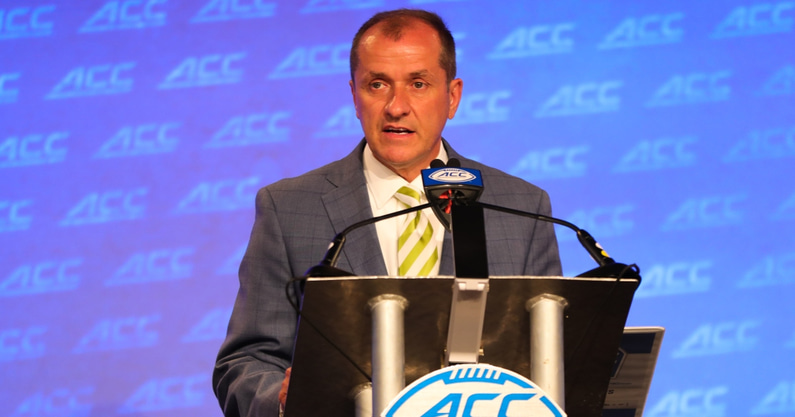 ACC commissioner Jim Phillips is in an interesting situation. The league appears to be falling behind in the conference realignment race thanks in part to its media rights deal, and that's led to questions about his performance in his time as commissioner.
Count SEC Network host Paul Finebaum in the group who doesn't approve of Phillips so far.
During a regular appearance on McElroy and Cubelic in the Morning, Finebaum slammed Phillips following ACC Kickoff. The former Northwestern president was considered for other commissioner positions before heading to the ACC in 2021, and Finebaum said he thinks there's a reason other leagues passed on him.
"I talked to a few people in the industry … and I think the consensus is he's not ready for prime time," Finebaum said. "I don't know how else you can say it. I'm guessing now, I think it's a pretty educated guess, that the presidents of the Big Ten and the Pac-12 took a look at this guy after meeting with him — and you know when you interview for a commissioner, it's not just fly in for a cup of coffee at Starbucks or a Zoom meeting. It's extensive. It's hours upon hours upon days. I don't think he passed. And I think he's already made a career mistake. I think he was perfect for Northwestern, right there on the lake running a middle-of-the-road, well-respected athletic department in the Big Ten. Now, he's in a game that he can't stay with.
"And I will also add that I don't know if it really mattered who the ACC commissioner [was]. I think the damage had already been done by prior contracts. But considering their current state, they needed someone who wasn't robotic and out of touch in front of the cameras a week ago."
Paul Finebaum: Jim Phillips' ACC Kickoff speech was vetted, 'a lot was cut out'
Finebaum also revealed an interesting note from Phillips' ACC Kickoff speech. As it turns out, staffers vetted his speech and cut parts of it.
"What's so interesting, too — and I know people are saying, 'Well, yeah, anyone can have a bad day,'" Finebaum said. "I talked to [ESPN reporter] Andrea Adelson the other day, who was in Charlotte and is as plugged into the ACC as anyone I know. She said that speech was vetted by his staff over a long period of time and a lot was cut out.
"Guys, I would love to know what ancient reference he must've had in there that didn't make the cut because these commissioners, for the most part, get up there and read from a prepared text just like the president would at the State of the Union. The only one who went off script was Kliavkoff, which made it so interesting."