Paul Finebaum weighs in on Jon Gruden coaching college football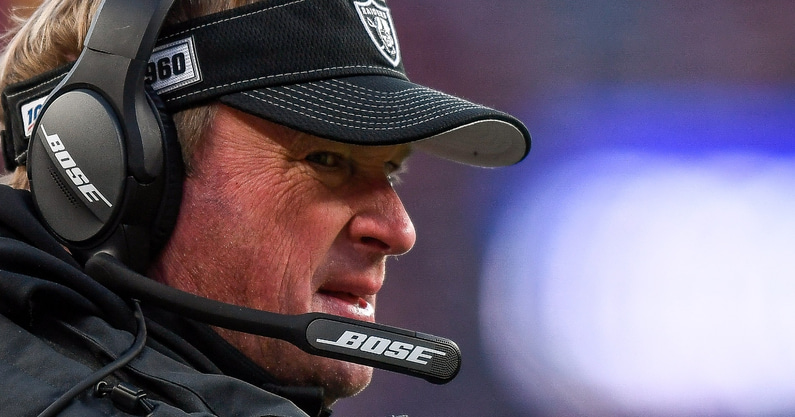 Paul Finebaum weighed in on the chances Jon Gruden resurfaces as a coach in the college football world. While the disgraced former Las Vegas Raiders head coach hasn't ventured into college football since 1991, many have wondered whether he would eventually attempt a return to the sport.
There aren't many things colleges won't do to win, but Finebaum believes hiring Gruden isn't in any school's future.
"In terms of college football, and I know we all think of college football as a sleazy entity — and in many ways it is. However, I don't think there is a single college in this country that would get near Jon Gruden," stated Finebaum. "He is un-hirable. Anywhere, anyplace."
Furthermore, Finebaum explains that the situation Gruden finds himself in is different from when other coaches have been forced to rebuild their brand.
"Most of the time when people get fired in college football and come back, it involves personal indiscretions. I've sat and listened to coaches who have fallen, and they apologize and they say their head wasn't right or their health wasn't good — and they come back. Some of them are very successful. Jon Gruden is a completely different story," said Finebaum. "We haven't heard him say anything yet other than a very disingenuous apology to the first set of allegations.
"I don't know how he can undo this. I'm on college campuses every weekend, and as much as there is a hunger to win, college presidents ultimately have to answer to a board of trustees. I can't imagine it happening."
Evidently, Finebaum is adamant that we shouldn't expect to see Gruden's name on any shortlists of candidates for open jobs.
Gruden: 'I never meant to hurt anyone'
Gruden's resignation and subsequent apology wasn't good enough for Finebaum. Moreover, many people had a problem with an apology many felt wasn't from the heart.
"I have resigned as head coach of the Las Vegas Raiders," Gruden stated. "I love the Raiders and do not want to be a distraction. Thank you to all the players, coaches, staff, and fans of Raider Nation. I'm sorry, I never meant to hurt anyone."
The New York Times detailed in a report Monday that Jon Gruden made more offensive comments than those initially revealed in his emails, including the use of homophobic slurs. Gruden has been the subject of criticism since an email he sent in 2011 was revealed in which he used a racially charged remark when discussing DeMaurice Smith of the NFLPA.
Jon Gruden resigned midway through his fourth season as the head coach of the Las Vegas Raiders. In 2018 he signed a record 10-year $100 million contract to take over the position from Jack Del Rio. The two-time Raiders coach also has a no-trade clause built into the contract. In his second stint with the Raiders, Gruden finishes 22-31 and never his team to the playoffs in three seasons.