James Franklin discusses growth from pass rushers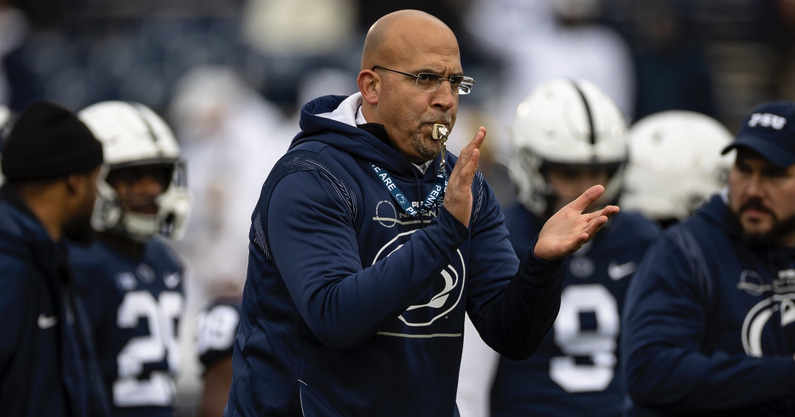 Penn State's defenses have been historically prolific in the Big Ten, and a lot of that has to do with their talent up front. Head coach James Franklin was asked about his defense front, and questioned about his satisfaction of his pass rushing unit.
"I don't know if I would describe it the way you did, but when you have three defensive ends that make All-Conference over the last two years and you lose that type of production, obviously through recruiting and through development, you need to replace that production," Franklin said. "So every year you're going to have that, and whether it's players in your program that are moving up into more prominent roles or whether that is through recruiting and now, which we don't live in this area a lot, but the transfer portal is able to solve some problems as well."
Franklin is referring to Shaka Toney, Jayson Oweh, and Arnold Ebiketie, all of which were not only All-Conference players, but NFL draft picks. And while he might have lost the production from them, he may gain it back from his upcoming recruiting class that included 4-star Maryland transfer Chop Robinson.
"The young man that you mentioned, Chop Robinson, is a young man we recruited out of high school, so knew him and his family extremely well. I think that helps us. We're typically a program, when it comes to the transfer portal, we would rather be in a situation of being involved with a young man that we already have a preexisting relationship through the recruiting process out of high school. I think that's helpful. Obviously he's got a chance to come in and make an impact. He's come in and tested extremely well, very athletic, as a guy who's all about ball, which I love," Franklin said.
Franklin had a lot to say about Robinson, but he also gets back Adisa Isaac who missed all of last season with injury. Between Robinson, Issac, and a recruiting class that included 5-star edge Dani Dennis-Sutton, Penn State could be poised to re-up on their lost All-Conference production
"I think he's got a chance to be a high-production, low-maintenance guy, which is what we want. But the other thing is having a guy that we did not have available last year in Adisa Isaac back. There's a number of guys that are going to be competing at that position that we feel really good about now," Franklin said.