Pete Thamel breaks down complications for new Big Ten commissioner Tony Petitti with TV deal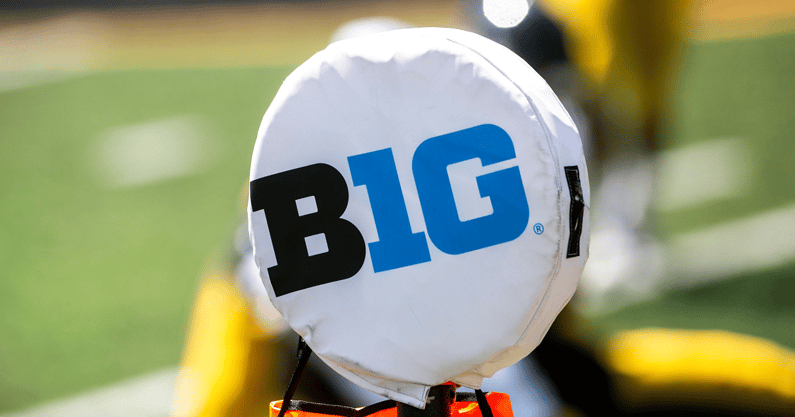 New Big Ten commissioner Tony Petitti walked into a difficult situation in regards to the conference's TV deal. Although the league reached an agreement with FOX, CBS and NBC last August for a seven-year contract worth $7 billion, there's still some details that have yet to be worked out.
One of the main concerns regarding the deal is that the Big Ten has yet to complete longform contracts. ESPN's Pete Thamel wrote a story Sunday on the matter and joined the Paul Finebaum Show on Monday to explain the situation.
"There's certainly, on the campus level between high profile coaches and numerous athletic directors, some discontent in the loose ends that Kevin Warren did not tie up before he left," Thamel said. "There are some large bills that have surprised some of these schools and some details with the NBC deal that were not ironed out. There's varying sides of how they're gonna get ironed out just in terms of where the responsibility lies. Was it the historic tolerances that the league had always had to have schools not play at night late in November? Or should those schools say, 'we just signed a multi-million dollar TV deal. We have to change our ways.' There's numerous dueling tensions here."
According to the article from Thamel, more than $70 million — $5 million per school — from the $7 billion deal remains "in flux." That includes nearly $40 million that the Big Ten now owes to FOX after previous commissioner Kevin Warren promised NBC the rights to the conference championship game without having authority to do so.
The league also still owes $25 million to FOX due to lost revenue from the shortened COVID-19 season in 2020. Then there's the scheduling problem, as the primetime deal with NBC is causing the Big Ten to reconsider some of its old scheduling policies. Previously, the league did not require schools to play night games after the first week of November, but Thamel reports that could change.
"In the end, most of the discontent comes from athletic directors who've been surprised and their CFOs that there are somewhat large bills," he said. "Now is it large compared to $7 billion? No. But if you're on one of these campuses trying to figure out the bottom line and you suddenly find out that you have $5 million more that you have to find in a year, that's a lot of money. It's a muddled situation and certainly there are multiple people who told us on the record they're not pleased with how things were left.
"It's left Tony Petitti, who enters as the new Big Ten commissioner as one of the most powerful people in college sports, sort of sprinting to get things done and resolved because we kick off football in three months."
Big Ten schools make schedule adjustments in light of new TV deal
With just three months left until the regular season begins, Petitti has been in a "sprint" to work things out according to Thamel. Athletic directors and coaches at schools in the conference were left "surprised," as were executives at NBC.
"There was so much looming when Petitti took over that it's just been a sprint to figure out how to get this done," Thamel said. "My understanding from talking to people in the television landscape is that it's extremely rare for longform deal to not be done three months before kickoff. These deals were obviously announced to much celebration over the summer. So there were details left unsettled that need to get settled in order for these contracts to get finalized and for the games to be televised here in September."
A few schools, however, have agreed to make sacrificed in order to uphold the deal. Michigan State and Penn State recently agreed to play a Black Friday game on Nov. 24 that will air on NBC. Additionally, Ohio State agreed to host the Spartans on Nov. 11 in what will mark the latest home night game in school history.
All that in mind, it seems the proper steps are being taken so the deal can get done. It just took a bit more work for Petitti than originally expected and a lot of compromise.
"I don't think anything is untenable," Thamel said. "But there's 'horse trading' was the term a bunch of sources used. The 'horse trading involves schools playing games that they might not normally want to play. Schools playing games that they weren't informed that they had to play that were scheduled in short weeks and different things like that. Competitive advantages getting mixed up. There was a lot of salute in the Big Ten to places like Michigan State, places like Penn State, places like Ohio State, to play games they weren't expecting to play in order to make this deal work."