Peyton Manning recalls time he asked NFL for a referee's home address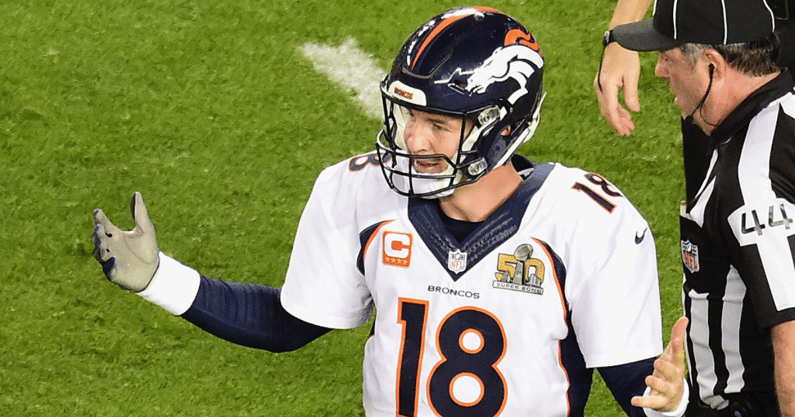 NFL legend Peyton Manning sat down with his brother Eli for a special Monday Night Football broadcast filled with in-depth analysis and comedic comments. During the ESPN2 broadcast of the Las Vegas Raiders overtime win over the Baltimore Ravens, they discussed the time Peyton Manning asked the NFL for a referee's home address.
"I remember one time, I let into a ref," Manning said. "I knew the guy. He's a good guy. He called the worst holding call. I let him have it. I felt so bad, I asked the NFL for his address after the game."
He continued: "I wanted to write him an apology letter.  They wouldn't give me his address.  They thought I was going to go egg his house or something."
As the two brothers continued to comment on the game and recount their favorite stories, Peyton felt the need to come to his own defense on his intensions.
"I'm like like, 'I'm trying to write him an apology letter,' he explained on his conversation with the NFL. "No one writes a referee an apology letter. The guy thinks I'm a jerk to this day because I cussed him out for a holding call against the Dolphins in the second quarter."
While Peyton Manning was unable to get the referee's home address at the time, he can now take some solace knowing the full story is out. Perhaps that referee was even watching the broadcast on Monday night.
More jokes from Peyton and Eli
In the first broadcast of Monday Night Football with Peyton and Eli, the Manning brothers continued to crack jokes about each other. After a segment where Peyton wore a helmet, Eli didn't miss a chance to make fun of his brother for sweating afterwards.
"You need some more powder on your forehead, it looks like you sprayed Pam all over it," Eli joked.
With Hall of Fame linebacker Ray Lewis present for the second quarter, Eli made sure to get in another jab at Peyton's forehead. Peyton tried to cut his brother off after the joke while Lewis laughed at the brothers.
The second quarter was filled with the three NFL veterans recounting stories of playing against each other.
As their time with Lewis as a guest drew to a close, the loose nature of their broadcast shined through as a smoke alarm began sounding in the background. Peyton was quick to throw Eli under the bus by asking him what he did.