PFF names top ten returning college football cornerbacks in 2022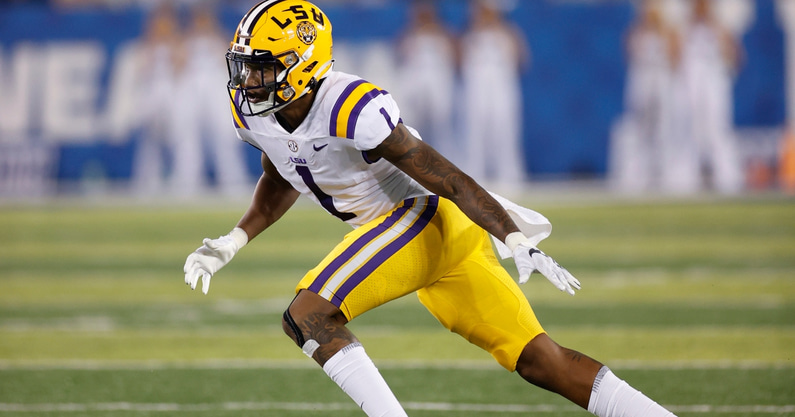 There are a lot of talented defensive backs returning to college football season. Pro Football Focus has been revealing lists of their top rated players at each position returning next year. PFF just named the top cornerbacks returning to college football in 2022, with a former LSU Tiger leading the pack.
PFF's top returning cornerbacks in 2022
1. Eli Ricks, Alabama
Ricks suffered through injuries this season, but he was a great defensive back as a freshman in 2020 at LSU. Per PFF, he allowed just six receptions on 19 targets in 2020, becoming one of the top cornerbacks in all of college football. Ricks will be playing for a different SEC team in 2022, as he transferred from LSU to Alabama.
2. Cam Smith, South Carolina
South Carolina took a big step forward in head coach Shane Beamer's first season. Smith allowed 15 catches on 32 targets and earned an 89.7 coverage grade from PFF, making him the second best returning cornerback for the 2022 season.
3. Clark Phillips, Utah
Utah asserted itself as the top team in the Pac-12 this year, winning the conference and making it to the Rose Bowl. This season, Phillips had nine pass breakups with two interceptions and two forced fumbles.
4. Kelee Ringo, Georgia
Ringo's 2021 season came to a storybook finish, as his long pick six sealed Georgia's victory in the National Championship. While he will be remembered largely for that one play, he was solid throughout the entire season and will be a key part of Georgia's retooling defense next season.
5. Darrell Luter Jr., South Alabama
Luter doesn't get a lot of attention, but he is undoubtedly one of college football's best. In ten games, he allowed 12 catches, compared to 14 combined interceptions and pass breakups. He also allowed just a 26.7% catch rate.
6. DJ Turner, Michigan
Turner didn't start for the first half of the season, but once he took over in the Wolverines' secondary, he took off. He had an 80.7 coverage grade after Week 8, which was PFF's third best rating among outside corners at Power Five schools.
7. Jason Marshall Jr., Florida
Florida will lose star corner Kaiir Elam to the 2022 NFL Draft, but Marshall returns as another solid option in the secondary. After Week 3, he allowed just ten receptions and rated as one of PFF's top cornerbacks.
8. Riley Moss, Iowa
Moss has been around for a little bit, as he came in as part of the 2018 recruiting cycle. He had four interceptions, six pass breakups and seven passing stops this past season, making him one of PFF's top returning cornerbacks.
9. Tiawan Mullen, Indiana
Mullen is a versatile corner due to his strong presence all-around on defense. He is a playmaker against the pass, and also one of the top corners against the run. Despite dealing with injuries in 2021, Mullen is in line for a huge bounce-back next season.
10. Tyrique Stevenson, Miami
Stevenson began his career at Georgia before heading to Miami. The transfer has paid dividends for Stevenson, as he established himself as one of the top corners in the ACC with a 76.1 coverage grade, per PFF.
Sleeper: Mekhi Garner, LSU
Garner has started his career at Louisiana, and how he is making the jump to LSU. His numbers are spectacular, leading PFF to rank him as a serious sleeper among the top cornerbacks in 2022. LSU loses Derek Stingley, Eli Ricks and others, so Garner should immediately become a key part of the Tigers' secondary.