Pittsburgh offers 2024 Penn State legacy Royce Parham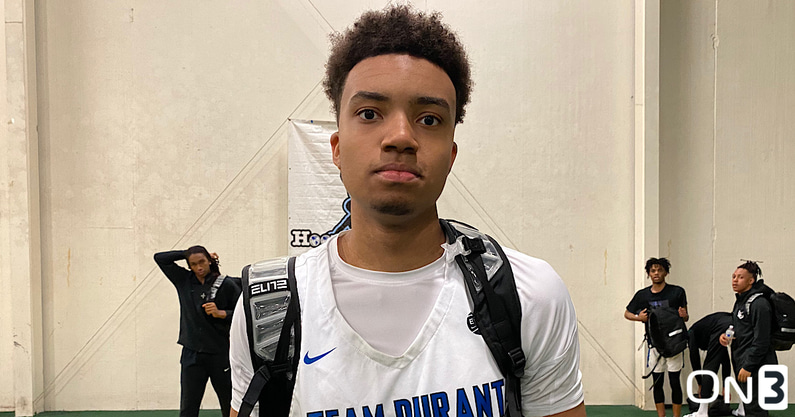 Royce Parham may have been the biggest breakout performer at Hoop Groups' Southern Jam Fest. The 6-foot-8 post led his Team Durant team all the way to the 16u championship game.
"I am aggressive and finish really well inside," Parham told On3. "Over the past few months, I have developed my guard skills and face-up game. That is becoming a weapon for me. I watch a lot of Tim Duncan; he can shoot it, play in the mid-range, and he is aggressive on defense and on the boards."
The native of Pittsburgh has started to see his recruiting pick up recently, getting a Pittsburgh offer this week. On3 caught up with Royce Parham to see where his recruitment stands early in the process.
"I have offers from Robert Morris, Duquesne, and Pittsburgh," Parham said. "I have visited Duquesne and Pitt."
Parham talks recruitment
Duquesne: "It is a really good school academically, and the coach is very well known in our area. I can fit into a lot of play styles; however, the coach wants me to play on both sides of the floor."
Pittsburgh: "Obviously, they are in the ACC. When I visited, I saw them play, and they are an aggressive, fast, and strong team."
"Penn State, West Virginia, and TCU are talking to me, but they haven't offered or anything like that yet," Parham said. "I may look to visit Penn State soon, in May."
Penn State: "My mom (then Kim Calhoun) is the blocked shots leader there. It is a really good campus and a really good place. I want to find out more."
Parham's take
"When I go on visits, I will look at the coaches and how they run their teams," Parham said. "I want to see how they interact with their players and if they can coach you, develop you, and work you through your mistakes."
On3's take
Royce Parham has a big frame and a stand-out motor. What strikes you quickly is the purpose with which he runs the floor on both ends. He has excellent hands, both on the block or catching on the move. His touch, and confidence, extend beyond the three-point line, and he can put it on the floor for one and two dribbles. Parham is a good athlete with very natural and fluid movements. His frame also looks like it is not done growing. He comes from significant basketball genes as his mom is the career blocked shots leader at Penn State. Young for his grade, there is still time for him, and his ceiling is very high. Monitor his development closely; there are a lot of natural tools working in Parham's favor.