Ben Roethlisberger says Steelers offense has 'long way to go'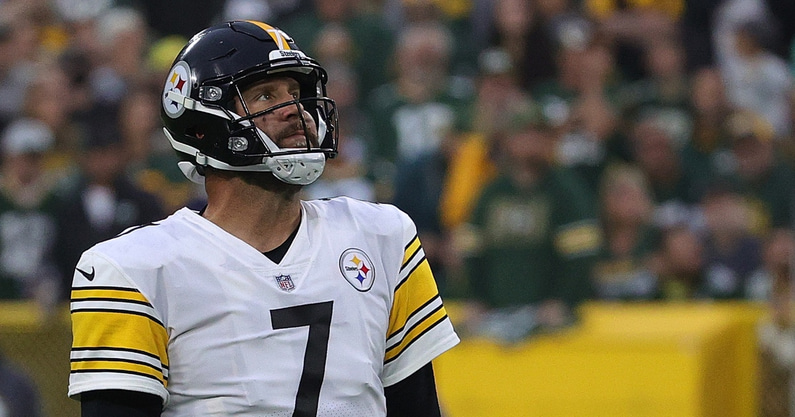 The Pittsburgh Steelers offense was the primary storyline for three-straight weeks. Ben Roethlisberger and a crew of skill players including their first-round running back, Najee Harris, couldn't find chemistry.
While it wasn't a perfect performance, Big Ben and company finally found success in a much-needed 27-19 victory over a Denver Broncos team that was surging coming into the matchup.
The Steelers veteran signal caller has played long enough to understand one decent week doesn't mean all the lingering issues are solved.
"We're not by any means going to sit here and say we're fixed, we're this great offense," Roethlisberger said. "We're not there yet. We still have a long way to go.
Still, Sunday's home win should provide a glimmer of hope for die-hard Pittsburgh Steelers fans.
Both Roethlisberger and first-year Steelers offensive coordinator Matt Canada have spent post-game pressers the last three weeks answering questions about the stagnant offense, but the narrative was different following the Denver win.
Harris was the Pittsburgh Steelers] first 100-yard rusher in 16 games, a stat that feels staggering. Roethlisberger had his first multiple touchdown game with no interceptions since Week 15 last season. And the Steelers had more runs than passes for the first time since Week 5 in 2020, a sign that some semblance of balance might be returning.
The result? A 27-19 home victory against a Denver Broncos team that entered the contest with just one loss and has one of the more formidable defenses in the NFL.
Pittsburgh Steelers star wide receiver gives emotional speech following season-ending injury
Roethlisberger said the Steelers offense will have to continue to improve without one of their top offensive talents and a key figure in the locker room.
NFL Network's Ian Rapoport reported Monday afternoon that JuJu Smith-Schuster and the Steelers have decided he will have surgery, ruling him out for the year. The procedure was successful, but the third-year player is a huge loss for a Pittsburgh Steelers offense which has struggled this season.
Roethlisberger expressed sincere emotion when discussing the loss of one of his top targets.
"I'll speak selfishly – I'm hurt because I miss that guy, what he brings to this team, his energy, his excitement, his leadership," Roethlisberger said on Wednesday. "It sucks, it really does. I spoke to him on Sunday night and I felt his pain through the phone."
To help replace him and add depth, the Steelers signed receiver Anthony Miller to the practice squad. Miller was released last week by the Houston Texans.
But Roethlisberger said, "You can't replace JuJu."
For now, the Pittsburgh Steelers will attempt to continue last week's momentum when they host the Seattle Seahawks on Sunday under the lights of Heinz Field.
The primetime matchup can be viewed nationally on NBC's Sunday Night Football, with kickoff slated for 8:20 p.m. ET.