Players to watch at the Hoophall Classic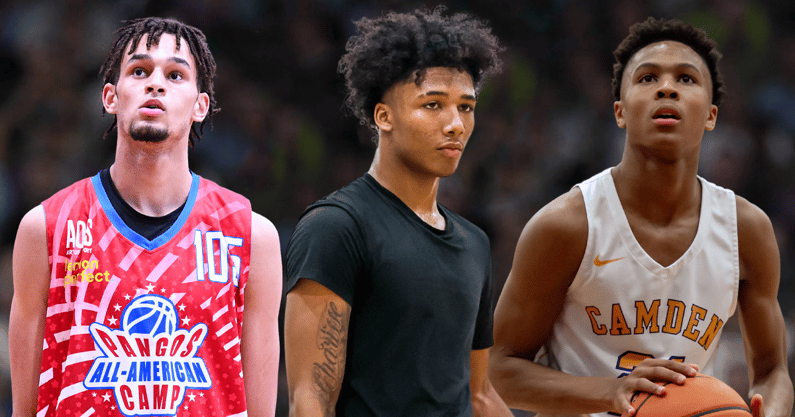 The Hoophall Classic tips off on Thursday, Jan. 13th, and lasts until the 17th. The 20th anniversary of this exciting event in Springfield, MA is once again loaded with talent. Six of the top-10 prospects in the 2022 class will be in attendance, to go along with seven of the top-10 in the 2023 class.
Here are the top players in both the senior and junior classes.
2022 On3 Consensus Rankings
2023 On3 Consensus Rankings
Top Players in the 2022 Class
C Dereck Lively
On3 Consensus: No. 1
West Chester (Pa.) Westtown School
Status: Signed with Duke
SF Dariq Whitehead
On3 Consensus: No. 2
Montverde (Fla.) Academy
Status: Signed with Duke
SG Keyonte George
On3 Consensus: No. 3
Bradenton (Fla.) IMG Academy
Status: Signed with Baylor
SF Chris Livingston
On3 Consensus: No. 6
Mouth of Wilson (Va.) Oak Hill Academy
Status: Signed with Kentucky
C Adem Bona
On3 Consensus: No. 8
Napa (Calif.) Prolific Prep
Status: Signed with UCLA
PF Kyle Filipowski
On3 Consensus: No. 10
Wilbraham (Pa.) Wilbraham & Monson Academy
Status: Signed with Duke
CG Skyy Clark
On3 Consensus: No. 14
Montverde (Fla.) Academy
Status: Signed with Kentucky
SF Mark Mitchell
On3 Consensus: No. 15
Bel Aire (Kan.) Sunrise Christian Academy
Status: Committed to Duke
PF Julian Phillips
On3 Consensus: No. 17
Branson (Mo.) Link Prep
Status: Signed with LSU
PF Jarace Walker
On3 Consensus: No. 18
Bradenton (Fla.) IMG Academy
Status: Signed with Houston
SF Jordan Walsh
On3 Consensus: No. 20
Branson (Mo.) Link Prep
Status: Signed with Arkansas
PG Jaden Bradley
On3 Consensus: No. 21
Bradenton (Fla.) IMG Academy
Status: Signed with Alabama
CG Jalen Hood-Schifino
On3 Consensus: No. 22
Montverde (Fla.) Academy
Status: Signed with Indiana
SF Dillon Mitchell
On3 Consensus: No. 24
Montverde (Fla.) Academy
Status: Signed with Texas
SF MJ Rice
On3 Consensus: No. 25
Napa (Calif.) Prolific Prep
Status: Signed with Kansas
SF Gradey Dick
On3 Consensus: No. 28
Bel Aire (Kan.) Sunrise Christian Academy
Status: Signed with Kansas
CG JJ Starling
On3 Consensus: No. 29
La Porte (Ind.) La Lumiere School
Status: Signed with Notre Dame
PF Malik Reneau
On3 Consensus: No. 30
Montverde (Fla.) Academy
Status: Signed with Florida
CG Chance Westry
On3 Consensus: No. 34
Chandler (Ariz.) AZ Compass Prep
Status: Signed with Auburn
PF Eric Dailey
On3 Consensus: No. 35
Bradenton (Fla.) IMG Academy
Status: Uncommitted
PF Sadraque Nganga
On3 Consensus: No. 37
Chandler (Ariz.) AZ Compass Prep
Status: Uncommitted
SF Jett Howard
On3 Consensus: No. 38
Bradenton (Fla.) IMG Academy
Status: Signed with Michigan
PG Dylan Andrews
On3 Consensus: No. 39
Chandler (Ariz.) AZ Compass Prep
Status: Signed with UCLA
PF Tarris Reed
On3 Consensus: No. 42
Branson (Mo.) Link Prep
Status: Signed with Michigan
C Felix Okpara
On3 Consensus: No. 43
Branson (Mo.) Link Prep
Status: Signed with Ohio State
PG Bruce Thornton
On3 Consensus: No. 44
Milton (Ga.) High
Status: Signed with Ohio State
C Donovan Clingan
On3 Consensus: No. 47
Bristol (Conn.) Central High
Status: Signed with UConn
SG Roddy Gayle
On3 Consensus: No. 52
Mount Pleasant (Utah) Wasatch Academy
Status: Signed with Ohio State
SF Tyrell Ward
On3 Consensus: No. 54
Hyattsville (Md.) DeMatha Catholic
Status: Signed with Xavier
SF Tre White
On3 Consensus: No. 61
Napa (Calif.) Prolific Prep
Status: Signed with USC
CG Judah Mintz
On3 Consensus: No. 64
Mouth of Wilson (Va.) Oak Hill Academy
Status: Uncommitted
PF AJ Casey
On3 Consensus: No. 66
Chicago (Ill.) Whitney Young
Status: Signed with Miami
SG Rodney Rice
On3 Consensus: No. 68
Hyattsville (Md.) DeMatha Catholic
Status: Signed with Virginia Tech
CG Jayden Epps
On3 Consensus: No. 72
Lincolnton (N.C.) Combine Academy
Status: Signed with Illinois
SF Devin Ree
On3 Consensus: No. 75
Mouth of Wilson (Va.) Oak Hill Academy
Status: Signed with LSU
SG Dillon Hunter
On3 Consensus: No. 80
Bel Aire (Kan.) Sunrise Christian Academy
Status: Signed with Baylor
PF Taylor Hendricks
On3 Consensus: No. 87
Fort Lauderdale (Fla.) Calvary Christian
Status: Signed with UCF
C Cameron Corhen
On3 Consensus: No. 89
Bel Aire (Kan.) Sunrise Christian Academy
Status: Signed with Florida State
CG Denver Anglin
On3 Consensus: No. 95
Gladstone (N.J.) Gill St. Bernard
Status: Signed with Georgetown
CG Jameel Brown
On3 Consensus: No. 108
West Chester (Pa.) Westtown School
Status: Signed with Penn State
SF Bobi Klintman
On3 Consensus: No. 121
Bel Aire (Kan.) Sunrise Christian Academy
Status: Uncommitted
PF Kebba Njie
On3 Consensus: No. 127
La Porte (Ind.) La Lumiere School
Status: Signed with Penn State
SF Camden Heide
On3 Consensus: No. 136
Mount Pleasant (Utah) Wasatch Academy
Status: Signed with Purdue
SG Lamar Washington
On3 Consensus: No. 139
Chandler (Ariz.) AZ Compass Prep
Status: Committed to Texas Tech
PF Colin Smith
On3 Consensus: No. 145
Chandler (Ariz.) AZ Compass Prep
Status: Signed to Vanderbilt
Top Players in the 2023 Class
PG Dajuan Wagner Jr.
On3 Consensus: No. `1
Camden (N.J.) High
Status: Uncommitted
SF KJ Evans Jr.
On3 Consensus: No. 2
Montverde (Fla.) Academy
Status: Uncommitted
SF Mackenzie Mgabko
On3 Consensus: No. 4
Gladstone (N.J.) Gill St. Bernard
Status: Uncommitted
SF Mookie Cook
On3 Consensus: No. 6
Chandler (Ariz.) AZ Compass Prep
Status: Uncommitted
PF Omaha Biliew
On3 Consensus: No. 7
Branson (Mo.) Link Prep
Status: Uncommitted
PG Caleb Foster
On3 Consensus: No. 8
Mouth of Wilson (Va.) Oak Hill Academy
Status: Committed to Duke
PG Kylan Boswell
On3 Consensus: No. 10
Chandler (Ariz.) AZ Compass Prep
Status: Uncommitted
CG Mikey Williams
On3 Consensus: No. 13
Charlotte (N.C.) Vertical Academy
Status: Uncommitted
CG Simeon Wilcher
On3 Consensus: No. 14
Roselle (N.J.) Catholic
Status: Committed to North Carolina
CG Kanaan Carlyle
On3 Consensus: No. 16
Milton (Ga.) High
Status: Committed to Stanford
CG Marvel Allen
On3 Consensus: No. 18
Fort Lauderdale (Fla.) Calvary Christian
Status: Uncommitted
C Aaron Bradshaw
On3 Consensus: No. 20
Camden (N.J.) High
Status: Uncommitted
PF Akil Watson
On3 Consensus: No. 28
Roselle (N.J.) Catholic
Status: Uncommitted
PG Jeremy Fears
On3 Consensus: No. 33
La Porte (Ind.) La Lumiere School
Status: Committed to Michigan State
PG Aden Holloway
On3 Consensus: No. 55
La Porte (Ind.) La Lumiere School
Status: Uncommitted