Playoffs and championship call for a 2023 On3 150 update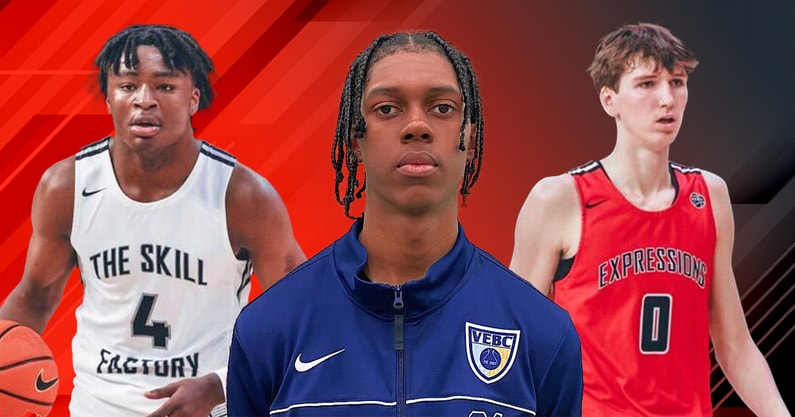 As we enter the home stretch of this recruiting cycle, On3 has updated the 2023 On3 150. This is the next-to-last update for this class, and it is based on 1) in-person player evaluations from the final stretch of the high school season and 2) film study and intel gathered on prospects since the last update.
Updated 2023 On3 150 player rankings
While it has only been a month since the previous 2023 On3 150 update, a lot has happened with regional and state playoffs, end-of-season film making its rounds, and some elite events taking place. With multiple showcases taking place every week(end), On3 has also collected streams and film to comb through the maximum exposure of countless events and players.
The ranking process is a continual and often fluid one. On3 starts ranking recruits as sophomores. That recruit can look a lot different for our final ranking after their senior year championships and all-star games are played.
We have spent the last couple of weeks continuing to work on this 2023 update, so it will reflect the most accurate and current representation of the recruiting cycle. This work has resulted in some shuffling among the five-star prospects in the 2023 On3 150.
These prospects are mostly through their senior years of high school. Our next 2023 On3 150 update will come around the end of the all-star game season. That will be our final update for this class cycle.
The goal of rankings at On3 is to assess a prospect's long-term potential. As we continue forward, a player's performance on the court and their continued growth will outweigh these early rankings. Again, every player's arc is different, and each ranking is a snapshot in time.
Grading the 2023 On3 150
The basketball player rankings scale is as follows: Five-star prospects have grades 98-100, four-star recruits have grades 90-97, and 80-89 grades are for three stars.
The first 20 prospects are five stars with a rating of 98 or higher. The rankings for current cycles will be updated on a regular schedule throughout the year, with around 20 five stars by the final ranking of a cycle. Our goal is to assess a prospect's long-term potential in college basketball, ultimately manifested by the NBA draft.
Cody Williams the new No. 1
Since GG Jackson classified up into the 2022 class, the No. 1 spot in 2023 has been somewhat of a revolving door. DJ Wagner was the first player to hold the spot, then his Camden (NJ) High teammate Aaron Bradshaw did a stint at the top.
Cody Williams is the new No. 1 in the latest 2023 On3 150 update. In a class that has no clear-cut player at the top, with our eye firmly planted on the NBA Draft, this decision was all about projection and potential player trajectory outcomes.
Williams has clear positional size as a 6-foot-7 wing. This season, the Colorado signee continued to turn the corner. He played a lot on the ball for his Gilbert (AZ) Perry High team and showed some sharpened scoring chops throughout the season. Defensively, he also has the length you like to see from the position, with the instincts to be a good team and wing defender.
You also see the bloodlines involved. Williams' older brother Jalen Williams chose Santa Clara out of high school over a host of other mid-major offers. Williams stayed for three years and developed into a lottery pick. The 6-foot-6 wing is now averaging 13.3 points and 3.1 assists as a rookie for the Oklahoma City Thunder.
While every individual player's path is different, bloodlines are a good place to start when looking at potential outcomes.
Bronny James is a five-star
Making the biggest jump in the 2023 On3 150 update is Bronny James. James, the son of LeBron James, jumped 19 spots to No. 9.
James, who has been on the national stage since middle school, has played across the country, even across the world, in front of sold-out crowds and on national television. Every night, James gets the opposition's best, and the cameras are never off. Already blessed with great genes, year after year, James has continued to improve his game in all facets. His frame has also filled out along with his athleticism and strength.
These rankings are geared toward future NBA Drafts. We have been given strong indications that James will be drafted when he eventually declares.
Shakeup in the back half of the top ten
Cody Williams was not the only movement within the top ten. The back half of the group got some shake-up as well. Here are where each player newly sits on the list.
No. 7 C Aaron Bradshaw (Kentucky)
No. 8 C Xavier Booker (Michigan State)
No. 9 CG Bronny James (uncommitted)
No. 10 PG AJ Johnson (Texas)