Position unit breakdown: All you need to know about the top offensive lines in 2022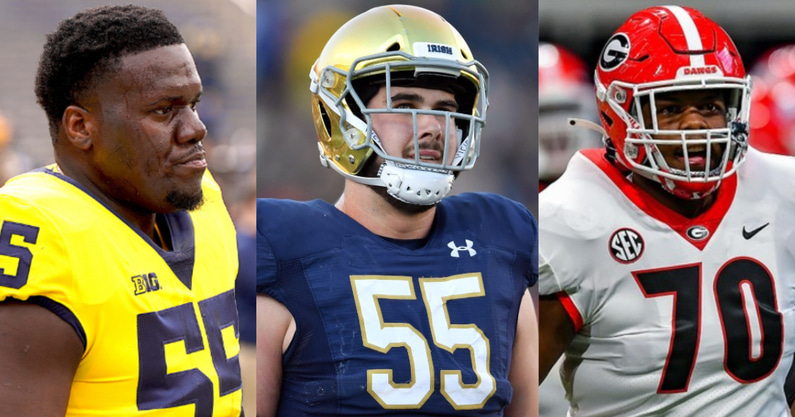 We continue our position breakdown series today with offensive lines.
We came up with the nation's 12 best offensive lines, as well as the top offensive line in each league (if it is not mentioned in the top 12) and the top three o-line transfer classes.
This is a mixture of talent, expected production of the offense and the comfort level with the line. Think of "comfort level" this way: If there are a handful of new starters up front or the returning guys had issues last season, well, the comfort level can't be all that high.
We looked at the nation's top 10 offensive backfields Tuesday and the top 12 receiving corps Wednesday.
12. Pitt
3 key linemen: C Owen Drexel, G Marcus Minor, T Carter Warren
The buzz: The Panthers return all five starters up front; the group did a solid job in pass protection last season, when Kenny Pickett threw for 4,319 yards and 42 TDs as Pitt won the ACC title. But the rushing attack was iffy. There should be a bigger emphasis on the ground game this season. Warren was a second-team all-league selection last season, and Minor played well after transferring from Maryland.
11. Wisconsin
3 key linemen: G Tyler Beach, T Jack Nelson, C Joe Tippman
The buzz: Wisconsin is an annual fixture on these types of lists. The question this season: Is this merely a "good" Badgers offensive line (i.e., a kind of line most FBS teams would kill for) or can it be elite? Beach is moving from left tackle to guard, and should contend for All-Big Ten honors there. Nelson is going the opposite way – from guard to tackle. Of note: T Logan Brown, a five-star recruit in 2019 who hasn't done much, is in position to start at right tackle. Brown has battled injuries and health issues (he has Type-1 diabetes) as a Badger.
10. Louisville
3 key linemen: T Renato Brown, G Caleb Chandler, C Bryan Hudson
The buzz: Four starters return from a line that played especially well against ACC foes. Hudson is the lone new starter, but he is a former starter at Virginia Tech. He was a part-time starter for Louisville last season, with four starts at guard and one at center. Chandler was a second-team All-ACC guy in 2020 and a first-teamer last season.
9. BYU
3 key linemen: G Clark Barrington, T Blake Freeland, C Connor Pay
The buzz: The Cougars pride themselves on their power rushing attack, and four starting linemen return after helping the now-departed Tyler Allgeier rush for 1,601 yards and 23 TDs last season. Freeland (6-8, 307), a fourth-year junior, started in each of the past three seasons and looks to have an NFL future. That's impressive when you consider he didn't play on the offensive line until he got to BYU. He was a quarterback in his first two years at Herriman High, in suburban Salt Lake City. As a prep senior, he saw time at tight end, fullback, defensive tackle and defensive end. He started at right tackle as a true freshman in 2019 and as a sophomore in 2020, then moved to left tackle last season.
8. Cincinnati
3 key linemen: G Lorenz Metz, T Dylan O'Quinn, C Jake Renfro
The buzz: All five starting linemen return; it's the guys who line up behind them at quarterback and running back who will be new. The three players listed were first-team All-AAC performers last season. Metz is a giant (6-9, 337) and has a great back story: He didn't play American football until he was 18, in his hometown of Neuötting, Germany, near the German-Austrian border. Metz signed as a 275-pound defensive tackle but quickly switched to offense once he arrived at Cincinnati. After playing sparingly in 2018, he started at tackle in 2019. He lost his starting job in 2020, then switched to guard last season and played well.
7. Arkansas
3 key linemen: G Brady Latham, C Ricky Stromberg, T Dalton Wagner
The buzz: The Hogs are a physical running team, and a line with four returning starters will lead the way. Wagner (6-9, 337) is a behemoth at right tackle. Stromberg will be a third-year starter.
6. Oregon
3 key linemen: T Malaesala Aumavae-Laulu, G T.J. Bass, C Alex Forsyth
The buzz: The former staff placed a premium on the o-line, and the new staff figures to do the same. Bass is a road grader in the run game. Forsyth battled some injuries last season but still played well.
5. Georgia
3 key linemen: T Broderick Jones, T Warren McClendon, C Sedrick Van Pran
The buzz: The Bulldogs lose two starters, but ample talent remains. McClendon is heading into his third season as a starter, and Van Pran stood out despite being a first-year starter in 2021.
4. Ohio State
3 key players: T Paris Johnson Jr., T Dawand Jones, C Luke Wypler
The buzz: The Buckeyes' line struggled at times last season, but this unit looks quite good. The tackle combo might be the nation's best, and Wypler is a rock in the middle.
3. Baylor
3 key players: C Jacob Gall, T Connor Galvin, G Grant Miller
The buzz: Baylor makes its offensive living running the ball, and the three players listed all have legit first-team All-Big 12 aspirations. Gall, a Cincinnati native who began his career at Buffalo, is a people mover in the middle of the line. Galvin (6-7, 310) is a stud college left tackle.
2. Notre Dame
3 key players: T Joe Alt, G Josh Lugg, C Jarrett Patterson
The buzz: Alt's dad, John, was a longtime NFL OT, and Joe has the look of a future pro. Patterson might be the nation's best center. Plus, new coach Marcus Freeman brought back noted line coach Harry Hiestand to oversee the position.
1. Michigan
3 key players: T Ryan Hayes, C Olusegun Oluwatimi, G Zak Zinter
The buzz: Michigan won the Joe Moore Award last season, given annually to the nation's best offensive line. Despite the loss of two starters, this season's line will be at least as good. Oluwatimi's transfer from Virginia is one of the 10 biggest offseason moves for anyone.
Other leagues
Conference USA
UTSA: The Roadrunners rely heavily on their ground attack, and four starting linemen are back. C Ahofitu Maka (who has a great Twitter handle: @RAKALAKAMAKA) is heading into his fourth season as a starter and is a two-time second-team all-league pick.
Mid-American
Northern Illinois: The Huskies, who return four starting linemen, have a deep and experienced group. NIU was fourth nationally in rushing last season, and while a new feature back must emerge, that guy will have room to run. T Nolan Potter is the individual standout.
Mountain West
Air Force: Option-based offenses like it when there are returning starters up front. Well, three starters return for a team that led the nation in rushing in 2021. G Isaac Cochran is the star. Plus, there's a center named "Thor" (Thor Paglialong).
Sun Belt
Georgia State: The Panthers are coached by Shawn Elliott, a former o-line coach, so it shouldn't be a surprise that their linemen mash people. Georgia State led the Sun Belt and was eighth nationally in rushing last season, and four starters are back. C Malik Sumter is a sixth-year senior who will be a five-year starter.
The three best o-line transfer classes
3. Florida State, with G/T D'Mitri Emmanuel (from Charlotte), T Bless Harris  (Lamar), C Kayden Lyles (Wisconsin) and T Jazston Turnetine (South Carolina). The buzz: This group would've been second, but Lyles' season-ending injury removes some of the luster; he was battling for the starting center job. Emmanuel was a tackle at Charlotte but seems likely to play guard for FSU. Turnetine started last season for South Carolina. At the least, FSU has a lot more (and better) depth up front now.
2. Minnesota, with T Quinn Carroll (Notre Dame) and G Chuck Filiaga (Michigan). The buzz: The Golden Gophers brought in just two transfers, but both are Power 5 guys expected to start. Filiaga started 10 games in his Michigan career. Carroll is a former national top-100 prospect in the 2019 class; he didn't start a game in his two seasons with the Irish, but has a nice upside. Minnesota lost four starters off last season's line.
1. Texas Tech, with C Cade Briggs (New Mexico), T Ty Buchanan (USC), T Monroe Mills (Oklahoma State), C/G Michael Shanahan (UT-Martin), T/G Cole Spencer (Western Kentucky). The buzz: At minimum, two transfer linemen will start, and it could be three. And as at FSU, at the least there is more and better depth up front. Briggs played guard and tackle at New Mexico but seems set to start at center. Worth watching: He played in a run-heavy offense with the Lobos, but the Red Raiders figure to throw it around as much as anybody. Spencer was a two-time all-league pick at tackle for Western Kentucky, but should start at guard for Tech. Buchanan and Mills are vying for a starting tackle job.