Report: Possibility of SEC staging own College Football Playoff on table at spring meetings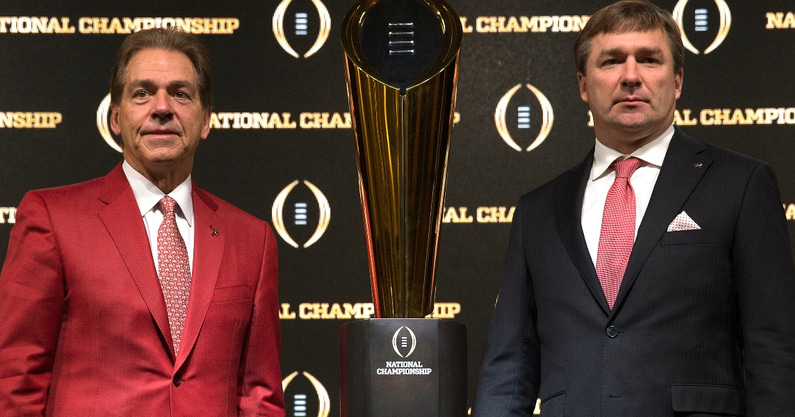 The SEC has been the class of the college football world, but great change could be on the horizon. While the College Football Playoff, transfer portal and NIL have caused programs to adjust greatly, a landmark idea is on the table at spring meetings for the conference — an intra-SEC Playoff, according to Pete Thamel of ESPN.
"One idea certain to be discussed by SEC officials in Destin is the notion of the SEC creating, running and profiting from its own intra-SEC postseason," wrote Thamel. "The most obvious model is an eight-team one, but there are others that will be discussed.
"SEC commissioner Greg Sankey stressed that no seismic change is imminent. But he did mention that an SEC-only playoff, in a variety of forms, was among the nearly 40 different models that SEC officials discussed at their fall meetings."
Where there's smoke, there's fire. Continuing, Sankey told Thamel and ESPN that the idea is under serious consideration.
"As we think as a conference," he told ESPN on Monday, "it's vitally important we think about the range of possibilities."
Continuing, Florida athletic director Scott Stricklin is someone supremely intrigued by the idea, as he told ESPN.
"We have an incredibly strong league, one that will be even stronger once Oklahoma and Texas join," stated Stricklin to ESPN. "The focus should be on how we as a league use that strength to further position the SEC as we face new realities.
"Commissioner Sankey has encouraged our athletic directors to think creatively, and an SEC-only playoff is a different idea that we should absolutely consider an option."
The idea would change college football as we know it, as Thamel laid out the hypotheticals in his article.
"What would that look like? We'll explore more later. But could we see an eight-team tournament that eventually faces the winner of some other group — The Alliance? The Big Ten? The rest of the leagues playing in a different postseason? Or, perhaps they all get mad at the SEC and don't play their winner," wrote Thamel. "We're in a world of hypotheticals on hypotheticals."
Indisputably, creative thinking is on the mind of Sankey — or as he called it, "blue sky thinking."
"We need to engage in blue-sky thinking, which is you detach from reality," the SEC commissioner told ESPN. "What are the full range of possibilities?"
Still, everything is on the table for the SEC according to Thamel, and what the future holds is anyone's guess.
"Those unknowns are on our mind as we think about decision making down the road," Sankey said, via ESPN. "This is a fully dynamic environment. … It's hard to understand where things will end up if you wait for this to play out.
"We wanted to be good be good collaborators. We think we gave up a lot … what was viewed as a balanced approach given the up-front demands eventually feel apart.
"We also have the responsibility to think broadly about different possibilities. The SEC will continue to do so."