Pressure Watch: Can Tim Banks' Tennessee defense and Rich Scangarello's Kentucky offense deliver in a pair of Top 25 road games Saturday?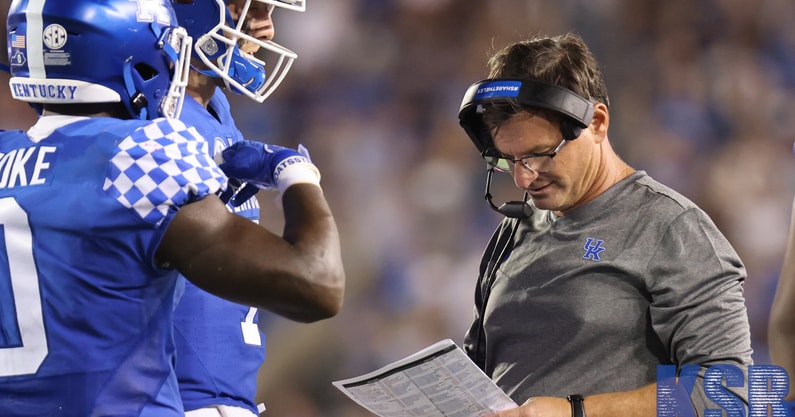 Two of the biggest games Saturday involve a pair of ranked SEC teams going on the road looking for Top 25 wins. 
No. 24 Tennessee is a touchdown favorite at No. 17 Pitt (3:30 p.m., ABC), while No. 20 Kentucky is a 5.5-point underdog at No. 12 Florida. 
As if it's become a new SEC bylaw, coaches across the conference keep uttering the phrase "pressure is a privilege," and if that's true, then there's certainly a lot at stake for a pair of SEC coordinators this weekend.
Can Tim Banks' Tennessee defense carry its weight against the Panthers? And what can we expect from Kentucky offensive coordinator Rich Scangarello, whose unit has a host of questions after Week 1 — none of which surround the ability of quarterback Will Levis to make a leap in 2022.
Let's take a look.
KENTUCKY OC RICH SCANGARELLO
Q: Can Kentucky scheme up a winning game plan without tailback Chris Rodriguez?
In his first game replacing Liam Coen as Kentucky's OC, Scangarello's offense produced a mixed bag of results against Miami (OH). 
A unit with a bunch of moving parts saw Levis play solidly (303 passing yards, three touchdowns, 65% completion, one pick), but against a middling MAC team, the Wildcats averaged just 1.9 yards per carry and allowed one of the highest pressure rates in the SEC in Week 1. 
Levis was sacked four times, and Mark Stoops didn't hesitate to shake up the OL depth chart before facing the Gators this weekend, reshuffling the group by moving senior guard Kenneth Horsey to left tackle. Against Miami (OH), Kentucky started five offensive linemen who had never played together in fall camp and that could be the case again against Florida. 
Not ideal!
"They have to play better," Scangarello said. 
"But it probably wasn't nearly as bad in some areas as it seemed. … We can improve. I can help them with scheme. I can help them with ways in which we handle some stuff."
At their best under Mark Stoops, Kentucky has been a downhill running team, and that's also the best way to attack this Gators defense. 
Florida upset Utah with a pair of red zone stops, but UF also allowed 230 rushing yards on the ground — and the Gators' lack of interior defensive line depth was obvious. 
The problem?
Scangarello will be hard-pressed to duplicate the Utes' game plan in Gainesville. He doesn't have his Tavion Thomas. 
In Kentucky's win over Florida last season, Chris Rodriguez rumbled for 99 yards and a score, but the SEC's best tailback remains suspended by the NCAA for his offseason DUI charge. Meanwhile, FCS All-American transfer Ramon Jefferson tore his ACL two plays into UK's first game of the season. The Wildcats also had another tailback get dinged up, leaving Kavosiey Smoke as the lone known quantity in the backfield. 
Still, Scangarello is confident that Kentucky will still be "a physical running football team"  — and that likely means involving more QB-run game more against the Gators. 
Scangarello said the Wildcats made "a conscious decision not to run the quarterback" against Miami (OH), and also held back some home run play calls. 
"We want to be smart about what we put on tape," he said. 
Well, there's no holding back in Week 2. 
Keeping the ball in Will Levis' hands makes total sense, and Scangarello is going to need to ride his senior quarterback without Rodriguez available. 
Utah found success running quarterback Cam Rising (seven rushes for 91 yards) against UF, and although Levis isn't as fast, he's a bull to tackle. Unlike the Utes though, Kentucky can press Florida on the perimeter some too — so long as it can pass protect. 
Levis has a lightning-fast release and the best set of receivers in the Mark Stoops Era, as a pair of promising speedy freshman (Dane Key and Barion Brown) flank slot wideout Tayvion Robinson.  The Va. Tech transfer already looks like Levis' favorite new target, hauling in eight catches for 136 yards in his UK debut.
Notably: Kentucky's wideouts vs. Florida's secondary is a strength-on-strength matchup, so Scangarello must put Levis in the best position to avoid costly interceptions, which have plagued him throughout his time as a starter.
There's no doubt Levis wants to improve upon last season's low-light performance against the Gators (7-of-17 for 87 yards and a pick), and considering Scangarello admitted he withheld plays for Levis in Week 1, he needs to find a way for his quarterback to have one of the best showings of his career for the Wildcats to leave Gainesville with the upset. 
TENNESSEE DC TIM BANKS 
Q: Can Tennessee's defense carry its weight against a Power 5 opponent?
Tennessee defensive coordinator Tim Banks doesn't face quite the pressure as Scangarello, as the Vols' high-flying offense will present Pitt with plenty of problems.
But what does Banks' unit look like facing its first legitimate opponent in Year 2?
Last season, the Vols were among the worst defenses nationally defending the pass and getting off the field on third downs. They were decent against the run and forced a bunch of negative plays (102 tackles for loss), but Pitt dropped 41 on the Vols in Knoxville, with more than 300 yards passing and three touchdowns. 
Playing opposite Josh Heupel's zoom-zoom attack deserves a legitimate asterisk — only three defenses in the country played more snaps than the Vols in 2021 — and Banks' defense showcased growth in Week 1 against Ball State. 
They didn't bust assignments. They were physical up front, allowing just 2.7 yards per rush. The secondary, which was a major concern coming into the season, picked off a pair of passes. Most importantly, they got off the field on third down (5 of 14). 
Some Vol fans lamented a lack of pass rush against the Cardinals (zero sacks on 44 drop-backs), but they mostly forced John Paddock to get the ball out quickly. They didn't get home on some simulated pressures. That's going to happen sometimes. 
Banks agreed with such assessments. 
"I thought for the most part we showed some flashes in terms of what we want to be and what we're capable of being. I thought those guys did a good job of getting rid of the ball quickly. When he held it, I thought we applied some pressure," Banks said earlier this week. 
"Was it perfect? Absolutely not, but I thought for the most part those guys did a good job executing what we asked them to execute. I felt fine coming out of the game in terms of what was out there and the opportunities we had."
We'll know a lot more about Tennessee's ability to rush the quarterback Saturday against Pitt. 
All offseason, Pat Narduzzi voiced his frustrations with former Pitt OC Mark Whipple's propensity to throw the ball too much, but the Panthers are still going the chuck it around plenty in 2022. USC transfer Kedon Slovis threw for 308 yards on 12.8 yards per attempt in their Backyard Brawl win over West Virginia. He found an immediate connection with Akron transfer Konata Mumpfield, who caught five balls for 71 yards. 
The issue for Pitt was pass protection.
Slovis was pressured throughout Thursday night and was sacked five times. So if Banks can't scheme up frequent pressure against the Panthers' leaky OL, that's when concern should truly set in for the Vols. 
Overall, Saturday afternoon should provide some answers for a Tennessee defensive unit still with plenty of unknowns. 
Who does Banks truly trust in the secondary? Can he positions outside linebacker Byron Young in some 1-on-1 situations? Are Tennessee's linebackers still a liability in coverage? 
We know Hendon Hooker & Co. can light up the scoreboard fast, but if Tennessee wants to ascend in the SEC East pecking order — and perhaps win 10 games for the first time since 2007 — then Banks' unit has to make a leap. 
Their first true test is Saturday afternoon.