Preview: Hoophall Classic features the nation's best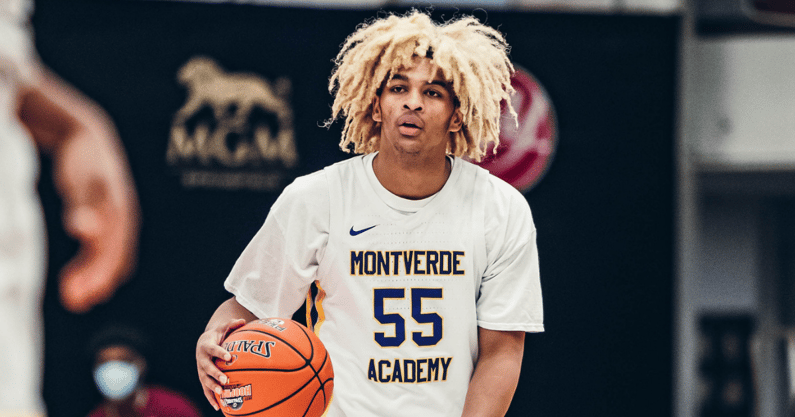 The Hoophall Classic, arguably the nation's top high school basketball event, tips off Thursday, January 13th, and continues through the 17th. The tournament is held in Springfield, Massachusetts, the birthplace of basketball. 45 teams from 18 states across the U.S. will join for the 20th anniversary of this legendary event.
Here's a crazy stat: the last 11 No. 1 overall NBA draft picks have all competed in the Hoophall Classic. Kevin Durant, Kyrie Irving, Anthony Davis, Lonzo and LaMelo Ball, and Zion Williamson are names that you might recognize. This year will be no different, featuring some of the nation's top talent. In fact, 60 ranked players in the On3 Consensus will be attending the event, including the likes of Dereck Lively, Dariq Whitehead, Keyonte George, Chris Livingston, among others. To make it easier on you, here are the names to know, and players to watch.
Games to watch on Sunday and Monday
Duke signee faces off against Duke target
On Sunday night, the No. 1 ranked senior and Duke-bound big man Dereck Lively and Westtown (Pa.) School will take on five-star Duke target Mackenzie Mgabko and his Gill St. Bernard's (N.J.) School squad.
Mgabko is only a junior but he's being heavily pursued by the Blue Devils and they are one of his top options. Also, keep an eye on Mgabko's teammate, Naasir Cunningham, an elite 2024 prospect who Duke is also already in the mix for.
Sun., 7:00 PM EST – Gil St. Bernard, NJ vs. Westtown School, PA (ESPN2)
Two loaded teams face off
At the Hoophall Classic here in Springfield, MA, there are plenty of loaded teams, but not many are more stacked than La Lumiere (Ind.) School and Compass (Ariz.) Prep.
La Lumiere has seven future D1 hoopers, but specifically, keep an eye on Notre Dame-bound guard JJ Starling, Michigan State commit Jeremy Fears, and uncommitted junior guard Aden Holloway.
It might be hard to believe, but AZ Compass Prep is even more loaded than La Lu. Compass Prep features eight D1 prospects, two of which are five-star recruits – juniors Mookie Cook and Kylan Boswell. Compass Prep also boasts signees to Auburn (Chance Westry), UCLA (Dylan Andrews), Vanderbilt (Colin Smith), Texas Tech (Lamar Washington), and a pair of two unsigned seniors in Sadraque Nganga and Adrame Diongue.
Sun., 9:00 PM EST – LaLumiere School, IN vs. Arizona Compass Prep, AZ (ESPN2)
Duke signee takes on social media phenom
Monday's slate of games are not ones to miss with four airing on ESPNU.
First up, we have five-star Duke-bound big man Kyle Filipowski. His Wilbraham and Monson (Mass.) Academy squad will take on social media superstar Hansel Enmanuel, who boasts a whopping 3.4 million followers across his social platforms. Enmanuel, who holds two offers from Bethune-Cookman and Tennessee State, also recently received a $1.1M NIL Evaluation from On3. Hansel's teammate for Life Christian (Fla.) Academy, Angel Montas, is one of the best available seniors and holds offers from the likes of Tennessee, Illinois, among others.
Mon., 11:00 AM – Wilbraham and Monson Academy, MA vs. Life Christian Academy, FL (ESPNU)
No. 1 ranked junior faces off against fellow 5-star
Get your popcorn ready, folks. This matchup of Camden (N.J.) High versus Milton (Ga.) High is one to watch. Camden boasts the No. 1 ranked junior in the On3 Consensus, Dajuan Wagner Jr. He will take on Milton's five-star guard and recent Stanford commit, Kanaan Carlyle.
Also for Camden, look out for 7-foot center Aaron Bradshaw, who ranked 20th nationally in the junior class.
Mon., 1:00 PM EST – Camden High School, NJ vs. Milton High School, GA (ESPNU)
IMG takes on Montverde
If you only watch one game during this entire Hoophall Classic, make sure it's this one.
Between both IMG (Fla.) Academy and Montverde (Fla.) Academy, there are a total of 14 ranked players. For IMG, look out for Keyonte George (Baylor) and Jarace Walker (Houston). For Montverde, keep an eye on Dariq Whitehead (Duke), Skyy Clark (Kentucky), Jalen Hood-Schifino (Indiana), Malik Reneau (Florida), and Dillon Mitchell (Texas).
There is very little falloff for both teams as they both present so much depth. If you look at any player on the court for this game, there is about a 99% chance they're going D1. Seriously.
Mon., 3:00 PM EST – IMG Academy, FL vs. Montverde Academy, FL (ESPNU)
Five-stars take on Kansas signee and 5-star UCLA bound big man
Link (Mo.) Prep matches up well against Prolific (Calif.) Prep as this is another game with loaded depth charts.
Link Prep features three five stars – Omaha Biliew, Julian Phillips (LSU), and Jordan Walsh (Arkansas). Also look out for Felix Okpara (Ohio State), Tarris Reed (Michigan), and junior guard Trey Green.
Here's who you should know for Prolific Prep – MJ Rice (Kansas), Tre White (USC), and five-star Adem Bona (UCLA).
Mon., 5:00 PM EST – Link Prep, MO vs. Prolific Prep, CA (ESPNU)
Games to watch on Friday and Saturday
Mikey Williams takes on Duke signee Dereck Lively
Mikey Williams is a star on the court and online. The five-star junior guard boasts over 3.5 million Instagram followers and holds offers from Kansas, LSU, Memphis, Oregon, USC, amongst others. He also just received a $2.6 million NIL Valuation from On3.
The social media phenom matches up against Duke signee Dereck Lively, who also so happens to be the No. 1 ranked player in the On3 Consensus.
Fri., 9:00 PM EST- Westtown School, PA vs. Vertical Academy, NC (ESPN+)
UK signee Chris Livingston & Duke commits ready to put on a show
Oak Hill Academy is loaded once again. The entire starting five consists of high-major D1 prospects. Their lineup features – Chris Livingston (Kentucky), Caleb Foster (Duke), Devin Ree (LSU), Judah Mintz (Uncommitted 4-star), and Christian Reeves (Duke). Oak Hill also just welcomed in transfer Mercy Miller, a 2024 prospect committed to Houston. Miller is the son of rapper and successful businessman Master P.
They will face off against La Lumiere who boasts plenty talented in their own right. Like Oak Hill, La Lu's lineup is also all D1 prospects – JJ Starling (Notre Dame), Jeremy Fears (Michigan State), Taj Manning (Kansas State), Chisom Okpara (Harvard), and Kebba Njie (Penn State). Also, can't forget to mention Aden Holloway, an uncommitted 4-star junior guard.
Sat., 3:00 PM – Oak Hill Academy, VA vs. La Lumiere School, IN (ESPN+)
Montverde's loaded group faces DeMatha
Each year powerhouse Montverde Academy boasts tremendous talent and this year is no different with six ranked players by the On3 Consensus. Dariq Whitehead, Malik Reneau, KJ Evans, Dillon Mitchell, Jalen Hood-Schifino, and Skyy Clark are the ranked juniors and seniors. It's also important to note that big man Vincent Iwuckwu recently announced he would be transferring from MVA to So Cal Academy. Elite 2024 prospects Derik Queen and Amier Ali are also names to keep tabs on.
MVA will take on DeMatcha Catholic, which features two top-100 prospects, Xavier signee Tyrell Ward and Virginia Tech signee Rodney Rice.
Sat., 4:30 PM – Montverde Academy, FL vs. DeMatha Catholic High School, MD (ESPN+)
5-stars collide with IMG versus AZ Compass Prep
With five players in the top-50, IMG has one of the deepest squads in high basketball. They are spearheaded by Baylor bound guard Keyonte George and Houston signee Jarace Walker.
This should be an interesting matchup as they take on AZ Compass, which feaures seven ranked players, including five-star juniors Mookie Cook and Kylan Boswell.
Sat., 6:00 PM – IMG Academy, FL vs. Arizona Compass Prep, AZ (ESPN+)
No. 1 junior prospect DJ Wagner takes on another elite guard
2023's No. 1 ranked recruit, Dajuan Wagner Jr. and his Camden squad will take on Calvary Christian on the final game of the evening. Wagner, a heavy Kentucky favorite, will matchup against fellow 2023 guard and top-20 prospect Marvel Allen.
Calvary Christian's Taylor Hendricks and Camden's Aaron Bradshaw are also one's to look out for.
Sat., 8:00 PM – Camden High School, NJvs. Calvary Christian School, FL (ESPN+)