Previewing Battle Miami's kickoff 7v7 event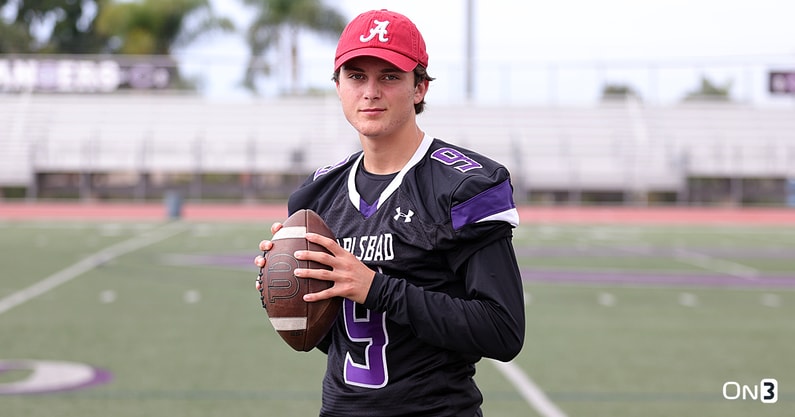 FORT LAUDERDALE, Fla. — It's beginning to feel a lot like 7-on-7 season as Battle kicks off its season-opening tournament in South Florida this weekend, the first of four regional tournaments this spring before a championship round in April.
Although the 2023 cycle is not yet over, this marks the first big offseason event to fully feature the 2024 class as well as an opportunity to take a closer look at the next wave of talent in 2025 and 2026. Teams representing California, Texas, Louisiana, Utah, Virginia, Nevada, Tennessee, Kentucky, Michigan, Miami, Illinois, Georgia, Alabama, Arkansas, Mississippi, and the host state of Florida will be on hand.
This tournament features a quartet of On3 Consensus five-stars, 39 recruits tabbed as four-stars or inside the On300, and another 16 representing the On3 Consensus for 2025.
24K 7v7 brimming with Florida stars
One of the host state's 24K 7v7 is brimming with On300 talent in both the 2024 and 2025 classes largely from across Florida. Four-star state championship LSU commit Colin Hurley quarterbacks the squad and has several other in-state blue-chippers to target in the passing game. That includes Consensus four-star Tampa (Fla.) Carrollwood Day WR Izaiah Willaims; 2025 four-star Pensacola (Fla.) Catholic WR Koby Howard, the No. 65 sophomore in the country; and 2025 Florida State commit DL Hardison.
Hurley also has trio of out-of-state weapons worth watching: Consensus No. 30 WR Cameron Coleman from Phenix City (Ala.) Central; 2025 Baton Rouge (La.) University WR Zay Martin, the little brother of 49ers WR Tay Martin; and RB Tavion Swint, top-50 player in the Consensus for 2025.
Defensively, 24K 7v7 is anchored by a talented secondary headlined by On300 S Kensley Faustin, On3's No. 37-ranked S Jalon Thompson.
Sound Mind and Body powered by Midwest, West Coast talent
Sound Mind and Body will enter this competition with one of the more talent-laden rosters littered with players across Michigan, Illinois and also California. The offense is led by the highest-ranked player expected in the field in Consensus No. 1 QB in 2025 Bryce Underwood out of Belleville (Mich.) High School.
Underwood, a top-five player in his class, will have an array of weapons at his disposal. That group includes Michigan State commit Nick Marsh and On3 top-50 WR Jordan Ross. Two young Detroit-based playmakers to monitor on offense include 2026 ATH CJ Sadler from Cass Tech at receiver and King ATH Xavier Newsome, who'll line up at tight end. Both hold early offers from Michigan.
Defensively, the unit is driven by a deep group of playmakers on the back end. That includes a pair of Consensus top-40 cornerbacks in Dakoda Fields from Gardena (Calif.) Junipero Sierra and Jamir Benjamin from West Bloomfield (Mich.).
Consensus No. 14 S Jacob Oden and On300 LB Jeremiah Beasley are two more to watch on Sound Mind and Body's defense.
Raw featuring some of the nation's best
There's a national feel to the Raw 7v7 team quarterbacked by West Coast native and Consensus five-star QB Julian Sayin, Alabama's early signal-caller in next year's class. The On300 passer from California has a wealth of talent to throw to, including On300 ATH Mazeo Bennett and 4-star ATH Lawayne McCoy. Bennett and McCoy are Consensus top-30 ATH in the 2024 class, along with 2025 6-foot-3, 180-pound Oregon-committed WR Dallas Wilson.
There is an equal amount of star power on defense with talented defensive backs in both the 2024 and 2025 cycles represented. Clemson commit and Consensus No. 18 CB Tavoy Feagin headlines the group opposing 2025 On3 four-star CB Amari Wallace. There's a strong mixture of Texas and Florida patrolling the back end in Consensus No. 11 2024 S Jaydan Hardy and No. 1 2025 S Anquon Fegans.
South Florida Express ready to rock
One of the host teams representing with one of the most talent-laden squads in SFE headlined by multiple five-stars out wide in Ohio State-committed Jeremiah Smith and ATH Joshisa Trader, both top-10 players in the country in 2024. Top-30 WRs James Madison and Chance Robinson, along with explosive underclassmen Winston Watkins (Colorado commit) and Malachi Toney (2026).
On300 QB Cedrick Bailey Jr., On3's No. 20 quarterback for 2025, orchestrates this aerial attack.
The deep secondary is highlighted by top-30 talent CB Charles Lester, the No. 3 CB in the country, and Consensus four-star CB Zabien Brown, giving SFE some South Florida and West Coast flare on the back end.
Trillion Boys
All eyes will be on the Trillion Boys featuring prominent talent from the Peach State, Texas, all the way out to the Left Coast.
This offense is driven by talented 2025 QB Michael Tollefson, who has the eyes of Miami, Texas A&M and Tennessee early. His top targets include must-know 2024 WR Xavier Jordan; top-60 WR Aeryn Hampton; On3 top-60 WR Perry Thompson, an Alabama pledge; and Consensus No. 12 WR Zion Ragins.
Other pass-catchers worth monitoring include On300 Pitt commit DayDay Farmer; 2025 Consensus No. 2 WR Dakorien Moore; and 2025 Consensus No. 54 overall player Phillip Bell.
Consensus five-star S KJ Bolden, On3's No. 1 safety in next year's class, headlines the secondary alongside CB Jamari Howard and Selman Bridges. Along with Georgia-committed S Jaylen Heyward and No. 1 2025 CB No. 1 CB Jontae Gilbert, Trillion features five top-80 players in the secondary. That doesn't include On300 DB KaDavion Dotson-Walker or Consensus No. 31 S Foster Slaughter.
Trillion also has two of the nation's top ATH at its disposal in Tennessee-committed Jonathan Echols, the No. 37 player in the On300 for 2024, and Quinton Martin, a Consensus top-30 ATH out of Pennsylvania.
Burch Sports bringing Jacksonville's best
Jacksonville will be well-represented by Burch Sports, particularly with some fireworks on offense this weekend. Quarterbacking the team is Jacksonville (Fla.) Mandarin 2025 QB Tramel Jones Jr., who has captured the attention of Florida State, Florida, Maryland, Georgia Tech and Pitt.
Two of Jones' top weapons in the passing game include a pair of 2025 receivers of note: No. 26 overall Jaime Ffrench is the No. 5 WR on the Consensus. Kaleb Lampkin is another soon-to-be junior that just collected a Penn State offer.
ALL-EN bringing some of Houston's finest
Texas will be well-represented, especially with some Houston talent on All-En's squad. The Lone Star State speed will be on full display by ways of On3 4-star ATH Joseph Albright from Aldine (Texas) Eisenhower; 2024 Katy (Texas) Paetow WR Jabari Bush; 2025 Consensus top-100 Galena Park (Texas) North Shore WR Deion DeBlanc, and early Baylor offer 2025 Pearland (Texas) Shadow Creek WR Dane Jones.
Defensively, All-En will feature one of the nation's most athletic linebackers in Consensus top-65 standout Justin Williams from Conroe (Texas) Oak Ridge. Oregon is the early favorite on On3's Recruiting Prediction Machine for one of the country's best in the 2024 cycle.
Gridiron Elite boasts young in-state juice
Central Florida's next wave of 2024 and 2025 skill players comprise the Gridiron Elite teams. Offensively, the group is led by soon-to-juniors including Sanford (Fla.) Seminole RB Avis Brown and WR Michael Key. Two other receivers on the squad to know is 2024 Cocoa (Fla.) WR Jayvan Boggs and Jacksonville (Fla.) First Coast 2024 6-foot-2, 180-pound ATH Zion Mitchell.
Defensively, Gridiron Elite leans on the talented Seminole High cornerback tandem Chasen Johnson (2024) and Ethan Pritchard (2025). 2024 LB Jordyn Perkins provides a spark in the middle.
True Buzz bringing Arkansas, Texas talent
The True Buzz crew will be spearheaded by talent from the Lone Star State and Arkansas, too. Offensively, all eyes will be on prolific 2025 downfield playmaker in Red Oak (Texas) WR Taz Williams Jr., who was outstanding last season in the Dallas Metroplex. Six-foot-four, 170-pound 2024 Tomball (Texas) Memorial Ashton Ansley is another player to watch on offense.
True Buzz has strength in numbers on the defensive side of the ball. The secondary is headlined by On3 No. 35 2024 CB Williams Nettles, 2025 Consensus top-100 S Omarion Robinson; 2024 Consensus No. 32 S Landyn Cleveland; and 2025 CB Caleb Chester.
Replacing Consensus five-star Texas signee Anthony Hill Jr. in the middle is another elite young backer in 2025 On3 top-100 LB Kelvion Riggins out of Dallas (Texas) South Oak Cliff.
Def Con 7v7 sending San Antonio's best
The 210 will be on full display with the high-octane Def Con 7v7 offense. The unit is quarterbacked by 6-foot-5, 220-pounder JC Evans, a 2024 quarterback who holds an early UTSA overture.
Evans will have a full arsenal of talented pass-catchers at his disposal, including San Antonio (Texas) Brandeis teammate Jaden Perez, a 2025 WR with several early Big 12 offers. Other Central Texas wideouts of note include 2025s Royal Capell and Jalen Cooper out of Cibolo (Texas) Steele.
DOMO features a bevy of young Texas, California talent
The talented DOMO team is brimming with Texas speed. The offense is headlined by 2024 Bellaire (Texas) Episcopal QB Karson Gordon, who holds early offers from Washington and UNLV, among others. Fellow Houston-area 2024 WR Andre Thompson, a major SEC target, headlines a receiving corps that also includes talented young 2025 pass-catchers Conroe (Texas) The Woodlands WR Quannell Farrakhan; 2025 Hitchcock (Texas) WR Kelshaun Johnson; and 2025 Texas City (Texas) WR Xavier Skowron.
Dynamic 2025 ATH Damien McDonald adds even more juice on the offensive side of the ball. As does 2025 WR Xavier Skowron, an early SEC target.
The DOMO secondary includes a great combination of defensive backs in 2024 Consensus No. 23 S Damani Maxson alongside Consensus No. 42 CB Rodney Bimage. This Texas tandem is complimented by 2025 San Ana (Calif.) Materi Dei CB Chuck McDonald, who holds several early Pac-12 overtures.
Defcon1 features Florida, Nevada star power
Defcon1 is another home-state squad that should be prolific on both sides of the ball. Consensus No. 18 QB Adrian Posse quarterbacks the offense. Auburn leads the way early on the RPM for the local Miami four-star.
Around Posse is an overflow of targets, including the Consensus No. 7 RB Stacy Gage from Tampa (Fla.) Wharton out of the backfield. Some young receivers to keep a lookout for include 2025 WR Kamare Williams (6-foot-4, 175 pounds) and WR Waden Charles (6-foot-3.5, 185 pounds).
Defensively, Defcon1 is driven by Consensus No. 4 S Zaquan Patterson. The On300 defensive back from South Florida is joined in the secondary by other in-state talents such as three-star LB Vince Shavers and 2024 CB Ebenezer Bouzi.
Bootleggers packing some Southern gems
The Louisiana Bootleggers will have its fair of share of talent as always, with a different this upcoming season. Part of the strategy is featuring some athletes that can be dynamic on both sides of the ball, and that's who will be representing the squad in South Florida.
New Orleans (La.) Martin Luther King ATH Bernard Causey had a breakthrough junior year and added offers from Nebraska and Texas Tech. He leads the secondary. On300 ATH Daniel Hill, a Meridian (Miss.) two-way player who projects to running back, is another piece for the Bootleggers.
Texas Flex is Texas strong
Another Texas-based team littered with talent across the board is the Texas Flex based out of the Dallas Metroplex. Offensively, must-know 2025 Fort Worth (Texas) All Saint's QB Kelden Ryan has the keys the offense. Ryan holds early offers from Baylor, Oklahoma State, Colorado, Arkansas, SMU and Cal.
Ryan has talent across the board to throw to, including On300 No. 27 WR Bryant Wesco out of Midlothian (Texas). Wesco is On3's No. 6-ranked receiver in the 2024 class. Also, 2024 three-star WR Dozie Ezukanma is a big-framed playmaker; 2025 WR Daylan McCutcheon is one of the more electric receivers in his class and should see even more volume as a junior this fall at Lucas (Texas) Lovejoy; 2025 Richardson (Texas) Berkner WR Kobi Foreman rounds out the star-studded group of pass catchers. Foreman is an On3 4-star ATH.
2025 RB Blake Stovall will get action out of the backfield for Texas Flex.
The defense is equally as talented and maybe even deeper. The secondary is anchored by Swiss Army Knife safeties in Bradenton (Fla.) IMG standout Jordon Johnson-Rubell, a native of Fort Worth and a top-75 player in the country on the Consensus, and hybrid ROVER Ashton Williams, the Consensus No. 40 S in the country. Texas Flex has a nice trio of safeties along with 2025 S Tyren Polly Jr., who has secured offers from Oklahoma, LSU and SMU since helping Duncanville (Texas) capture a state title
2024 Consensus No. 36 LB Brandon Booker is coming off a state championship run at DeSoto (Texas). SMU early favorite on the RPM over LSU for the versatile backer.
NPA Dream Team has some star power
Nashville-based NPA Dream Team boasts a pair of playmakers to keep an eye out for this weekend. That includes the Consensus No. 21 S Boo Carter on defense. Carter holds offers from Alabama, Tennessee, Kentucky and Michigan, and will see Miami this weekend.
Offensively, look out for 2025 top-50 Consensus QB Cutter Boley. The No. 4 quarterback early in the 2025 cycle boasts Kentucky, Tennessee, Michigan and Ole Miss offers, to name a few, and was in Knoxville again last weekend.
International squad represented
Talent from Canada will also be represented in South Florida by means of the MVP Football Academy squad, including 2024 safety Isaiah Thomas. Still currently unranked, the Toronto (Ontario) Clearwater Academy defensive back has recently reeled in overtures from Florida State, Oklahoma, Penn State, Rutgers and Miami.
We're excited to see Thomas compete in this setting for the first time.
Other notables expected