Prospects emerge at the DMV Elite 80 Camp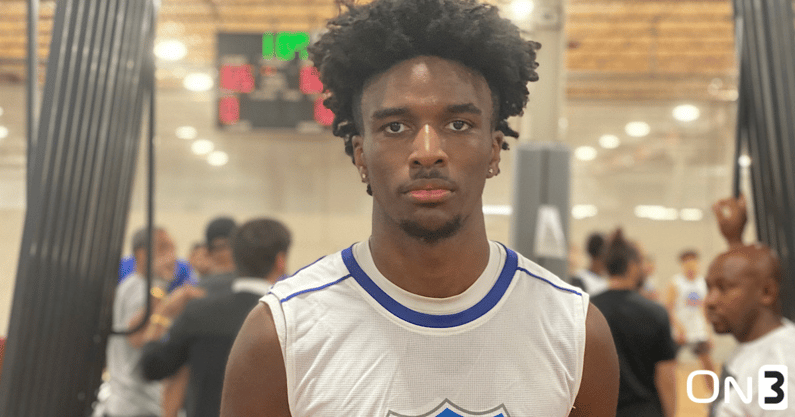 District Heights, MD: The DMV Elite 80 is an event I look forward to covering every year. Marcus Helton and the team at DMV Elite look to invite 80 of the best prospects from around the Washington, DC, area to compete under one roof. 
This year's event was the ninth annual, bringing in players from five states. It gave me an opportunity to get updated looks on some familiar players. I also got to write some new names down to start tracking. 
Overall, it was a good day of basketball and a great way to start the Fall basketball season. 
The most intriguing player I saw was…
Three-star SG Ty Bevins
Ty Bevins is a 6-foot-5 guard from Brandywine (MD) Gwyn Park. He showcased a full arsenal throughout the day. Comfortable on the ball in the half-court, Bevins is a good passer. He sees the floor well, on the move or setting up teammates. 
He is also an adept shooter. Bevins consistently knocked down jumpers throughout the camp. The two dribble pull-up going right was especially deadly, but the catch-and-shoot three was a spacing weapon as well. Bevins earned his name in the conversation for our next 2024 rankings update. 
Other top performers included…
NR SF Cam Ward
Cam Ward came into camp with a growing reputation. The 6-foot-7 class of 2025 wing already carried multiple high major offers. He is a high-flier, an explosive wing who makes some tough guy plays. 
In the camp, Ward showed some developed ball skills. He was comfortable on the ball, initiating offense. He will not be tasked with much initiation as he moves forward, but to see him create offense in the half-court is encouraging. Ward should track as a national-level recruit.
Three-star SG Kris Mickens
Kris Mickens is built to score buckets. The 6-foot-4 shooting guard is a good athlete, and he simply has feel at all three levels. There is balance, footwork, and confidence all involved, but Mickens was consistently able to get to his spots on the floor. He has deep range with a steady release; he shot off the bounce or the catch. He attacked closeouts to get to the basket and utilized the two dribble pull-up going left and right. 
The Fort Washington (MD) National Christian guard has no D-I offers. Provided everything checks out, that should change soon for the class of 2023 wing.
One of the most intriguing players in the gym…
Three-star C Callum Crossman
Callum Crossman has breathtaking explosion. Sure, that might sound a bit dramatic; however, the collective gasps he drew from the entire gym throughout the day would agree. Crossman is a 6-foot-9 center from England by way of Ashburn (VA) Virginia Academy. 
Crossman is still raw but shows consistent development with each viewing. He is a true shot-blocking threat; he has natural timing and chases everything within his reach radius. He has a strong frame and can legitimately put his eyes at the rim. Crossman runs in transition, and he attacks the offensive glass. 
While most of his baskets come from the dunker position, in transition, or off put backs, Crossman did show comfort over his left shoulder. He has been in the United States for just less than a year. Already Fresno State, NJIT, Radford, and Montana State have offered. The intrigue is real. 
The most interesting young player…
NR SF Nate Ament
Nate Ament was a write-in, not on the original roster. The 6-foot-8 class of 2025 wing drove from Manassas, Virginia, and talked his way onto a team. 
Ament has a fluid, smooth athleticism. He still needs strength, but he moves and slides like a guard. He is comfortable handling the ball, pushing the break with his head up, and getting his team into sets. Ament fills the lanes with a purpose and has some wiggle when attacking the basket. He will need to add weight, as he is very thin at the moment, but the skills and tools are apparent. 
Ament bet on himself and how the Manassas (VA) Colgan High sophomore's story has started.