Quarterback Dominoes: What happens if Arch Manning waits?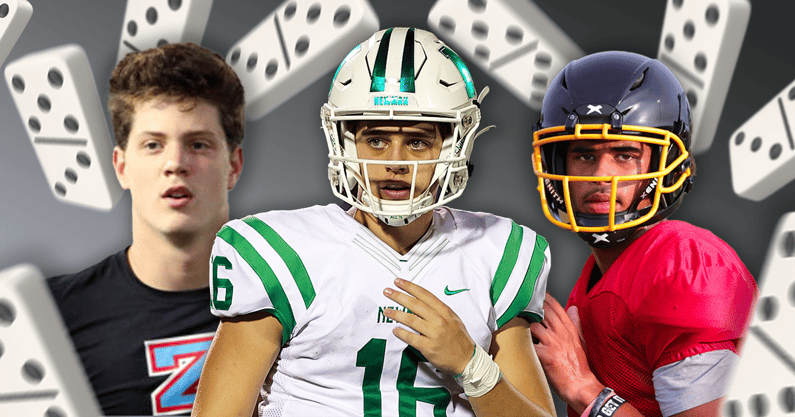 With Christopher Vizzina's commitment to Clemson on Tuesday, one of the top quarterbacks in the country is officially off the board. However, Five-Star Plus+ Arch Manning – the biggest domino in the Class of 2023 – is yet to tumble.
Trying to determine when Manning will make his decision is difficult. And that wait is creating a logjam that impacts many other top quarterback prospects across the country.
Unlike some past classes, the 2023 class seems tied together and one decision – especially the timeline of the No. 1 player in the country – impacts a lot of other QB targets. It also impacts top programs from coast to coast.
"It's a telling sign that Texas, Georgia and Alabama don't have another quarterback commitment," a source told On3. "They're all obviously still in the race for Manning. We could get some hints on where things are going with Manning's recruitment if one of those three schools takes a quarterback commitment from somebody else. But for now, all three schools like where they stand with him."
Some signs Arch Manning might wait things out
The goal of the Manning family has been to go through the recruiting process the right way. They wanted to take initial visits, follow that up with game-day trips, get closer to a final choice with spring trips and finally make a commitment before he started his senior year.
But after his visits this spring, things are very much up in the air. And it's clear the family isn't going to hurry just to stick to an original timeline.
"The sense that I got is that he is legitimately considering all three of those schools," an insider said. "He's torn. He can see himself at each of those three schools. But to comfortably commit, I don't think he's ready to do that as of now. Does that change by August? Maybe. But from what I understand, Arch has told people in his camp that he might need longer to make this decision."
Who's impacted most if Manning takes his time?
So, if Arch Manning waits, what happens with other uncommitted highly ranked quarterbacks like Eli Holstein out of Zachary (La.) High? Also, could Vizzina come back into play if Georgia and Alabama miss on Manning?
"I think Holstein for sure is impacted the most if Arch waits things out," On3 Director of Recruiting Chad Simmons said. "I don't know what Bama would do if he were to try and commit. Do they say no to him? He's right up there on Bama's board. But we're talking about Arch Manning. I think Alabama is comfortable waiting as long as they need to until Arch says 'no.'"
Vizzina, unlike others, didn't wait around for Manning's decision. He opted to pick Clemson, who made him a priority after falling out of contention for Manning. Yet, Alabama and Georgia have been linked with him in the past.
"With Vizzina, he grew up a huge Bama fan," Simmons said. "So, if Bama were to offer, I do think he would look. Georgia had him on campus, and they've looked at him a little bit. But Vizzina seems like the type once he commits, he'll be locked into Clemson. He'd be a very hard one to pull. I think Bama could be potentially interesting if they offered and pursued him down the road."
Simmons said it looks like four-star Jaden Rashada of Pittsburg, Calif., could be next in line to commit at the quarterback position. Ole Miss is the leader for him, according to the On3 Recruiting Prediction Machine. Five-star Dante Moore of Detroit Martin Luther King might not be too far behind him with a commitment. Notre Dame is the big favorite for Moore, according to the On3 RPM.
It appears Rashada and Moore's decisions won't be impacted too much by what happens with Manning. But ripple effects with Manning waiting could touch others like Dylan Lonergan, Avery Johnson, and even a few committed quarterbacks like Rickie Collins.
There could also be more shakeups as Manning figures out his final timeline.
That's because there's a group of top programs outside of Alabama, Georgia and Texas – schools like Ohio State, Texas A&M, Michigan, Oregon, Florida and LSU – that have yet to secure QB commits. Does his indecision force those teams to zero in on new names, look lower down the quarterback charts or go all-in on somebody committed to another school?
Arch Manning's timeline impacts 2024 QBs, too
Simmons said the Arch Manning domino effect will also have a major impact on what schools do with top 2024 quarterbacks.
For example, most insiders believe Dylan Raiola, the No. 1 quarterback in 2024, has Ohio State, Georgia, Clemson, Oregon, Texas and Nebraska in his top group. Furthermore, No. 2 2024 quarterback Jadyn Davis is also linked with Georgia, Ohio State, Clemson and many others. Additionally, there are others in 2024 – like Josh Flowers, Julian Sayin, DJ Lagway  and even Elijah Brown – that could be directly impacted by Manning's decision or lack of a decision.
"That's true, especially with Georgia and a guy like Dylan," Simmons said. "Obviously, they're right up there. I think it's them, Ohio State and USC at the moment. I do think that's something to watch for sure. With Jadyn Davis, there are a lot of similar schools up there for him, too.
"I think Arch Manning's decision and even a decision to wait things out a little bit could have an impact on a top quarterback in 2024. They're all watching for that best opportunity to play early. So, wherever Arch goes definitely will have an impact on that next class behind him."