Quarterback dominoes: What's next after Arch Manning's commitment?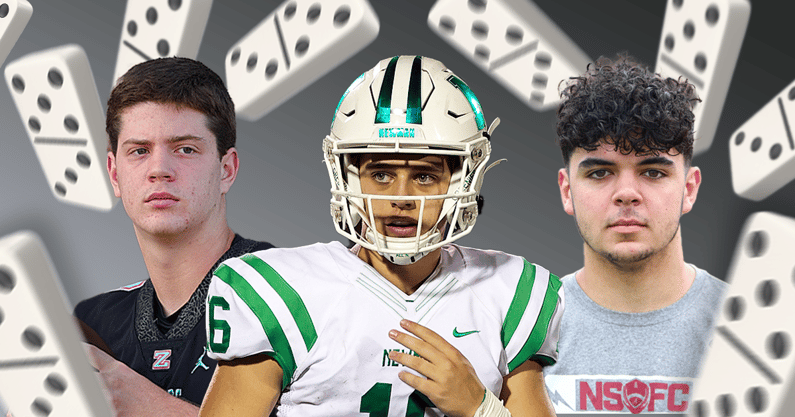 The biggest of the 2023 quarterback dominoes fell on Thursday morning when Five-Star Plus+ Arch Manning announced his commitment to Texas.
His decision seemingly came out of the left field, as the Manning camp gave away no hints about when his choice would ultimately be made. It answers one massive question for the Longhorns but creates even more for programs around the country, namely Georgia.
Like Texas, the Bulldogs went all-in on Manning in this class. Georgia pursued the likes of Nico Iamaleava and Christopher Vizzina early on, but the apple of Kirby Smart's eye was the On3 Consensus No. 1 prospect.
Where does Georgia go now?
That puts Georgia back at square one at the end of June, not exactly prime time to be looking for a quarterback commitment. Only three of the top 10 passers in the country are yet to commit: five-star Detroit (Mich.) quarterback Dante Moore, Pittsburg (Calif.) signal-caller Jaden Rashada and in-state four-star Dylan Lonergan.
The Bulldogs haven't been a factor with either of the first two, as Rashada is set to make his decision this weekend — likely between Florida and Miami. Lonergan has been on Georgia's radar. But he has narrowed his focus to Stanford and South Carolina, according to the On3 Recruiting Prediction Machine (RPM).
Other committed and uncommitted options are out there. But right now there is no real indication Georgia feels a need to address the position in this class.
"I think it's 50-50 at best that they take a quarterback in this class," On3 Director of Recruiting Chad Simmons said. "Based on what I'm hearing, I really lean toward them not taking one in 2023 at this time and just focusing on 2024. With a quarterback room that already includes Carson Beck, Brock Vandagriff, and Gunner Stockton, they feel comfortable right now.
" … Arch was their guy in 2023, and I think now they will just monitor how things play out with their quarterbacks this year."
According to DawgsHQ's Jake Reuse, Georgia has done "due diligence" on four-star Baylor commit Austin Novosad. But Ohio State, as well as in-state Texas A&M, are both still in the market for passers. The Buckeyes offered and hosted Novosad for a visit earlier this month, and he is expected to make a decision before next week's Elite 11 Finals or soon thereafter.
Meanwhile, two quarterbacks have risen to the top of the Bulldogs' 2024 board: Charlotte (N.C.) Providence Day School's Jadyn Davis and Carlsbad (Calif.) top-15 prospect Julian Sayin.
Alabama remains in pursuit of another quarterback
Manning's third unofficial finalist was Alabama, which at one point was considered a favorite to land him but ultimately fell off in a recent months. The Tide hedged against their bet, landing a commitment from Zachary (La.) four-star passer Eli Holstein last month while still pursuing Manning.
The approach wasn't solely about an insurance policy if Manning committed elsewhere, though. Alabama will be down to three scholarship quarterbacks — including Holstein — once Bryce Young likely declares for the NFL Draft after this season. The attention now turns elsewhere for a second arm, namely to Dylan Lonergan. Alabama is late to the party with him expected to commit on July 5, but he's very much a priority with Thursday's news.
"If Lonergan wants in this class, he will have a spot in Alabama's 2023 class," BamaOn3's Joseph Hastings said. "Even Holstein is well-aware of this plan, and has no issue with it. Alabama will only have three scholarship quarterbacks on the roster if Holstein is the only signal-caller they sign; they're trying to reach four, and will continue to recruit at the position in this cycle."
Should Lonergan go elsewhere, the Tide could reshape its board with new offers. Or Nick Saban and Co. could do something he's yet to since the advent of the transfer portal by bringing in another, more experienced arm from there.