Joel Klatt: Quinn Ewers will deal with 'shadow' of Arch Manning in Texas' Alamo Bowl game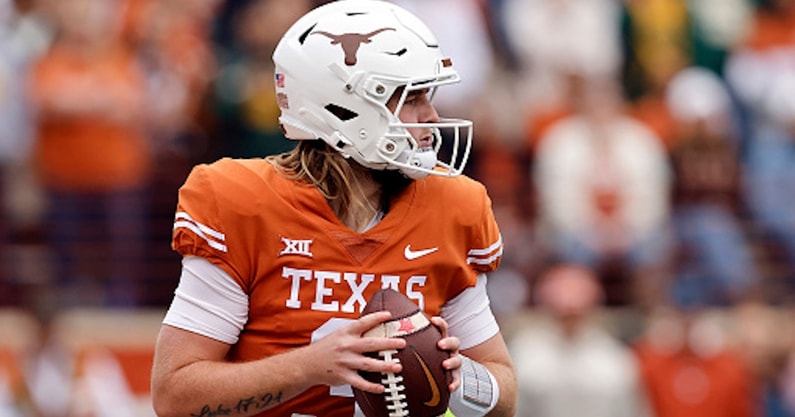 Quinn Ewers started out hot this year before an injury slowed him down in the second half of the season. Ahead of Texas' Alamo Bowl game against Washington, FOX Sports' Joel Klatt detailed the "shadow" of Arch Manning would loom over Ewers in the game.
Texas landed the commitment of the No. 1 overall prospect in Manning to play quarterback for the Longhorns. Ewers transferred in from Ohio State prior to the season and was himself a five-star quarterback. 
But without a big time performance to give fans hope going into 2023 with Ewers, the second-year quarterback could play second fiddle to Manning right away.
"The main question for Texas in this game, the Alamo Bowl, is going to be: what does Quinn Ewers look like," Klatt said on his podcast. "Because it's not even about the matchup against Washington. But if he doesn't start playing better than what he did down the stretch, then everyone's just gonna be waiting for January 9th. What happens January 9th? The spring semester starts. Guess who's gonna be walking around campus? Arch Manning. That is a giant cloud over Quinn Ewers. I think we all acknowledge that."
After not playing for Ohio State in 2021, Ewers played nine games for Texas this season. He had 1,808 yards, 14 touchdowns, six interceptions and a 56.6% completion percentage.
As a member of the Class of 2021, Ewers was a five-star prospect out of Southlake (Texas) Carroll, according to the On3 Consensus. He was the No. 1 overall prospect in the state, the No. 1 quarterback in the class and the No. 3 overall prospect in the class.
"Ewers is now sitting there with the shadow of Arch Manning getting larger and larger and larger," Klatt said. "You know that TCU game was not good for Ewers. He was 17-of-39. The Oklahoma State game was not great for Ewers. And in the last two games they kind of avoided him and went heavy-Bijan Robinson, and rightly so. He threw 21 passes and then 16 passes in the last two games. Bijan was the deal. 
"Well, now you're not going to have Bijan … and so this is like, what do you got, buddy? This is almost to try out. Because if it doesn't go well, the problem is I don't know if it matters how well he plays in the spring, because that fan base is going to be clamoring for Arch Manning."
Manning is a five-star-plus prospect, according to the On3 Consensus. He is the No. 1 overall prospect in the Class of 2023 out of New Orleans (La.) Isidore Newman.