Five-star Quinn Ewers reclassifies to 2021, set to enroll at Ohio State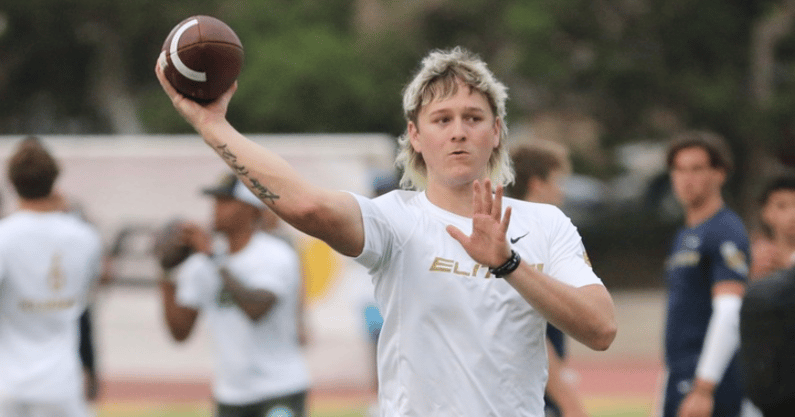 Quinn Ewers, rated as the nation's top quarterback prospect in the 2022 class according to On3.com, has announced he will reclassify to the 2021 class. He will enroll at Ohio State for the fall semester.
Ewers made the decision to skip his final year of high school football for the Southlake Carroll Dragons (Southlake, Texas) due to the state of Texas' Name, Image, and Likeness laws. If Ewers returned for another year of high school football, he would be leaving close to $1 million on the table, according to Pete Thamel of Yahoo Sports.
Why is Quinn Ewers reclassifying?
Thamel went into specifics below on why Ewers would choose to enroll at Ohio State this fall.
"Ewers has emerged as such a precocious and recognizable star that he has the potential to earn nearly a million dollars in the next year by profiting off his Name, Image, and Likeness. A local company called Holy Kombucha is among those offering a deal to Ewers, and it includes cash and equity in the company. There are several other offers, including national brands."
"While this avenue of making money off NIL has become formally available to college athletes in the past month, it's not allowed for high school athletes in Texas. The state's University Interscholastic League informed the Ewers family in an email Monday that any attempt for Ewers to profit off his NIL would be in violation of Texas' recent legislation regarding Name, Image, and Likeness."
On3 analysis of Quinn Ewers
On3's National Director of Football Recruiting Chad Simmons wrote an in-depth analysis on Quinn Ewers reclassifying to 2021 and what it means.
"Ewers opting out of high school a year early developed very rather quickly," Simmons wrote. "He is a big name with a huge presence on social media and has the chance to sign multiple deals when he starts college because of NIL. There is not any other way to say it. It is a huge blow to his high school.
"It shouldn't really impact Ohio State all that much this season with him coming in weeks before the first game. He is a special talent, and the no. 1 player in the country for multiple reasons, but he's not going to show up at Ohio State weeks before the season starts and be expected to make a significant impact. What this does for him though is start the clock on when he can be eligible for the NFL Draft. Of course, the NIL is the biggest reason all this happened, so he will benefit financially from that as well when he officially starts at Ohio State. If all works out perfectly for him, he will be at Ohio State for three seasons, starting two, making money because of NIL, and then a young NFL draftee in 2024."
Accolades and awards
As Chad Simmons noted above, Quinn Ewers is a special talent. He was recently named an Elite 11 quarterback, a camp where the nation's top 20 quarterbacks are selected to compete against each other. The Texas native was also recently selected to The Opening, a camp where the nation's top high school football prospects compete against each other. There's a 7-on-7 competition at The Opening that puts the nation's finest collection of skill players on display.
Quinn Ewers was selected as the nation's top overall prospect by many recruiting services, including On3.com.
Of the 16 five-star quarterbacks from 247Sports.com since 2018, Ewers tied with former Clemson quarterback Trevor Lawrence for the highest rating.
The Texas phenom chose Ohio State over Alabama, Texas, Arizona State, and Auburn, among many others. He had 29 total scholarship offers total.
The gifted signal-caller led Southlake Carroll to the Texas 6A state championship game in January 2021. His team lost to Westlake and five-star quarterback Cade Klubnik, a Clemson commitment for the class of 2022. (Austin, Texas) 52-34. In 2019, he was named the MaxPreps National Sophomore of the Year. He guided Southlake Carroll to a 13-1 record and a Texas 6A state quarterfinal appearance.