Ranking the Contenders for 5-star big man Ugonna Kingsley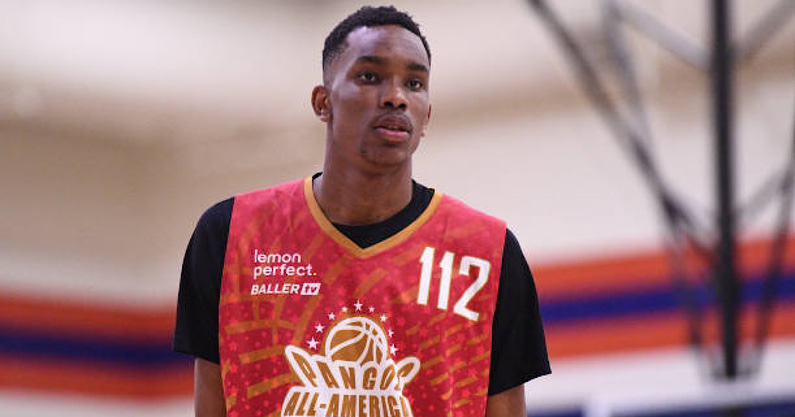 Ugonna Kingsley is On3's No. 5 player in the 2023 player rankings. I have gone on record saying he is the best defensive high school big we have seen in the last five years. How he can dictate the outcome of a game without needing the ball is the most impressive part of his game.
On3's Joe Tipton broke the news that the 6-foot-10 Kingsley would announce his commitment on August 1.
The Putnam (CT) Science Academy center has taken three official visits, Oklahoma State, Kentucky, and Oklahoma.
Let's rank the contenders.
1. Kentucky
Kentucky's recruiting board has been very quiet this cycle. Pieces of this one started to leak when I talked with Ugonna Kingsley at Pangos All-American camp, and he told me, "I've been wanting to go to Kentucky all my life."
Add that quote with the familiarity and success fellow Nigerian Oscar Tshiebwe is having at Kentucky, and there is a lot of natural connection to the school. Kingsley is an elite defensive big, and Calipari likes to have those to anchor his defense.
A lot can happen over the course of July, and it appears Kingsley's timeline to commit is after the travel season ends. However, as things stand today, Kentucky should be confident with where things stand.
Kentucky's chances: 90-percent
2. Oklahoma
Oklahoma head coach Porter Moser got the final visit for Kingsley. There is always something to be said for that. They also have playing time available immediately. Oklahoma has recruited him to be their starting center this season, with the opportunity to enter the 2023 draft.
Oklahoma's chances: 5-percent
3. Oklahoma State
The Cowboys got the first official visit, and getting a player on campus is half the battle. Even with playing time available, at the end of the day the relationships are better elsewhere.
Oklahoma State's chances: 5-percent
Kentucky and Reclassification?
All intel here points toward a commitment to Kentucky and reclassifying to the 2022 class. Now that the August 1 date on the table, it looks like the Wildcats will be getting their fourth commitment in the 2022 class.
With Kentucky in the running for 2023 five-star center Aaron Bradshaw, staggering these players would make sense as they are different stylistically, both players are straight fives.
There is talk of Kingsley redshirting, however that is not been finalized yet. With a September 2004 birthday, he will be eligible for the 2023 NBA Draft.