Ranking the top freshmen in the ACC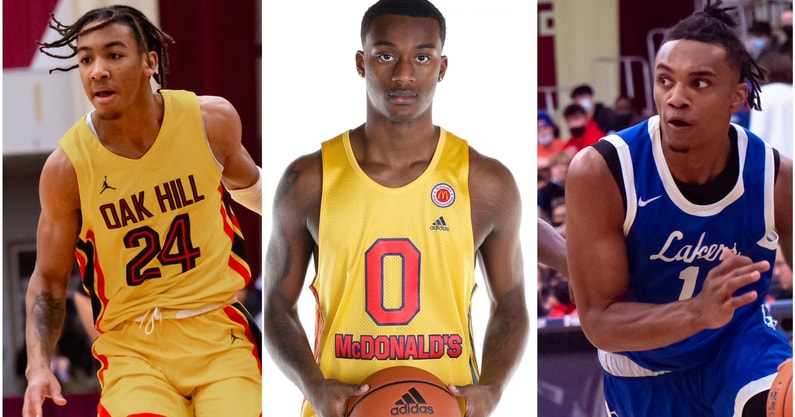 Gone are the high school accolades and the hype surrounding prep players and their rankings. Foreign tours have started in the ACC, and the college basketball season is right around the corner. Many college teams have been together for a month now; we have new intel to draw on.
Over the past nine years, the ACC has had nine players drafted among the top three picks in the NBA draft. The conference produced two of the last four No. 1 overall picks, including Paolo Banchero, this year, and they have had at least one top-five NBA Draft pick each of the last nine seasons.
While the conference churns out top talent, the conference brings in top talent yearly. Twenty-three of the 2022 On3 Consensus Top-100 ranked players are heading into the ACC.
This list is based on impact, which (admittedly) is a very generic term. It is also worth noting that the ACC is older this year, with many schools opting for the transfer portal over high school players. Syracuse is the only school in the ACC that did not sign at least one transfer, with most teams going for two or more. Not many teams will have the need to call on freshmen to produce.
Of course, this list is subject to change, probably even before the first game tips off. However, with new information coming in daily about how players are looking, how they have developed over the summer, and what the rosters look like, we wanted to rank the ACC freshmen as of August 14.
Ranking the A-10 Freshmen
Ranking the SEC Freshmen
1. Five-star SF Dariq Whitehead (Duke)
Height/Weight: 6-6/190
High School: Montverde (FL) Academy
On3 Consensus: No. 1
This one is really a 1a/1b situation with him and Filipowski, but because Dariq Whitehead is the wing, he will have the ball in his hands more. Whitehead is a strong frame wing that has an advanced iso-scoring package. The three-point shot needs more consistency, as do his counters off the bounce, but this team should have him in a position to get his shots. Whitehead is also a very good perimeter defender.
Whitehead is young; he will be 18 for the full season. His game is mature, and there is a high floor for his production. Whitehead should lead Duke in scoring this season.
2. Five-star PF/C Kyle Filipowski (Duke)
Height/Weight: 6-11/220
High School: Wilbraham (MA) Wilbraham and Monson Academy
On3 Consensus: No. 5
Kyle Filipowski has some unique pieces to his game, with his ability to handle and pass. He has a strong frame and a fierce competitive nature. Filipowski will need to adjust to the game's speed and tighten up his ball handling and decision-making, but the talent is immense, and the path to playing time is clear. He is also a very good rebounder.
He will share some time with Dereck Lively, a more natural rim protector, and that may bite into his numbers a bit. For this Duke team to be good, Filipowski will need to be good. Watch for him to be a top three scorer and top two rebounder on this team – the assist numbers may be interesting too.
3. Five-star SG JJ Starling (Notre Dame)
Height/Weight: 6-4/195
High School: La Porte (IN) LaLumiere
On3 Consensus: No. 17
Blake Wesley walked so JJ Starling could run. That should be the blueprint for the five-star this season. Starling is a long-armed, strong-framed guard who can handle, shoot, and pass. Last season, Wesley caught on quickly to the Notre Dame system, can Starling do the same? 
There is a clear path to playing time, and Starling has the talent that could shine early. 
4. Four-star G Judah Mintz (Syracuse)
Height/Weight: 6-3/175
School: Mouth of Wilson (VA) Oak Hill
On3 Consensus: No. 49
While Joe Girard has one guard spot locked up, the other guard spot is open. Judah Mintz slots right into that position as a seamless complement beside Girard. Mintz is a paint touch guard who aggressively plays at the point of attack on both ends. Word out of Syracuse is there may be more man-to-man played this season, and Mintz is the perfect player to usher in that look. 
With his all-out style of play, Mintz could quickly become a fan favorite.
5. Three-star PG Josh Beadle (Clemson)
Height/Weight: 6-3/180
School: Columbia (SC) Cardinal Newman
On3 Consensus: NR (2021)
Josh Beadle is a little different than the rest on this list as he redshirted last season. Still, he is a freshman nevertheless. Beadle should be the starting point guard for the Tigers. The 6-foot-3 lefty is a crafty scorer with sneaky athleticism. His feel is what is unique about him. Can his body hold up to the grind of ACC play? That will be an interesting question. The Tigers will be without PJ Hall until at least November.
Beadle is a South Carolina kid with little expectations of him from outside the program and a lot of opportunities for him in the program. There could be some growing pains, but there could also be some shining moments.
6. Four-star PF Mark Mitchell (Duke)
Height/Weight: 6-8/215
High School: Bel Aire (KS) Sunrise Christian
On3 Consensus: No. 24
Pencil in Mark Mitchell to be the starting four-man for the Blue Devils this season. He is a lengthy and active defender who can be switchable from the perimeter to the post. Mitchell can push the break, and his skill set and size allow him to play multiple roles in different lineup looks. 
Mitchell's versatility will help Duke effectively stagger the front-court minutes in Durham.
7. Four-star SF Kamari Lands (Louisville)
Height/Weight: 6-8/200
High School: Phoenix (AZ) Hillcrest Prep
On3 Consensus: No. 63
Kamari Lands heads into the season as the expected starting small forward. In Kenny Payne's first season, there will be some growing pains, but the Cardinals do return three players who combined to start 36 games last year. Lands is a good three-point shooter with range off the catch, and he has good positional length and is a good athlete. 
There is a clear path to playing time available, and the talent is there to take hold of the opportunity. 
8. Four-star PF Baba Miller (Florida State)
Height/Weight: 6-11/205
High School: Real Madrid
On3 Consensus: NR
Baba Miller is from Spain and has been playing in the Real Madrid development program since age 12. Miller has great size and skill; he can handle, shoot, and pass and is very mobile and fluid for a player his size. How quickly will he get caught up to the game's speed and Leonard Hamilton's defensive system?
He is not with the team yet, but John Butler's production last season should be the baseline of expectations for Miller heading into the season.
9. Five-star C Dereck Lively (Duke)
Height/Weight: 7-1/215
High School: West Chester (PA) Westtown School
On3 Consensus: No. 2
Even though Dereck Lively may not play as many minutes this season as Mitchell or Filipowski, he will most certainly have an impact. Lively is the top rim protector in the class; he moves in a way many his size simply cannot, and this is what has him on NBA Draft boards. Lively will need to continue getting stronger, especially in his core and base, and figuring out his offensive arsenal. There are some similarities in the archetype to Mark Williams last year; only Williams was 30 pounds heavier and almost a year older at the time.
There may be some growing pains, but there will also be some flashes. Coming in with Filipowski and Mitchell and having Ryan Young in the mix, Lively will not need to tote the load. The NBA talent will be allowed to progress at his own rate.
10. Three-star PF Bobi Klintman (Wake Forest)
Height/Weight: 6-9/205
High School: Bel Aire (KS) Sunrise Christian
On3 Consensus: No. 160
Bobi Klintman was a late pick-up for the Demon Deacons after he de-committed from Colorado. He was On3's No. 83 ranked player in the class. The native of Sweden is big and skilled; he has long arms on the defensive end and is a smooth shooter off the catch. 
There may be a learning curve for Klintman, but watch how he progresses as the year goes on; there are a lot of opportunities for him to see success. 
Other freshmen to watch
Four-star SG Donald Hand, Jr. (Boston College)
Four-star CG Rodney Rice (Virginia Tech)
Three-star PG Chas Kelley (Boston College)
Four-star PG Seth Trimble (UNC)
Three-star PG Dillon Hunter (Clemson)
Four-star PG Dior Johnson (Pittsburgh)
Four-star SF Ryan Dunn (Virginia)