Ranking the top freshmen in the Atlantic-10 Conference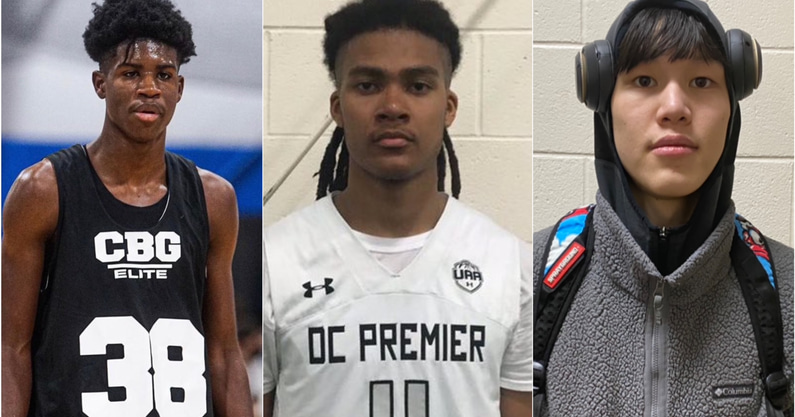 The Atlantic-10 Conference (A-10) has solidified itself as a multi-bid league. Not quite a high major conference, but right there knocking on the door. Each year the A-10 has a team that is talked about in top-25 conversations and players showing up on draft boards.
This year the conference loaded up with talented young players. Multiple players ranked among the On3 150 chose to play their college ball in the A-10. These are players who will soon be names heard often throughout the college basketball landscape so I wanted to go through and rank the incoming freshmen for the readers.
While a couple of these guy's impacts, like Billups and Sharavjamts, may be a year or so down the line, here are the A-10's top five incoming freshmen.
1. Four-star SG Mike Sharavjamts (Dayton)
Height/Weight: 6-8/180
High School: Willoughby (OH) ISA Academy
On3 Consensus: No. 79
Mike Sharavjamts is one On3 was higher on than the industry. While he has the highest draftable ceiling of anyone on this list, his playing time in year one may not be as much as the rest on this list. Sharavjamts is going to a Dayton team that returns everyone off a 14-4, second place A-10 finish.
Sharavjamts is a legit 6-foot-8; he has the ball skills to be a secondary initiator in the half court, the range to stretch the floor out to 28 feet, and the bounce to dunk on a late rotating big man. He will need to add weight, but the future is very bright here.
2. Four-star SF Justyn Fernandez (George Mason)
Height/Weight: 6-5/200
High School: Bradenton (FL) IMG Post Grad
On3 Consensus: No. 107
Justyn Fernandez is a little different from the others on this list as he enrolled at George Mason early and redshirted. The 6-foot-5 wing is an explosive athlete who has a year under his belt, getting caught up to the game's speed.
One thing Fernandez improved on during his last year of high school was becoming more of a scorer than an athlete. The jump shot was more consistent, and the pull-up had confidence. If he can continue along those paths, there could be a very bright future for Kim English's prized recruit.
3. Three-star SG RJ Luis (UMass)
Height/Weight: 6-6/195
High School: Lanham (MD) Mt. Zion Prep
On3 Consensus: No. 219
RJ Luis flew largely under the national radar; he was another one On3 was higher on than the industry. The 6-foot-6 guard is a high-level, multi-positional defender who plays with toughness and a chip on his shoulder.
Offensively, he has a confident pull-up and is a good passer in the half-court. Watch how Luis develops; he could have a next-level type future.
4. Three-star PF Tafara Gapore (UMass)
Height/Weight: 6-10/210
High School: Kent (CT) South Kent Academy
On3 Consensus: No. 100
Tafara Gapore is the most recent addition to the A-10 freshman class. The native of New Zealand, by way of Kent (CT) South Kent School, was a Top-100 talent in the 2023 class. Classifying to 2022, he stayed in the Top-150.
Gapore is a long-armed and strong forward prospect. He is a good passer in the half-court and should be a nice rebounder. He has the talent; his thing will be finding out who he is and getting really good at that.
5. Three-star SF Alphonzo Billups (VCU)
Height/Weight: 6-7/180
High School: Richmond (VA) Varina High
On3 Consensus: No. 136
Alphonzo Billups may be one of the most two or three talented players on the roster. However, like Sharavjamts, he may not need to step directly into a starring role in year one. That will be good for the overall development of Billups, as he needs to put on weight and get his footing at the collegiate level.
Billups is an interesting talent at 6-foot-7. He played primarily as a point guard for his high school team, so he has ball skills and some confidence as an initiator. He is a slashing wing with a lot of upside in time.
Other freshmen to watch
Three-star C Jeremy Foumena (Rhode Island)
Four-star C Christian Fermin (VCU)
NR G Devin Carney (Duquesne)
Three-star SF Yann Farell (St. Bonaventure)
NR G Larry Hughes II (St. Louis)
Three-star PF Reed Bailey (Davidson)
Sneaky class
Fordham: 6-2 G Will Richardson, 6-5 G Noah Best, 6-5 SF Angel Montas, 6-6 SF Romad Dean, 6-7 PF Elijah Gray