Ranking the top freshmen in the Big-12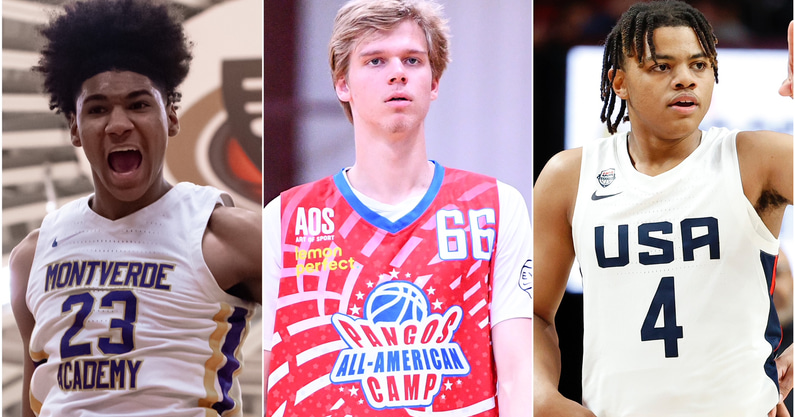 Gone are the high school accolades and the hype surrounding prep players and their rankings. Foreign tours have started, and the college basketball season is right around the corner. Many college teams have been together for a month now; we have new intel to draw on.
The Big-12 has been among the top performing conferences in the country over the last couple of seasons. Three players from the conference heard their names in the first round on draft night, and Kansas is the defending national champion. 
This list is based on impact, which (admittedly) is a very generic term, not talent. It also needs to be mentioned that even though the Big-12 saw a lot of turnover this offseason, most programs went the transfer route over relying on freshmen. So while some freshmen may have talent, their roles this season are in question or more limiting.
Of course, this list is subject to change, probably even before the first game tips off. However, with new information coming in daily about how players are looking, how they have developed over the summer, and what the rosters look like, we wanted to rank the Big-12 freshmen as of August 16.
The A-10 Freshmen
The SEC Freshmen
The ACC Freshmen
1. Five-star SG Keyonte George (Baylor)
Height/Weight: 6-4/185
High School: Bradenton (FL) IMG Academy
On3 Consensus: No. 9
While Baylor returns Adam Flagler and LJ Cryer, there is a clear featured role available for Keyonte George. The 6-foot-4 guard has a smooth feel and plays with a lot of confidence. George is a three-level scorer, and his pace allows him to touch the paint. 
It may be worth monitoring how George carves out his role in a veteran backcourt. However, he has the talent to quickly slide into a featured role.
2. Five-star SG Gradey Dick (Kansas)
Height/Weight: 6-8/205
High School: Bel Aire (KS) Sunrise Christian
On3 Consensus: No. 17
Gradey Dick became a big-time sniper last season. Synergy charted 26 of his games as he was 63-for-137 (46 percent) on the season. In 17 games on the UAA Next Circuit last summer, the KC Run GMC wing was 37-for-87 (42.5 percent) from three. Dick has always been an explosive athlete who moved well laterally. Last year his stock rose drastically because of the shooting. 
With Christian Braun getting drafted in the first round of the NBA Draft, a floor spacer is needed in the Jayhawks lineup. Expect some adjustments, but Dick should have every opportunity to fill this void.
3. Five-star F Dillon Mitchell (Texas)
Height/Weight: 6-8/205
High School: Montverde (FL) Academy
On3 Consensus: No. 4
Dillon Mitchell was one of the best athletes in the 2022 high school class. The long-armed lefty proved to be a smart off-ball cutter and a player who put pressure on the rim on the offensive end. There will be needed development with the jumper range, but he is a threat off two dribbles. 
Where Mitchell should carve out his role early is on the defensive end. His reported 6-11 wingspan and quick feet allow him to switch up and down a lineup. There are still questions about how the Texas frontcourt rotation will look; Mitchell's versatility should play an advantage there, especially with Chris Beard's defensive scheme. 
4. Four-star SF MJ Rice (Kansas)
Height/Weight: 6-5/220
High School: Napa (CA) Prolific Prep
On3 Consensus: No. 30
While Kansas returns Jalen Wilson, it lost its top-two scorers in wings, Ochai Agbaji and Christian Braun. Someone will need to step up, and MJ Rice has just the alpha mentality to be that person. Rice has an athletic, physically imposing frame with the athleticism to compete in the Big-12.
He will need to acclimate him to the college game's speed, but there is an innate toughness there with the talent.
5. Four-star PG Milos Uzan (Oklahoma)
Height/Weight: 6-4/183
High School: Glendale (AZ) Dream City Christian
On3 Consensus: No. 84
While Milos Uzan may not be in the starting lineup, he will play a lot of minutes. He has good size and is a pass-first point guard. Uzan will need to add weight, get stronger, and get up to the speed of play, but his minutes will be staggered with Grant Sherfield, which will help. 
There should be a progression throughout the Big-12 season with Uzan, but there are plans for Uzan in Stillwater. 
Other freshmen to watch
Four-star SF Elijah Fisher (Texas Tech)
Three-star SG PJ Haggerty (TCU)
NR C James Okonkwo (West Virginia)
Four-star C Ernest Udeh (Kansas
Three-star PG Tamin Lipsey (Iowa State)