Ranking the top freshmen in the SEC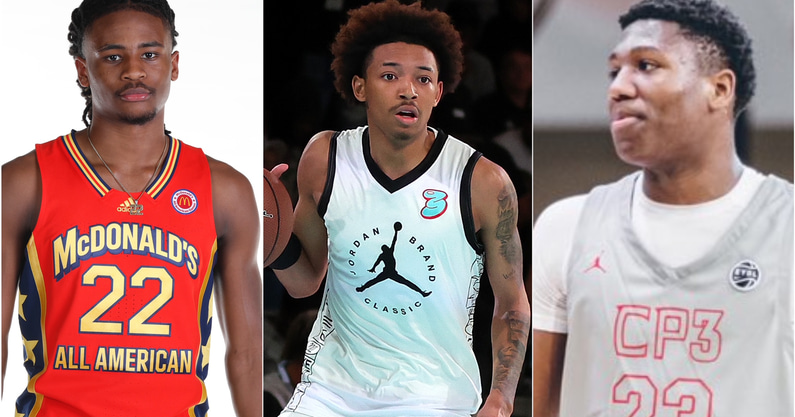 Gone are the high school accolades and the hype surrounding prep players and their rankings. Foreign tours have started, and the college basketball season is right around the corner. Many college teams have been together for a month now; we have new intel to draw on.
The SEC has produced as much NBA talent as any conference in recent memory, and the talent continues to come into the league.
This year, the conference added seven of the 19 five-stars who entered college. To help get a feel for expectations, I went through and ranked the conference's freshmen.
This list is based on impact, which (admittedly) is a very generic term. Most of these guys will immediately impact college basketball, but someone like Jalen Reed's impact may come a year or two down the road.
Of course, this list is subject to change, probably even before the first game tips off. However, with information coming in daily about how players are looking, how they have developed over the summer, and what the rosters are looking like, we wanted to rank the SEC freshmen as of August 12.
1. Five-star PG Cason Wallace (Kentucky)
Height/Weight: 6-4/195
High School: Richardson (TX) High
On3 Consensus: No. 7
Things are lining up for Cason Wallace to have a big year for Kentucky. The 6-foot-4 freshman is an elite perimeter defender; look for him to take on that matchup each night. He will play beside Sahvir Wheeler this season in a similar role as TyTy Washington last year. Watch for Washington's production to be the baseline of what Wallace puts forth this season.
On3 ranked Wallace as the top point guard in the 2022 class. He has a chance to be the top college point guard taken in next year's NBA Draft.
2. Five-star SF Brandon Miller (Alabama)
Height/Weight: 6-9/200
High School: Antioch (TN) Cane Ridge
On3 Consensus: No. 16
Brandon Miller will be an offensive weapon from day one. He has an iso-game that is polished, even advanced for a college player, let alone a freshman. Listed on the Alabama roster at 6-foot-9, Miller will be a matchup problem. The question with him will be how quickly he will get caught up to the speed and athleticism of his defenders in the SEC.
As the season goes on, how will he react to adjustments made against him? Nate Oats does well with scorers and natural scoring ability, and Miller has that in spades.
3. Five-star PG Anthony Black (Arkansas)
Height/Weight: 6-7/195
High School: Duncanville (TX) High
On3 Consensus: No. 12
Anthony Black is a late-blooming basketball prospect, but one who had about as good a 12 months as someone could have. The former football wide reciever took off at Duncanville High and then was a standout at all the post-season all-star events.
Eric Musselman likes to put three and four players on the floor who can create in the half-court, so this Arkansas team may not have a traditional point guard; however, Black could end up being just that. He has an excellent passing feel and makes good decisions. Still coming into his own as a basketball player, look for Black to be a, and possibly the, steadying force for this Razorbacks team.
4. Five-star SG Nick Smith (Arkansas)
Height/Weight: 6-5/185
High School: Little Rock (AK) North
On3 Consensus: No. 4
Nick Smith is gathering all the early season accolades, and rightfully so. The 6-foot-5 guard has long arms, vertical pop, and a smooth handle that gets him to his spots. Consistency will be the big thing with Smith this season. Like with any freshman, there will be ups and downs along the way. There is immense talent, but will his decision-making allow him to string together multiple games in the SEC when teams are game-planning for him? He has a talented cast around him, so he will not have to do everything, but for this team to be as good as projected, Smith will need to carry a load.
Look for him to be Arkansas's leading scorer this season, and have some pretty spicy highlights along the way.
5. Five-star PF GG Jackson (South Carolina)
Height/Weight: 6-9/210
High School: Columbia (SC) Ridge View
On3 Consensus: No. 9
There will be a lot of eyes on GG Jackson this season in Columbia. The former No. 1 ranked player in the 2023 class opted to enter college a season early. Jackson has ample burst with good length and interesting play-making ability off the bounce. Speed of the game, finding his spots, and strength will be things he needs to get his arms around.
The Gamecock roster is centered around the 6-foot-9 Jackson, who will be only 17 years old when the season starts.
6. Four-star PF Yohan Traore (Auburn)
Height/Weight: 6-10/225
High School: Glendale (AZ) Dream City Christian
On3 Consensus: No. 23
While On3 had Yohan Traore as a five-star, the industry-standard On3 Consensus had him as a four-star. There will be ample playing available for Traore, with Auburn's starting front-court tandem Walker Kessler and Jabari Smith getting drafted in the first round.
Traore is a mobile big who is athletic both vertically and laterally. The French native has touch and hands on the offensive end with nice upside. He is still raw, and everyone in the SEC has someone big and athletic, but Traore's talent is evident, and his path to playing time is clear.
7. Five-star SF Julian Phillips (Tennessee)
Height/Weight: 6-8/190
High School: Branson (MO) Link Academy
On3 Consensus: No. 15
Since his freshman year, Julian Phillips has continually improved, adding pieces to his game each season. Last year, Phillips added consistent jump shooting to his arsenal. Now, the 6-foot-8 small forward is entering Knoxville as a lengthy wing who can knock down shots and has natural pop.
The roster suits Phillips well, as he shouldn't be asked to have to tote the load just yet. Any expectations of immediate superstardom should be tempered by the fans; Phillips is in line to have a nice season.
8. Four-star F Chris Livingston (Kentucky)
Height/Weight: 6'6/220
High School: Mouth of Wilson (VA) Oak Hill Academy
On3 Consensus: No. 21
Chris Livingston plays hard. His motor should earn him early playing time, often for Coach Cal. He is a strong frame and solid ball skills. He is a straight-line driver, and the jump shot needs work, but he can, and will, defend and is a good rebounder.
Livingston's role on the roster could toggle between the three and the four. Kentucky's depth at both spots means he does not need to play right away; however, he could force his way in. Either way, his positional versatility should prove a lot of value on this year's team.
9. Four-star CG Amaree Abram (Ole Miss)
Height/Weight: 6-4/190
High School: Los Angeles (CA) So Cal Academy
On3 Consensus: No. 77
Amaree Abram has a crafty way about his game. He is a great compliment to returning point guard Daeshun Ruffin, who is returning from an ACL injury. Abram is a combo guard who is comfortable playing the one or the two at the SEC level. He has good positional size and can handle, shoot, and pass.
How Ruffin returns will be integral to whether Abram starts or comes off the bench. Regardless of his starting status, expect him to be the primary backup at both guard spots and – most likely – earn starter-like minutes through the season.
10. Four-star PF Jalen Reed (LSU)
Height/Weight: 6-10/230
High School: Los Angeles (CA) So Cal Academy
On3 Consensus: No. 61
Jalen Reed simply moves in a way many 6-foot-10 players do not. Another player that On3 was higher on than the industry consensus. The late-blooming big is the son of former SEC player of the year Justin Reed (Ole Miss). Reed grew three or four inches in his last two years of high school, so he is still coming into his own physically.
There is depth on the LSU roster, so immediate playing time may not be necessary. But LSU head coach Matt McMahon could have a tough time keeping Reed off the floor by the end of the season. It may not happen immediately, but it may; watch for him to catch NBA personnel's eyes too.
Other freshmen to watch
Four-star SF Chance Westry (Auburn)
Four-star SG Riley Kugel (Florida)
Three-star F Solomon Washington (Texas A&M)
Four-star PG Jaden Bradley (Alabama)
Four-star SF Tyrell Ward (LSU)
Three-star SF T.J. Caldwell (Ole Miss)
Four-star F Jordan Walsh (Arkansas)
Four-star PF KyeRon Lindsay (Georgia)
Four-star C Lee Dort (Vanderbilt)