Ranking top 10 running backs in NCAA transfer portal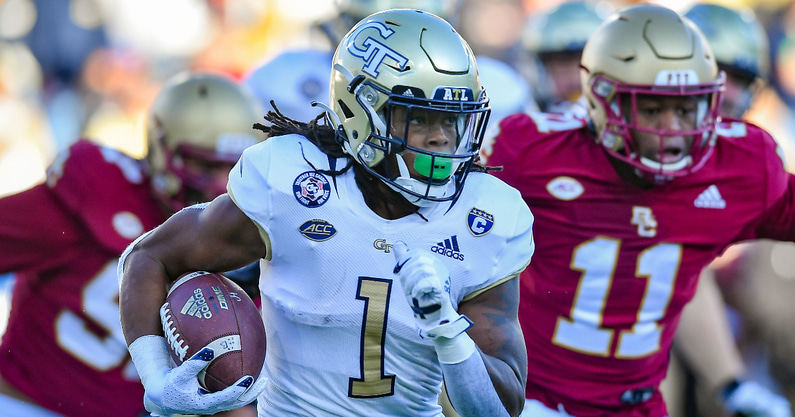 Well over 100 running backs entered the NCAA Transfer Portal after the 2021 season, an eye-opening number that seems par for the course in an eventful offseason.
The past several months have featured over a dozen high-profile coaching changes across every major conference, and as the coaching carousel spins, so too has the NCAA Transfer Portal.
The On3 Database has provided rankings for every running back change across the country, with the top-10 prospects on the move listed below. For a full list of NCAA Transfer Portal entries, click here.
Ranking Top 10 running backs in NCAA Transfer Portal
10. Jalen Berger
Previous school: Wisconsin
New school: Michigan State
Berger is a former four-star recruit according to the On3 Consensus, a complete and equally weighted industry-generated average that utilizes all four major recruiting media companies. He appeared sporadically in his freshman year, taking 60 carries for 301 yards and two touchdowns at Wisconsin, but in 2021, some off-field conflicts reportedly arose. He'll be in line for a heavy workload at Michigan State, which just saw Kenneth Walker III turn in a huge season.
9. Austin Jones
Previous school: Stanford
New school: USC
Jones has spent his entire football career in the state of California, from growing up in Oakland, to playing three years at Stanford and now transferring to USC. His 550-yard, nine-touchdown performance in the COVID-19 abbreviated season made Jones an All-Pac-12 honorable mention, and he's a capable pass-catcher, too, reeling in 52 for 423 yards in the past two seasons.
8. Noah Cain
Previous school: Penn State
New school: LSU
Cain has been a steady contributor at Penn State since his arrival on campus, save for the 2020 season during which he suffered a season-ending injury. He finished with eight rushing touchdowns as a true freshman in 2019, good for second in the Big Ten, and rushed for 350 yards and four scores in 2021. Cain, a former four-star recruit according to the On3 Consensus, left Penn State despite being the Nittany Lions' starter, and he'll be the feature back in Brian Kelly's first year at LSU.
Previous school: Arizona State
New school: Ohio State
Trayanum, a 5-foot-11, 235-pound running back out of Akron, Ohio, opted to return to his home state after two years in Tempe. He was a bruising running back at Arizona State, rushing for nearly 700 yards and 10 touchdowns in two seasons, but Trayanum excelled as a linebacker in high school, too. And now, as he heads back to Ohio State, the Buckeyes are reportedly bringing him in as a linebacker. Despite the position change, he's a top-10 running back transfer in the On3 Database.
6. Lyn-J Dixon
Previous school: Clemson
New school: West Virginia
Dixon entered Clemson as a top-20 running back in his class, but he was faced with a crowded running back room, perhaps informing his decision to transfer. Dixon worked his way into the rotation as a true freshman and sophomore, amassing 166 carries for 1,182 yards and 11 touchdowns in 2018 and 2019 combined, but he has since been phased out of the rotation. He had just 42 carries in 2020 and 10 in 2021; that should change at West Virginia, where Dixon, a former four-star recruit, comes in with both talent and four years of experience.
Previous school: Louisiana-Lafayette
New school: Florida
When Billy Napier left Louisiana-Lafayette to take the head coaching job at Florida, he brought with him a couple talented players, Johnson being one. He was ranked a three-star recruit coming out of high school, but after rushing for 776 yards and 11 touchdowns as a true freshman last season, Johnson was bumped up to a four-star recruit according to the On3 College Ratings. He was named Sun Belt Freshman of the Year in 2021, and he enters a Florida running back room that just lost its two top options — Dameon Pierce and Malik Davis — to the NFL Draft.
4. Travis Dye
Previous school: Oregon
New school: USC
Like Austin Jones, Dye has spent his entire playing career on the West Coast. He prepped in Norco, CA and committed to Oregon, but after four seasons with the Ducks, Dye joined Lincoln Riley at USC. Dye was an All-Pac-12 honorable mention in each of the last two seasons, and in 2021, he led the Ducks in rushing yards (1,271), rushing touchdowns (16) and — perhaps most impressively — receptions (46). A dynamic, versatile running back, Dye was a three-star recruit coming out of high school; provided that Riley picks up a top-tier quarterback in the NCAA Transfer Portal, Dye will be an important factor in an exciting offense at USC.
3. Tiyon Evans
Previous school: Tennessee
New school: Louisville
Evans was a JUCO recruit and committed to Tennessee under Jeremy Pruitt, and he opted to stay with the Volunteers through the coaching change, showing his talent under Josh Heupel in 2021. He rushed 81 times for 525 yards and six touchdowns this season, and Evans showed big-play ability with a 92-yard rush against Mizzou and a 45-yard rush against South Carolina. Injuries made Evans' tenure in Tennessee a rocky one, but he will get a clean slate at Louisville. Alongside returning quarterback Malik Cunningham, Evans is poised to contribute to a high-powered offense.
2. Zach Evans
Previous school: TCU
New school: Ole Miss
Evans was the talk of Texas coming out of high school in 2020, as the Houston native earned a five-star rating via the On3 Consensus — making him the No. 1 running back in his recruiting class — and committed to TCU. Evans showed why he earned that rating in 2020, as a true freshman, as he rushed for 7.7 yards per carry, which ranked second-best in TCU history and second nationally among true freshman. Evans has rushed for 648 yards and five touchdowns on his career, and he opted to leave TCU following the departure of longtime head coach Gary Patterson. Needless to say, Lane Kiffin and the Ole Miss Rebels picked up a big-time back in Evans.
1. Jahmyr Gibbs
Previous school: Georgia Tech
New school: Alabama
Gibbs, a former four-star recruit via the On3 Consensus, earned the coveted No. 1 spot in the top-10 transfer running back rankings, and for good reason: the Dalton, GA native just finished up an impressive sophomore season, during which he averaged 150.4 all-purpose yards per game, and was named a first-team All-ACC all-purpose back, a second-team All-ACC specialist and third-team All-ACC running back. Gibbs rushed for 746 yards and four touchdowns this season, just one year after going for 460 yards and four touchdowns as a true freshman. But what makes Gibbs so lethal — and what landed him on three All-ACC teams — is his versatility. Not only is he an elite kick returner, but Gibbs has also amassed 773 receiving yards and five touchdowns in the past two seasons, posing as much a threat in the receiving game as the rushing game.