Ravens' Don Martindale says Anthony Averett has 'all-pro talent'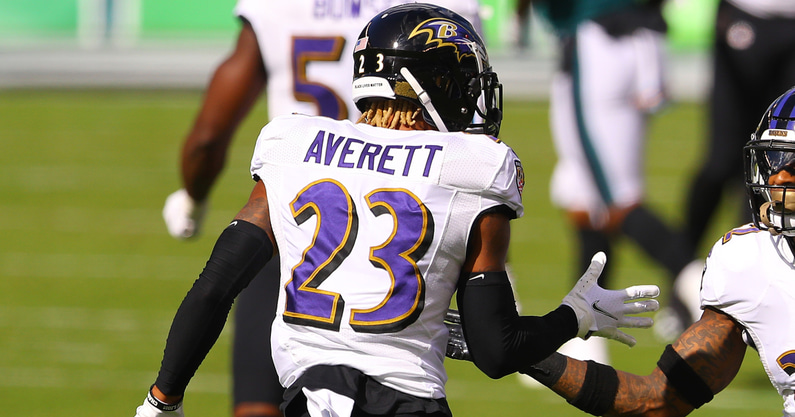 Baltimore Ravens defensive coordinator Don "Wink" Martindale sang high praise for fourth-year defensive back Anthony Averett, calling him "one of my favorites" after Tuesday's practice.
"I said in front of the defense last night, to me, he's the third-best corner we have on the team. And I think the kid has All-Pro talent. I tell him that every day, and he's practicing that way this year."
Averett, a 2018 fourth-round pick out of Alabama, first flashed his potential in Tuscaloosa. Recruited as an athlete, he starred as a quarterback, safety and more in high school, and arrived at Alabama without a set position. It took him some time to learn the position at an SEC level, but by the time his junior year rolled around, an eight-tackle performance against Southern California limiting them to just 130 passing yards in the season opener gave him a starting cornerback role — one that he never let go of.
He won two national championships — one in 2015, and another in 2017 — as a member of the Crimson Tide and recorded 96 total tackles in his final two seasons, including two sacks, seven tackles for a loss and an interception.
"You're really seeing everything go from the practice field to games now," Martindale continued. "You can just see his confidence build. I tell everybody when I start talking about him, it doesn't matter who he's covering, [it doesn't matter] to him. He just goes and covers him. And that's what you like about your corners."
Anthony Averett has only improved in each of his three seasons with the Ravens. His rookie campaign, before he earned the starting job, he posted just three tackles in 11 games played. By 2019, Averett had taken it to 14 tackles in three starts.
But in 2020, despite an injury that sidelined him for five midseason games, he still managed to blow out his previous year's numbers, logging 27 tackles in ten appearances, starting just four games.
Averett is poised to take the next step in 2021 and could very well become a weekly starter for the Ravens, a team that allowed just 6.4 yards per passing attempt last season — third-best among all NFL teams.