Rece Davis gives update on Lee Corso's health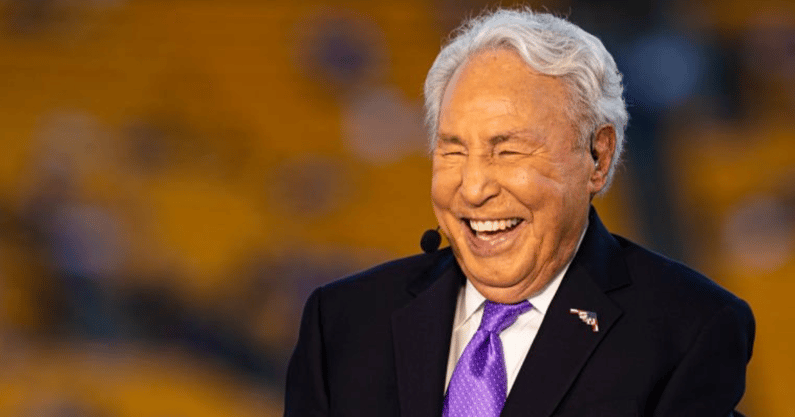 Amidst the madness of the fifth week of the college football season, it started off on a sour note with a health update on ESPN's Lee Corso. It was announced before College GameDay in Clemson on Saturday that Corso would miss the broadcast as he was under the weather. Now, it sounds like the game day staple is doing just fine.
Rece Davis joined 'The Paul Finebaum Show' and opened with an update on Corso. He said the issue was resolved by the end of the day and that Corso is doing much better at home.
CLICK HERE to subscribe for FREE to the On3 YouTube channel
"He's doing much better. I talked to him on Sunday. He's back home in Orlando and feeling much, much better," said Davis. "He just woke up Saturday morning and had a little dizziness and so forth. They checked him out and he was feeling better by Saturday afternoon. (He) was really ready to go home quicker than they let him but the great doctors at Clemson took care of him, looked after him. Now he's back home in Orlando."
Corso has played a massive role at the desk of College GameDay for decades. While new addition Pat McAfee helped fill in in Corso's absence, fans wanted to know when he would return to the broadcast. According to Davis, it sounds like Corso is raring to get back when the crew travels to Lawrence, Kansas this weekend.
"While I was talking to our producer yesterday, LC was calling him and wanting to know what topics were in the show that he needed to prepare for. So he's feeling much better."
Kansas to host College Gameday for TCU matchup
The people were asking for it and ESPN found a way to deliver. For the first time ever, College Gameday will be heading to Lawrence, Kansas to feature the Kansas Jayhawks. They will be taking on the TCU Horned Frogs for an undefeated showdown in the Big 12.
No, we're not talking about basketball, where ESPN has sent College Gameday to town 10 different times. Football will get their shot to impress the country on Saturday.
Kickoff for the game is scheduled for 11 a.m., although ESPN will not have the broadcast rights. FS1 will show the game, where both teams will be looking to improve to 5-0. Nonetheless, Rece Davis, Kirk Herbstreit, and hopefully, Lee Corso will be in Lawrence this weekend.
As for TCU, this will mark their eighth involvement in College Gameday but definitely the most unique. 2018 was the last, with a game against Ohio State taking place at AT&T Stadium. The Horned Frogs are 6-1 in the previous seven appearances on the show. History will be on their side on Saturday, even if they're on the road.