Record-setting senior year creating recruiting buzz for Robbie Roper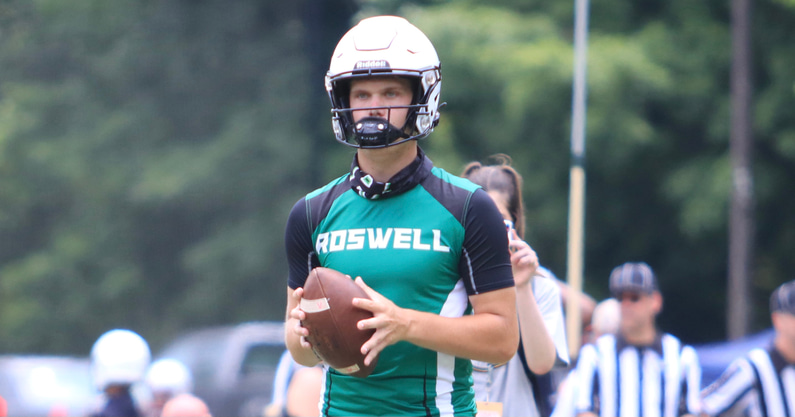 Roswell (Ga.) senior quarterback Robbie Roper continues to buzz in the Georgia state playoffs. Roper threw for 288 yards, two touchdowns while also rushing for 50 yards, and two scores to beat help Roswell to a win over North Cobb.
As the playoffs continue, Roper has a two-fold opportunity. He is attempting to lead Roswell to a state championship in the highest classification in Georgia and earn the eyes of some Power Five college football programs.
"I think it's an important time with college football coming close to an end here pretty soon," Roper said. "My last couple of games have really shown what I can do on the run. I think it has shown my game as a whole."
Roper has offers from Morehead State, Morgan State and Western Carolina. In recent weeks he's been receiving interest from some major programs. He spent time speaking with coaches from California on Monday night. He will be on campus on Dec. 4.
"My favorite quarterback in the NFL is Aaron Rodgers and he went to Cal, so it was pretty awesome to be able to talk to them and hopefully get on campus for a game here pretty soon," Roper said.
Roper was in Athens visiting Georgia on Saturday. He was in Nashville watching Vanderbilt two weeks ago.
"I really like Vanderbilt with it being Nashville, which is a cool town," Roper said. "Coach Lynch and I talked a little. He said he liked what I've been putting on tape and to stay in touch and we'll be in contact again soon."
Robbie Roper aims to control what he can
Roper has made it a high priority to remain focused on the task at hand. He's put together a historic senior season as he now has broken Roswell's passing touchdown record. Winning matters.
His private quarterback coach Ron Veal has been relaying the message of control as much as he can to the senior quarterback.
"The longer you keep playing, the more eyes that you get on you as an individual and as a team," Veal said. "The numbers are getting shorter and shorter. If you can win a state championship, that's going to be a big plus for you in the recruiting field… Somebody is going to take a chance with him. You don't need but one. He can't control that. All he can do is do what you do on the field."
Veal has coached quarterbacks around the state for some time now. He worked with Trevor Lawrence and Justin Fields before they went off to successful college careers and into the NFL.
After training him the last few years, Veal is high on Roper's ability as a quarterback.
"I think he's right up there at the top (of the quarterbacks in Georgia) of it to tell you the truth," Veal said. "For some reason, a lot of other people don't see it that way. He's playing 7A ball and he's doing what he's doing at 7A. You have to give him his respect for playing the way he's playing… He's shown that he has the ability to throw the ball with accuracy, throw the ball up the field, he relies on his check downs, and he uses his athleticism."