Recruiting update on 5-star Baye Fall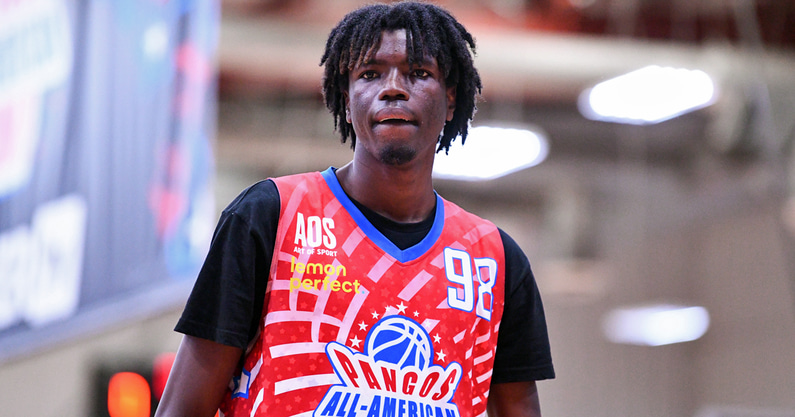 Baye Fall has been a five-star mainstay since On3's inception. The 6-foot-10 center uses his lanky, wirey frame and non-stop motor to consistently find production on the floor.
Fall is On3's No. 9 player in the 2023 rankings. The 6-foot-10 center had good summer on the Adidas 3SSB Circuit. Playing with the Colorado Hawks, Synergy tells us he averaged 17.9 points, 9.9 rebounds, and 2.6 blocks. He shot 50.3 percent from the field.
Earlier in August, Joe Tipton broke the news of Fall's top seven; Kansas State, Texas, Seton Hall, Arkansas, Auburn, Colorado, and Rutgers.
Fall's recruitment
Baye Fall took early unofficial visits to Arkansas and Colorado. He took his first official in June to Auburn and Bruce Pearl.
Fall has three September official visit set. He is at Rutgers on September 1, Texas on September 10, Arkansas September 16, and Seton Hall on September 28.
In Fall's words
"I'm looking for a place where I can work on my game," Fall said. "I want coaches that I trust who will hold me accountable. I want to go to a place that will get me better for the next level. I'm also looking for a school that will help me academically because my family is big on that."
Thoughts and intel
Fall's first visit was to Arkansas. His first official visit was to Auburn. Those seem to be the two schools with the most traction right now.
Texas could be someone school to watch. They get the center on campus and push for him; things could get interesting.
Fall has visits set with Rutgers and Seton Hall. He has spoken extensively about the relationship both schools have built with him and his family.
Auburn got the first official visit and the only junior year official. There carried some steam around the June time frame, talking squarely about how they developed Jabari Smith.
Fall took his unofficial to Arkansas during the Kentucky game last year. He consistently speaks highly of that game atmosphere and the relationship he has with Eric Musselman. Watch the September 16 visit to Arkansas. They are currently the school that has my expert pick with a 90 confidence rating.
Arkansas has been the leader here for a while, so the longer things drag out, the more questions that can arise. Who will get the final visit?
Arkansas, Auburn, and Texas would be the three I would watch heading into his September visits. Overtime Elite and the G-League remain options here.
Fall's scouting report
Baye Fall plays with a great motor, and that leads to ample production. He has good size with great length and is very fluid in his movements. Fall has touch that extends out to the three-point line, but his offensive game is still very raw. Fall plays best as the roll man or in the dunker spots. He is a good offensive rebounder, a put-back dunk threat of missed shots. Fall will need to continue adding strength. He does not have much with his back to the basket, and his pick-and-pop or trail jump shot feels a bit mechanical. Fall moves his feet well laterally and plays with vertical explosion. He is a good shot blocker and is instinctive in the passing lanes.