Recruiting update for four-star Wesley Yates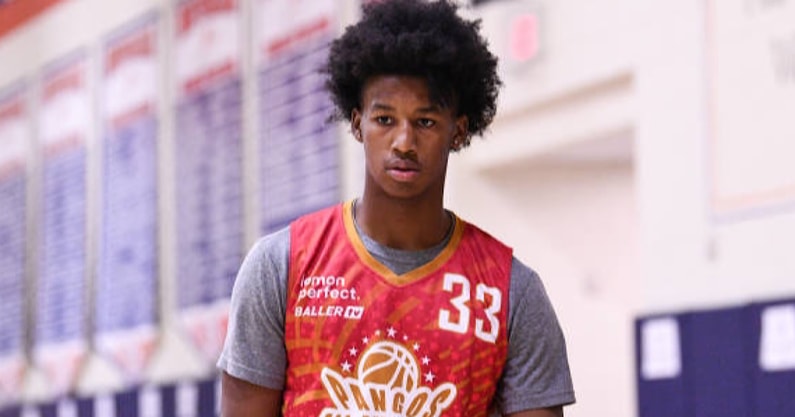 Wesley Yates was a steady performer on Nike's EYBL Circuit this summer. Playing for the LivOn-Fleur de Lis program, the 6-foot-4 guard averaged 15.8 points, 3.3 rebounds, 2.0 assists, 1.3 steals, and 1.8 threes through 24 games.
Joe Tipton announced in early August Yates' final nine; Gonzaga, Stanford, Washington, Houston, Texas, Arkansas, LSU, Auburn, and Baylor.
Wesley Yates is the 2023 On3 Consensus No. 29 prospect.
Yates recruitment
Yates has taken three official visits, and he has two others planned. He visited Auburn (1/29), Stanford (10/29), and Washington (11/10) during his junior year.
The four-star plans to go to LSU on September 10 and Texas on September 17.
Both Baylor and Houston in his top nine got unofficial visits toward the end of 2021.
In Yates' words
"It really all comes down to fit," Yates told On3. "Where I feel like I can see myself for the next four years. Just a coach that's going to let me play like myself and let me be me. Let me play early, often, and through mistakes."
Insights and intel
We can start with Yates's final nine schools. He has not officially visited or set official visits with Baylor, Houston, Gonzaga, or Arkansas. So let's move them to the side for now.
At this point in the recruitment, for various reasons, I do not feel like Auburn, Washington, or Stanford are in the mix.
That leaves the two upcoming visits, Texas and LSU.
LSU has let Yates know he is one of their top targets. This visit has been on the books for months; LSU wanted to make sure they brought him in for a football weekend. According to Yates, Casey Long has done a great job building a relationship, and there is the Ja Morant factor with Matt McMahon.
Texas hoovered with Yates for a bit, but they started to make an all-out push for him after Chris Beard hired Brandon Chappell. Chappell is a native of Beaumont, Texas, and has a relationship with Yates and his family. Yates has quickly become one of the Longhorn's top targets.
Watch to see if Houston jumps in the mix. They are about an hour from home; they have former Beaumont United teammate Terrance Arceneaux, and a track record with guards.
While they do not seem to be close to making a decision, Yates moved his Texas visit back from 10/3 to 10/17. Don't only watch how that trip goes, but also if he adds any more visits between now and that visit.
As things currently stand, this one feels like Texas is ahead of LSU in Yates's lead group of two. Again, if Houston starts to press over the next couple of weeks, they could jump toward the top, but as of now, watch how the visits go for Texas and LSU.
Yates scouting report
Wesley Yates is a strong-framed guard who plays with a lot of confidence. He is efficient on the ball, taking care of possessions. Yates has deep range on his jump shot and is comfortable off the bounce or the catch. His release point is a little low, but the release is clean and repeatable. Yates has a strong handle; his understanding of change of paces gets him to his spots in the half-court. He is an average athlete, vertically and horizontally, but he competes and has toughness. Yates is a noted gamer and wants the ball in his hands.