Florida State, Georgia Tech to open 2024 season in Ireland in 'Aer Lingus College Football Classic'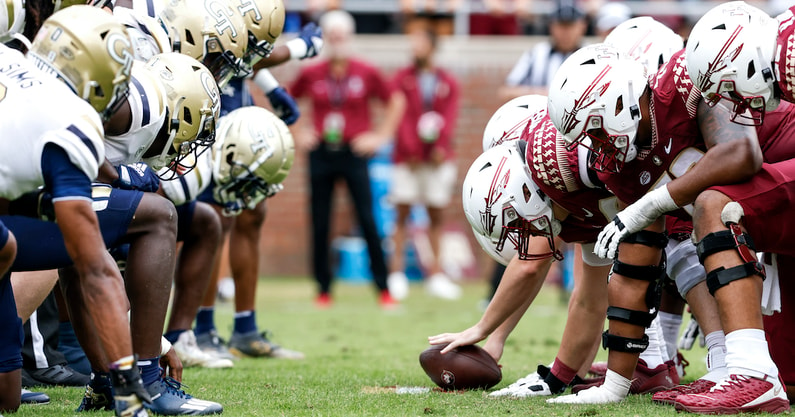 Florida State and Georgia Tech will open the 2024 football season with a matchup overseas in Dublin, Ireland, the ACC announced on Wednesday. Chris Nee was first to report the game being played outside the United State.
The game — the "Aer Lingus College Football Classic" — will take place during Week 0, a week before the regular season traditionally starts, on Aug. 24, 2024. Georgia Tech, playing overseas for the second time, will be the home team. Florida State has never played a game outside the U.S.
"I am so excited for our student-athletes, coaches, staff, administration and fans for this opportunity. When this idea was first presented to me, I was immediately intrigued by a once-in-a-lifetime experience for the people in our program," Florida State head coach Mike Norvell said in the release. "The way the 2024 season lays out with a third open date, the trip made sense from a football perspective as well. Very few people have the chance to travel to a different continent and experience another culture, much less take an entire team, so I am appreciative of everyone's hard work and support to make this game happen."
The two schools will also be the third-straight matchup in a Week 0 game in Ireland. Nebraska and Northwestern faced off in Ireland in Week 0 to being the 2022 season. For the 2023 season, Notre Dame and Navy are slated to play in Dublin.
It's a long way away, and we have a lot of things to focus on in the meantime, but we're excited for today's announcement," Georgia Tech head coach Brent Key said in the release.
Greg McElroy endorses strong take on Florida State in 2023
Greg McElroy is a believer in what Mike Norvell is building at Florida State. In fact, he thinks the Seminoles are the second best team in the ACC.
When prompted with the prediction of Florida State making the ACC title game on the Always College Football with Greg McElroy podcast, McElroy said it was not a hot take at all.
"I don't think it's a bold prediction," McElroy said. "I really don't. I love what Clemson brings back. We've documented that. Clemson is excellent pretty much everywhere with the exception of a place or two that they need to kind of iron out a couple things. But either way, Florida State. You look at the pecking order in the ACC right now. Really just go down the list. Just down the list from top to bottom. Take Florida State out. Take Clemson out. Tell me how many teams in the ACC are going to be better than they were a year ago?
"I think Miami will be better. But are they yet getting to the point which they can contend for a championship? Probably not. The Virginia schools? No, not at this point. NC State? Okay sure you get Brennan Armstrong but you also lose Devin Leary, lose a couple pieces on defense. I think NC State will be pretty good. They're always pretty good. But are they championship caliber? Probably not.
"North Carolina got to the championship last year. I think they were the beneficiary of playing in a division that was very, very up and down. Still got things to sort out on defense. Like North Carolina but not as much as I liked Florida State. Wake's going to be down more than likely. Georgia Tech's going to be up a little bit not championship caliber up. You kind of just go down the list. Duke should be good. Are they a 9-4 team this year? Probably not. You look just all the way down the list."
The Seminoles went 10-3 in 2022 and won their bowl game over Oklahoma. It was a major success after struggling the first two seasons under Norvell.
Now McElroy thinks they will be able to keep it going.
"How many teams are really going to be as good on their roster with personnel as Florida State in the ACC?" McElroy said. "The only one is Clemson. Miami is getting there. But I'm not sure they can get there overnight. Look at the gap by the way that existed between Miami last year and Florida State last year. That game was a complete beatdown. How do I know that?
"Because I called it. I witnessed it with my own two eyes. Now Miami is gonna look totally different this year. I am cautiously optimistic that they have a bounce-back season but when I say bounce back, I'm thinking like 5-7 to 7-5 or 8-4. That's kind of where I see Miami falling. I don't see them as 10-2, which is where I see Florida State at the moment."