Report: Injury update on Chiefs running back Clyde Edwards-Helaire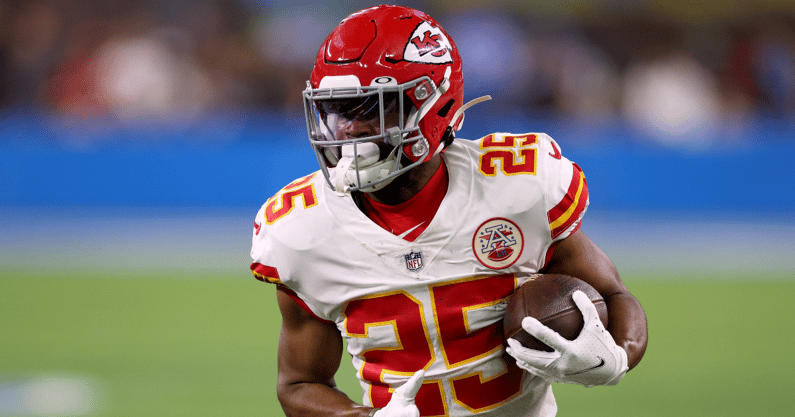 Kansas City Chiefs running back Clyde Edwards-Helaire is considered week-to-week with a shoulder injury, per ESPN's Adam Schefter. He exited Sunday's contest against the Pittsburgh Steelers after suffering what is now said to be a bruised shoulder.
NFL reporter Ian Rapoport later confirmed that tests revealed no structural damage and the injury is not season-ending. However, league sources told Schefter it will be "challenging" for Edwards-Helaire to play Sunday against Cincinnati.
Kansas City defeated the Steelers by score of 36-10 to claim the AFC West division title. Edwards-Helaire had nine carries for 27 yards and a touchdown before leaving that game. He has rushed for 517 yards and scored six total touchdowns this season.
If Clyde Edwards-Helaire is to miss Sunday's game against the Bengals, backup running backs Darrel Williams and Derrick Gore would likely see more carries.
Kansas City is currently in possession of the top seed in the AFC after the victory Sunday. Regardless of what happens in the final two games of the regular season, they have already clinched a playoff spot. If they can hold on to first place in the conference, they will receive a bye week in the first round.
The Chiefs are arguably the hottest team in the NFL right now, having won eight straight games. It wasn't always this way, as many questioned whether the team could still compete for a Super Bowl after a 3-4 start. They are now tied with the Packers for the best odds to win the big game.
Kansas City and the Bengals are set to kick off at 1 p.m. ET on Sunday in Cincinnati. After that, the Chiefs are set to take on AFC West foe Denver in the final week of the regular season. It's unclear whether Edwards-Helaire will play in that game or continue to rest for the playoffs.