Report: Justin Fields status becomes clear with MRI results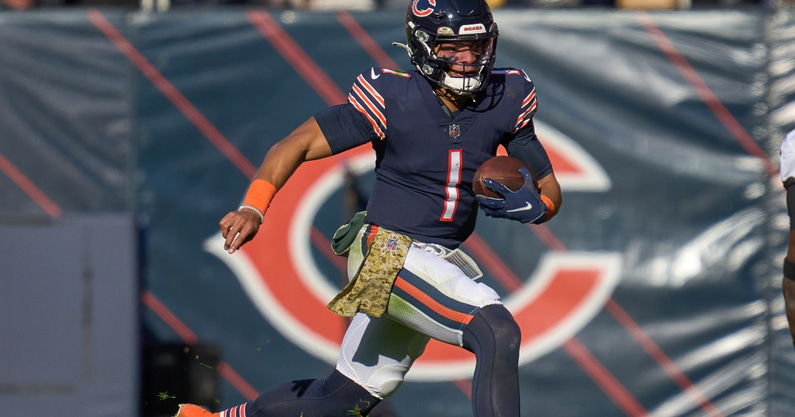 Many in Chicago are thankful for the Bears drafting Justin Fields. However, the former Ohio State star won't be on the field when Chicago travels to Detroit for a Thanksgiving Day showdown with the Lions.
Unfortunately, Fields suffered an injury last Sunday against the Baltimore Ravens. Prior to Thursday's games, NFL insider Ian Rapoport revealed the extent of Fields' injuries.
"Sources: Bears QB Justin Fields, already ruled out today, suffered a few cracked ribs on Sunday, further testing revealed," tweeted Rapoport. "The X-Ray and CT scans were clean, but the MRI showed the additional issues. They are tiny fractures, not deemed major, and Fields should return shortly."
Luckily, it seems the Bears avoided major disaster with their young, exciting quarterback. Still, the budding NFL star will be missed as families gather around to watch Chicago take on Detroit.
In Fields' stead, veteran quarterback Andy Dalton will once again take the wheel for the Bears' offense. On Sunday, Dalton had a solid showing in replacing Fields. The former TCU quarterback finished the game completing 11 of his 23 passes for 201 yards and two touchdowns after coming in cold.
Moreover, his last touchdown was a 49-yard pass to Marquis Goodwin to give Chicago a 13-9 lead with less than two minutes to go in the game. Unfortunately, the Bears' defense could not prevent the Ravens' offense from driving 72 yards in five plays — scoring the game-winning touchdown and leaving Chicago with a 16-13 victory.
The Bears are starting to get restless
At the press conference after the game, Chicago defensive lineman Robert Quinn was visibly frustrated with yet another loss in a winnable game.
"I'm not saying I'm not upset about our record, but I mean I put it behind us," Quinn stated. "Come Thursday, can we show up, can me, and we as the Bears perform like we're supposed to and give people something to cheer about?"
Afterwards, Quinn was shaking his head — distraught at the hands of another tough loss. The Bears defense did their part on Sunday, but the offense couldn't come through for them.
Matt Nagy and the Chicago Bears will need to put it all together for a win against their division rival. If Chicago can come up with the win on Thanksgiving, it will help keep their slim playoff hopes alive. In order for them to get the win, Dalton will need to play as he did in his younger days with the Cincinnati Bengals.