Report: South Florida expected to hire former Notre Dame coach Mike Brey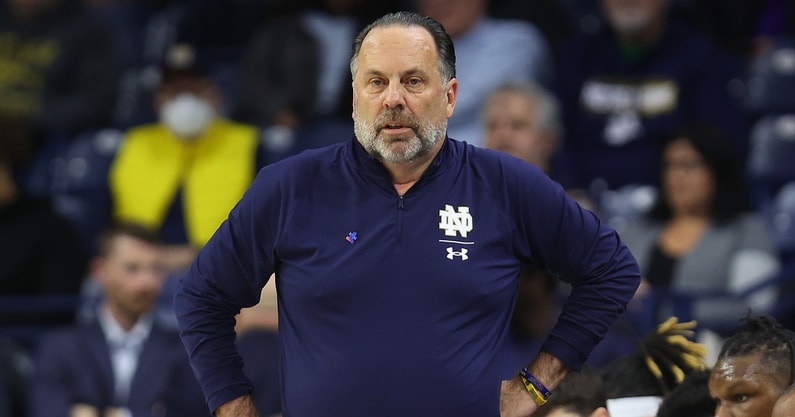 After 23 years in South Bend as the head basketball coach for Notre Dame, the school parted ways with Mike Brey. Now, Brey has reportedly landed a new job in the AAC. According to Russ Wood, the University of South Florida will hire Mike Brey as their new men's basketball coach.
Wood broke the news on Monday morning that USF is expected to hire Brey, writing:
"Former Notre Dame coach Mike Brey is expected to become the next men's basketball coach at South Florida, sources told BullsInsider.com on Monday."
However, ESPN's Pete Thamel came out and pushed the pause button on the Brey to USF reports. He wrote on Twitter that he personally spoke with South Florida athletic director Michael Kelly and was told that while Brey is a candidate for the job and discussions between the two sides have occurred, he is still only a candidate and there is no deal in place at this time.
"Just spoke to USF AD Michael Kelly. He said former Notre Dame coach Mike Brey is a candidate and has interviewed for the USF basketball job, but there's only been discussions. There's been no offer and nothing has been formalized."
Alrighty. So, per the reliable Thamel, no deal yet between Brey and USF. Although, it sure seems like a possibility in the near future.
If Brey does sign on at USF, he move comes following South Florida's decision to fire their own previous coach, Brian Gregory, after he finished with a fourth straight losing season. Gregory had his best season with the Bulls in year two at the helm back in 2019 when he took a young squad to a 24-14 record. He returned all of his rotation the next season but failed to meet expectations and never had another year nearly as good as that '19 season, thus leading to his eventual firing.
Now, with Mike Brey potentially the next head coach down in Tampa, he could try to be the first coach in the last three to take USF to an NCAA Tournament. That hasn't been done since 2012. The '12 season was the program's zenith, as head coach Stan Heath took the Bulls to an at-large bid in the NCAA Tournament and even won a game in the First Four and another in the first round against No. 5 seeded Temple before bowing out against No. 13 seed Ohio in the round of 32.
After that, it was all down hill. In 2012, USF had finished fourth in the Big East — the Old Big East — a tremendous basketball conference that was essentially disbanded and reconstructed in the very next season and left South Florida to join the AAC with a handful of other former Big East powers. Following its inception, the AAC sank closer to the mid-major waters compared to the high-major status of the Old Big East and USF fell apart as a program, eventually letting go of Heath. The two previous hirings since Heath have also ended in firings with Coach Gregory recently and Orlando Antigua back in the mid-2010s.
Mike Brey's best years are definitely behind him, but the USF hoops program has never had a coach of such pedigree. Brey is one of the remaining vestiges of that Old Big East, as he was the head coach of the Fighting Irish when they were one of the league's primary powerhouses every year. His teams fell off in the last five or six years, but from 2007 to 2017, there were few coaches in the country more consistent than Brey at ND.
At 63 years old, Coach Brey may still have enough life left in him to make a splash at a historically dormant program in USF that has a path to rising to power with some of the AAC's other top dogs migrating to the Big 12 next year.