Reports: Salary details on expected Hugh Freeze contract extension at Liberty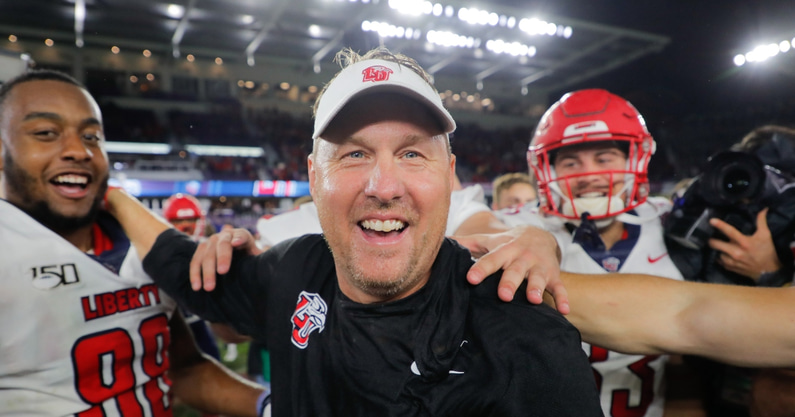 As the coaching carousel spins, one former successful SEC coach won't be leaving his post. Originally reported by ESPN's Chris Low, Hugh Freeze is getting a new, lucrative contract extension at Liberty.
"Liberty has reached a new deal with Hugh Freeze that will make him one of the highest-paid non-Power 5 coaches in college football, sources told ESPN on Tuesday night," wrote Low. "The university is expected to officially announce the new contract on Wednesday.
"Sources told ESPN that Freeze's total financial package would average more than $4 million annually over the length of the contract and run through the 2028 season."
Freeze is in his third season with Liberty, where he currently has the Flames at 7-4 going into their final regular season game on Saturday. Last season, Freeze guided Liberty to their all-time best record of 10-1, in addition to a No. 17 ranking in the ultimate AP poll.
More on Hugh Freeze
Prior to Liberty, Freeze was the head coach of the Ole Miss Rebels. He had success in Oxford, leading them to a 39-25 record in his time there — including a ten win season in 2015 capped off with a Sugar Bowl victory.
However, Freeze resigned from Ole Miss in 2017 amid a scandal involving improper calls on a university-issued cell phone. After taking a couple of years off and letting the stink die down, he returned to coaching at Liberty. Evidently, he's in it for the long haul — turning down a chance at other offers to stay with Liberty.
The extension comes after his name popped up in association with jobs like coaching the USC Trojans, LSU Tigers and Florida Gators. Instead of returning to the SEC or a bigger school, Freeze will continue to build up the Liberty Flames. Now, another name has been crossed off the list for athletic directors looking to make a splash hire.