Robert Beal reveals why Darnell Wright is the toughest player he's played against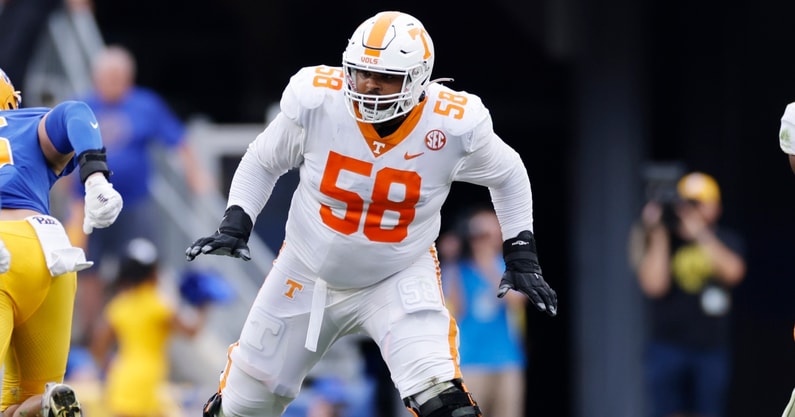 Former Georgia linebacker Robert Beal is spending the week at the 2023 NFL Scouting Combine, where most of the nation's prospects will continue to get analyzed and evaluated by decision makers across the league. Early this week in interviews, the gifted linebacker was asked about who was the toughest player he faced during his time in Athens. He explained why it's Darnell Wright, the offensive tackle from Tennessee, whom NFL.com recently put in a mock draft as going No. 17 overall in this year's upcoming draft, to the Pittsburgh Steelers.
"Darnell Wright from Tennessee. He's a specimen. Just really athletic, you know. Real strong with his feet and his hands," Beal said. "His ability to keep up with me, you know. He was athletic. And I'm going forward, he's going backwards, so. His athletic ability, ability to keep up with me really surprised me all game. I know I couldn't finish the game, so I couldn't really feel him out as good as I wanted to."
Darnell Wright was one of the most dominant players in CFB
It shouldn't be surprising to anyone that Wright was the toughest player he faced, after all, he did earn unanimous first team All-SEC honors from the Associated Press and the league's coaches. Per Pro Football Focus, he was just one of 14 offensive linemen in college football that played more than 850 snaps with no sacks allowed and an efficiency rating of 99.9 or better. Wright tied for the team lead in offensive snaps (895). Among other accolades, he was named as a semifinalist for the Lombardi Award.
Coming out of Huntington High School (Huntington, West Virginia), Wright was rated as one of the nation's top high school football prospects in the 2019 cycle. According to the On3 Industry Rankings, he was rated as the No. 2 offensive tackle prospect in the nation and the No. 6 overall prospect in America. Wright also earned a five-star ranking.