Report: Rodney Terry emerges as candidate at Penn State, California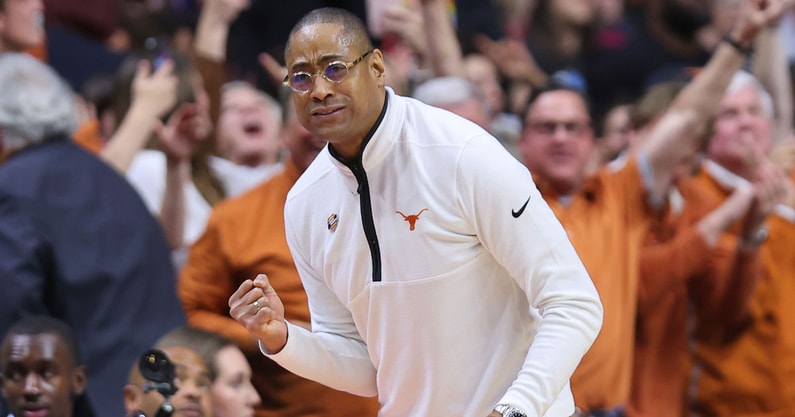 Following the news that Penn State coach Micah Shrewsberry would leave the program for the same job at Notre Dame, Penn State has begun to cobble together a list of functional replacements. It will include interim Texas coach Rodney Terry.
The program has already said that it would be searching for a coach "who will take us to unprecedented heights" and one of Penn State's first reported targets is a name that gained a lot of traction this season.
According to Kirk Bohls of the Austin American-Statesman, Penn State and California are both interested in interim Texas coach Rodney Terry.
Terry took over at Texas early in the season after the program suspended and then dismissed head coach Chris Beard. He was wildly successful, leading Texas to a two-seed in the NCAA Tournament after compiling a 21-7 record and a 12-6 record in conference play.
Under Terry's direction, Texas also won the league's conference tournament, knocking off top-seeded Kansas in the process.
The Longhorns are still alive and kicking in the NCAA Tournament too, having bested Colgate and Penn State to reach the Sweet 16. Texas will take on three-seed Xavier in the Sweet 16 on Friday in a game that tips off at 9:45 p.m. ET on CBS.
Rodney Terry was also reportedly a candidate for Texas Tech, but the Red Raiders have opted to go a different direction with their search, according to Bohl's report.
Prior to his stint at Texas, Terry had been a head coach at both Fresno State and UTEP.
He was at Fresno State from 2011-18, where he compiled a 126-108 record and made one NCAA Tournament appearance in 2016. While at UTEP he posted a 37-48 record in three years.
Full Statement from Penn State on Micah Shrewsberry
In the aftermath of Shrewsberry's departure for the Notre Dame job, Penn State released a statement from athletics director Pat Kraft.
"This afternoon, Penn State Head Men's Basketball Coach Micah Shrewsberry called to inform me that he was leaving the University to accept a position at another institution," Kraft said. "We thank Micah for his contributions to the Penn State community and wish him the very best. We are already moving forward in a search for a new head coach and will identify and appoint a tremendous coach, teacher and person, who will take us to unprecedented heights.
"We are so proud of our amazingly talented student-athletes and all they accomplished this year and will in the future. We are also so appreciative of our student body and our passionate fans who support our basketball program."