Ben McAdoo: 'Sam Darold does have some magic in his game'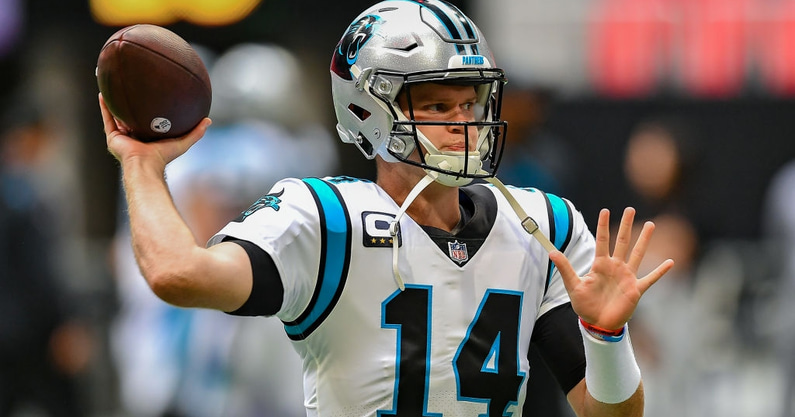 Sam Darnold is quietly preparing this offseason to potentially take the field as the Carolina Panthers' starting quarterback in 2022 once again.
According to new Panthers' offensive coordinator Ben McAdoo, Darold played a part in the former New York Giants' head coach accepting the new role in Carolina.
"Sam was one of the people that intrigued me for the job. Sam does have some magic in his game," McAdoo said, via David Newton of ESPN.com.
In a press conference on Tuesday, McAdoo was asked if Sam Darnold was the team's starting quarterback for 2022 and the Panthers' offensive coordinator answered yes, before backtracking a few moments later.
McAdoo corrected himself stating, "that is something I shouldn't have said" at this point in the calendar."
As of now, the only quarterbacks on the Carolina roster are Darnold and PJ Walker. While there have been plenty of rumors about the Panthers either trading for a signal caller or acquiring one in the NFL Draft, everything is speculation until they actually make a move.
Sam Darnold makes case as Panthers' staring QB
The Carolina Panthers are believed to be back in the market for a starting quarterback after testing the water with former first round pick Sam Darnold last year. The experiment started off well but injuries derailed the team and led to a disappointing finish which has forced the staff even further into win-now mode this offseason.
With rumors swirling, Sam Darnold joined the Bussin' with the Boys podcast to make his case for remaining the Panthers starting quarterback in 2022.
"It truly is, and this is where you're not gonna believe what I say, but just bear with me," Darnold said. "It truly is like whatever happens, happens, because at the end of the day, it's out of my control, and I know that. I have enough security in myself to where I can be like, 'I know I'm a good quarterback. I know I can be a good quarterback in this league. I've proved it.' And I know there's a team, if something happens, that would want me."
In his first season with the Panthers, Sam Darnold threw for 2,527 yards and nine touchdowns with 13 interceptions in 12 appearances. He finished with a 4-7 record as the starter to bring his career record to 17-32 including his time with the New York Jets.
At this point in the offseason, it appears Darnold will get another shot as the starter unless the franchise makes a move in the next few weeks to replace him.