Indianapolis Colts quarterback Sam Ehlinger injury update revealed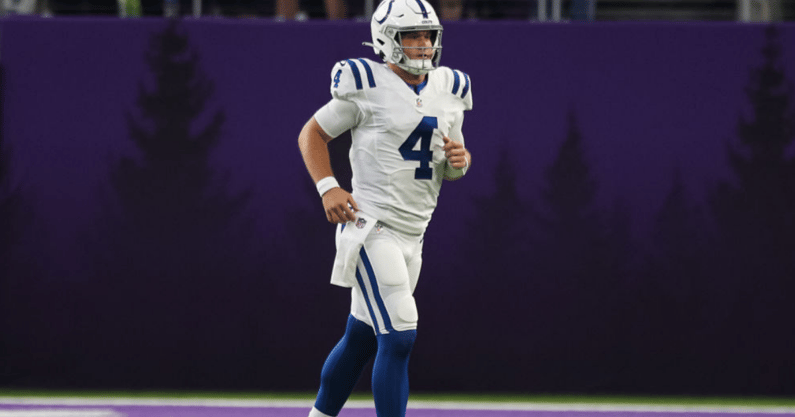 Sam Ehlinger suffered a knee sprain and will need at least 5-6 weeks to recover, according to ESPN's Adam Schefter.
Frank Reich on Sam Ehlinger
Indianapolis Colts coach Frank Reich provided an update on quarterback Sam Ehlinger, who left Friday's preseason game with a knee injury.
"It didn't look good," he said.
Prior to the injury, Ehlinger was 3-for-3 passing for 63 yards.
A great chunk of those yards came on a nicely thrown long bomb that landed perfectly in the hands of receiver Dezmon Patmon.
The news couldn't have come at a worse time for the Colts. Carson Wentz underwent foot surgery this offseason and is expected to miss a few games to start the season. Ehlinger and Jacob Eason are in a battle to be the temporary starter.
While Eason got the start against the Carolina Panthers in Week 1 of the preseason, Ehlinger started in the second game against the Vikings. Both quarterbacks impressed against Carolina though neither did all that well against Minnesota.
Eason started Friday's contest before Ehlinger entered later on.
Now knowing the severity of Ehlinger's injury, Eason may be the only choice left for Colts coach Frank Reich. It's a tough thing to see, especially after owner Jim Irsay made some highly complimentary comments on the former Texas quarterback.
"With Sam, we're always hoping and you think, 'Where's the next Montana or Brady? Could that be him?' You just don't know," Irsay said.
It has been a rough year for Ehlinger, who lost his brother on the first day of training camp. In spite of that, he continued to work hard and impress his coaches, making a real case to lead the team Week 1.
Texas Longhorns fans will join the Colts faithful in hoping Ehlinger has a speedy return. Until then, the Colts will hope Eason, the former Georgia Bulldogs standout, is ready if Wentz can't go in Week One.